During a recent stay in Palm Springs at the Los Arboles Hotel, I discovered that the property was also home to one of the desert's best Mexican eateries….El Mirasol! The restaurant is actually one of two family-run locations in Palm Springs and promises nothing short of delicious and authentic Mexican food. 
Not only did we eat there on the first night of our stay, it was so delicious that we dined there again on the following night as well! Why did I think it was so great? I won't say that it was a single determining factor. There were many reasons!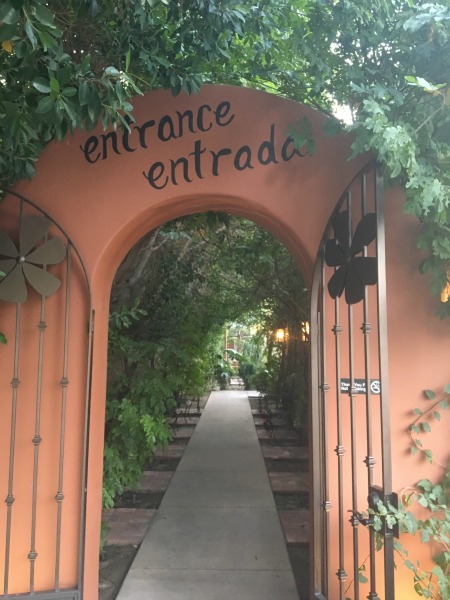 First of all, the casual atmosphere of the restaurant offers guests seating indoors, in the bar area,  or outdoors on a patio that's outlined with colorful strands of lights. El Mirasol is the place to be on weekend nights which was apparent with the packed house on both nights!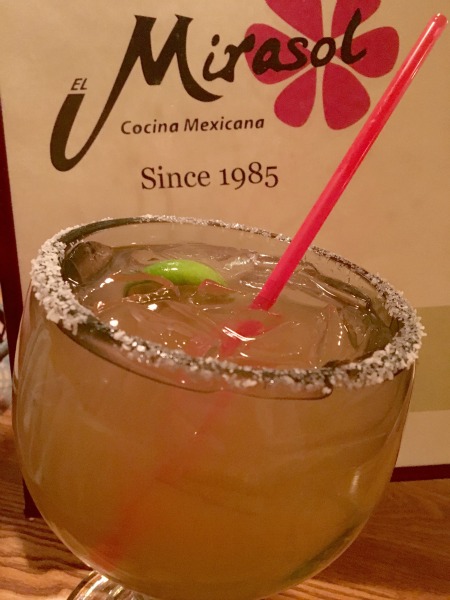 Imagine my surprise when I glanced over the drink menu to find fresh, homemade margaritas being offered at very reasonable prices. This was surprising, especially considering that the restaurant is an on-property restaurant for the hotel. I ordered myself up a grande Cadillac margarita right away, after I spotted someone else's. It was fun to watch the bartender make my drink as I sat nearby.  I watched him finish it off with squeezes of halved fresh limes on top. Yum! 
The order of guacamole that they served to our table as a starter, complimented the fresh chips and homemade salsa incredibly. It was a giant portion of guacamole, too, so we didn't have to fight over one person dipping more than the others. 
I appreciated the offerings on the children's menu which included typical kids' Mexican favorites and even chicken nuggets for the kid who won't eat much. (We can all relate to that situation). It seemed like taquitos were a hit with my daughter! She ordered both chicken and beef ones. (with more guacamole, of course) 
The adult menu was extensive and it was a bit difficult to narrow it down to just one entree. Luckily I ate there two nights in a row. The cheese enchiladas were delicious and made with a sauce that was so full of flavor. Everything we tried was so good and the entire staff went above and beyond. Even one of the owners came over to our table to see how our experience was. 
El Mirasol is open for breakfast, lunch, and dinner. They were also happy to put drinks into cups we could take by the pool during the day. It's a great place to dine if you're visiting Palm Springs. We can't wait to go back again on our next trip!
This is not a sponsored post. All opinions are 100% my own.