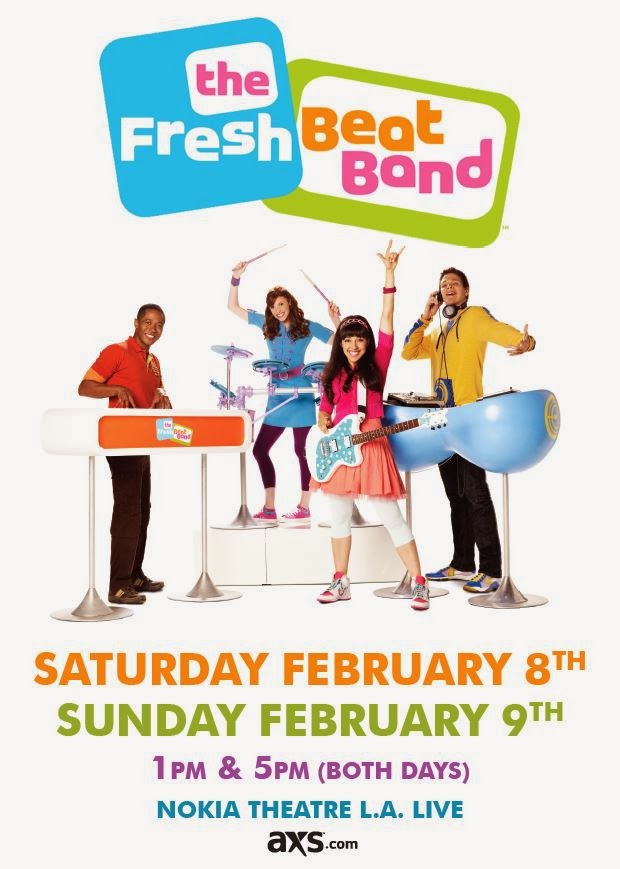 Disclosure: This is a sponsored post. All thoughts are my own

.
The Fresh Beat Band
is making its way back to LA and Emi and I couldn't be more excited about seeing them perform live for our second time! We had tons of fun singing and dancing along with Kiki, Marina, Twist and Shout at their concert in 2012!
Our love for
The Fresh Beat Band
runs deep and originated in our own living room, a few years back, while watching their live-action music series show on Nickelodeon, which is aimed at teaching preschoolers about music appreciation, but clearly it's also designed to keep moms like me "cool"! Their songs are really catchy and it's just hard for me NOT to sing (and dance) along with Emi! I know this probably won't surprise anyone, but I think I probably know all the words to all of their songs! I also do a mean "
Freeze Dance
"!
a Rafflecopter giveawayThe Fresh Beat Band will be performing a ton of hits from seasons 1, 2 and 3 of their TV show, like "Here We Go", "A Friend Like You", "Bananas" and "Just Like a Rockstar".  The concert has such a fun, interactive environment, as Kiki (Yvette Gonzalez-Nacer), Marina (Tara Perry), Twist (Jon Beavers) and Shout (Thomas Hobson) encourage the audience's dancing and singing right along with them from their seats! These multi-talented performers will amaze you, as will their energetic group of backup dancers, who don't seem to run out of steam either.
The Fresh Beat Band
will be performing in Los Angeles at the Nokia Theater L.A. Live on Saturday, February 8 and Sunday, February 9. The are scheduled to peform 2 shows each of those days, one at 1pm and one at 5pm. I highly recommend taking your family to one of these shows! It's such a fun, family experience!
For more show & ticket information, click
here
.
NOW FOR THE MOST EXCITING PART….
YOU can win two tickets to see The Fresh Beat Band live
at the Nokia Theater L.A. Live on Saturday, February 8 at 1:00 p.m.!
Now, try not to "Go Bananas" and enter below! Good luck! Hope to see you there!