I never take for granted how close we live to The Disneyland Resort! Since it's just a hop, skip & a jump to the parks, we are often able to attend special events, on short notice, like the taping of the Disney Parks Christmas Day Parade filming. This year, we were able to attend the final day of filming, which included the parade portion and a performance by the cast of Teen Beach Movie!
Disneyland opened at 9 a.m. that day and we arrived at the Main Gate around 8:45 a.m. I didn't realize that guests would be allowed to enter at 8 a.m., so we weren't able to find a spot that was within the close filming area where the celebs were going to be dancing. We still found a seat on the curb down in front of Plaza Inn. This is where the parade floats, characters, dancers, and giant balloons all approached though, so we had the prime spot for taking pictures of it all. We were also filmed a couple of times in audience shots, so we still may end up on TV, right? I won't post photos of the actual parade  until it actually airs because there were a few special parts added to this that aren't normally included and I feel like it spoils some of the magic, but I will share a couple of fun pics that we took from the curb!
This is Pooh waiting patiently for the festivities to begin.
Here's Emi trying to be patient as she sits on the curb, showing off her DisneySide!
Emi was taking her own pics and videos during the parade! 
After sitting there for about 3 hours, we were startving and went to get something to eat. After we returned, we saw that the woody from Teen Beach Movie was parked at the front of Main Street and we knew what this meant…..the cast would soon be entering the park!
I'm pretty sure I had to walk up and back Main Street about 6 times just to get this shot because the CMs were shooing everyone to keep on moving! 
We finally made our way through the insane crowd to the top of Main Street, and there we waited and waited and waited…..until they FINALLY came out!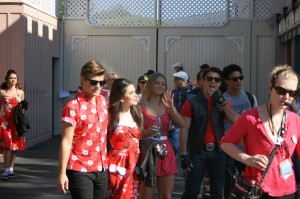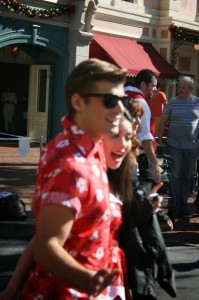 I LOVE Maia! She is so adorable!
Well all of them came out except for Ross Lynch. Thank goodness I had Emi there to let me know that Ross' mommy, Stormy, was walking right in front of where we were standing, and that it looked like she was going backstage, so we knew he was coming out soon.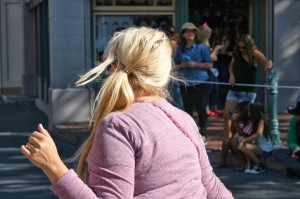 This is his mom going to get him and escort him out.
Ross Lynch! 
I cannot describe my daughter's expression when he walked out! Not only her expression but the fact that she was flushed too! This is the 2nd time within 2 months that she's seen Ross & Maia this close up. (our other opportunity was when Ross & Maia were in Downtown Disney)
After the Teen Beach Movie portion of the show began filming, which we couldn't sit or stand and watch, we decided to head towards the Matterhorn. That was when Emi realized Rydel Lynch was walking in front of us! Yep, she's Ross' sister and a member of R5! She was hanging out with Ellington Lee Ratliff ,who's also in R5. So, of course, we had to pace behind them for a couple of minutes until I got my big "Mommy Courage" up enough to ask them if they'd take a pic with Emi! They were very nice. I definitely see an R5 concert in our near future!
 Emi with Rydel Lynch and Ellington Lee Ratliff
It was an amazing day at Disneyland. I also learned what I'll be doing differently for next year's taping.
Here are some of my tips if you're planning on attending the taping for the Disney Parks Christmas Day Parade:
1. Arrive at Disneyland 1-11/2 hours before the park opening.
2. Dress festively in Christmas attire and holiday Disney gear so you can attract the cameras' attention, but also layer because it gets HOT! If you have babies or small children, the cuter they are dressed, they more likely they'll get on camera.
3. Bring water and snacks because you might not be able to get up and get food.
4. Wear sunblock and bring extra! It is almost ALWAYS hot at Disneyland! 
5. For the most camera time, sit on the sunny side of Main Street! It'll be hot, but it's worth it! 
6. Be prepared to smile and have fun!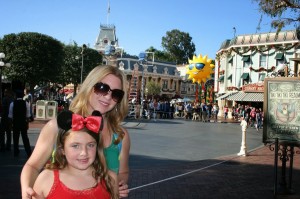 It was an exciting day for us at Disneyland.
 It's always an adventure with Emi and I can't wait for our next trip to the parks!