The opinions in this article are my own. I do not work for, or with, any brand mentioned in this article, nor do I have any official relationship with them.  I have a relationship with Gigasavvy, for whom I create original editorial content.
Up on a hilltop in Laguna Niguel, sits an eatery called Savannah Chop House. Offering breathtaking, ocen views and an menu that makes a foodie's heart happy, Savannah Chop House is the perfect location for any occasion whether it's a date night, a girls' night out, or a special family dinner.
I was invited to a media tasting as a guest of Savannah Chop House and Giga Savvy, featuring an eclectic collection of dishes prepared by their Executive Chef, Chris Tzorin. Let me just tell you now, I could literally taste the passion behind his cooking every time I took a bite.
Chef Tzorin shared a little bit of his personal story with us and I already felt like we were getting a peek into his world where perhaps, many people aren't invited. One of the first statements out of his mouth was "Food is my therapy", about which he was referring to his craft of cooking! Chris has had a series of personal challenges that he's managed to hurdle over and  move forward from. He also shared with us that the way he handles the reality of these things is to cook for others and make people happy with his amazing culinary creations! It's obvious he's been blessed with crazy cooking skills! (That means he's an amazing chef)
Let's take a look at some of the menu that our group got to enjoy. I apologize if the pictures and descriptions make you hungry. (Actually I don't). However, you too, can visit Savannah Chop House and get some of your own!
We were treated to some tray passed appetizers upon arrival, which included Savannah's Signature Recipe Bruschetta, Grilled Proscuitto Wrapped Shrimp, and Smoked Salmon on a Toasted Point. We nibbled on our appetizers as the sun continued to set over the ocean.
The first course was a delicious Tempura Stuffed Zuccini surrounded by Herb Goat Cheese & Sundried Tomatoes and served atop Baby Mixed Greens. The presentation was beautiful and I loved the flower garnish. If there weren't other courses to follow, I would've asked for a few more of these.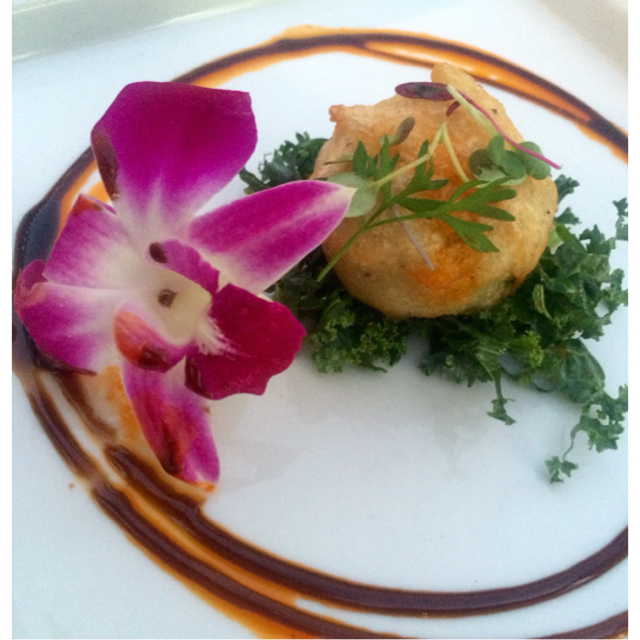 The second course was a choice between 2 light, refreshing salads. The Caesar Salad is made with croutons, fried capers, Parmesan and topped with their House Caesar Dressing. The other salad, a Watermelon Beet Salad, is made with a mixed blend, candied pecans, and Goat Cheese and topped with an Herbal Vinaigrette.
The third course, which was the main course, was Surf and Turf! When I looked down and saw a Filet Medallion with Shrimp Scampi with Mashed Potatoes, Brussels Sprouts, and a Cabernet Reduction on my plate, my heart was happy!
Regardless of how full I think I am, I ALWAYS have room for dessert! Although we had a choice between 2 different desserts, I opted to try both the Warm Flourless Chocolate Cake with Vanilla Bean Ice Cream, Berries & Chocolate Sauce and Strawberry Shortcake made with Vanilla Cake, Fresh Strawberries, and Whipped Cream!
Every dish that was placed in front of me was delicious and I've dreamt about returning for another meal since I left there that night! After dessert, when the guests started to leave, I stuck around for a special tour in the kitchen, led by the Executive Chef, Chris Tzorin. He showed us behind-the-scenes and talked about all of the preparation that went into the night's menu. (I don't think he sleeps!)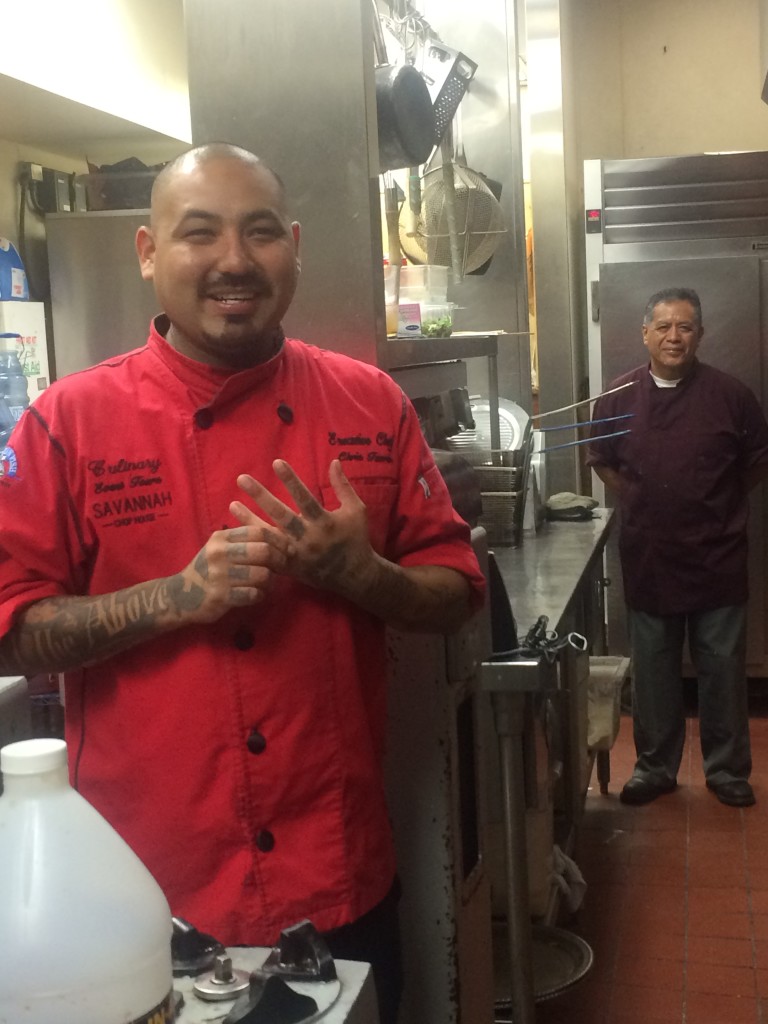 Chris' father is also an amazing chef who is mostly retired now but came out to oversee what Chris was up to in the kitchen. I actually teared up when I took this picture. I see a man who is so passionate about his "craft" that it translates into every bite of the food he's dishing up for his guests and I see another man who is an incredibly proud papa and looks content knowing that he's raised an amazingly talented son! I love this picture!
I'd highly recommend you visit Savannah Chop House for an incredible dining experience of your own!
Savannah Chop House is located at:
32441 Golden Lantern
Laguna Niguel, CA 92677
949-493-7107
Connect with Savannah Chop House on Facebook, Twitter, and Instagram.