The opinions in this article are my own. I do not work for, or with, any brand mentioned in this article, nor do I have any official relationship with them.  I have a relationship with Gigasavvy, for whom I create original editorial content.
With September being National Shake Month, Johnny Rockets decided to "shake it up" a bit by inviting a bunch of social influencers to their location inside Knott's Berry Farm for a shakin' good time and to get "the inside scoop" on their shakes! I love the family-friendly atmosphere at Johnny Rockets because it always seems like the staff has so much fun while they're working! The crew assembled together to dance to "Car Wash" and really got everyone in the place up on their feet to join in.
Although we were there to sample some shakes, we were also treated to some of their delicious 100%  fresh all-natural beef burgers and grilled chicken breast sandwiches along with some of their signature sourdough onion rings and crispy, golden french fries!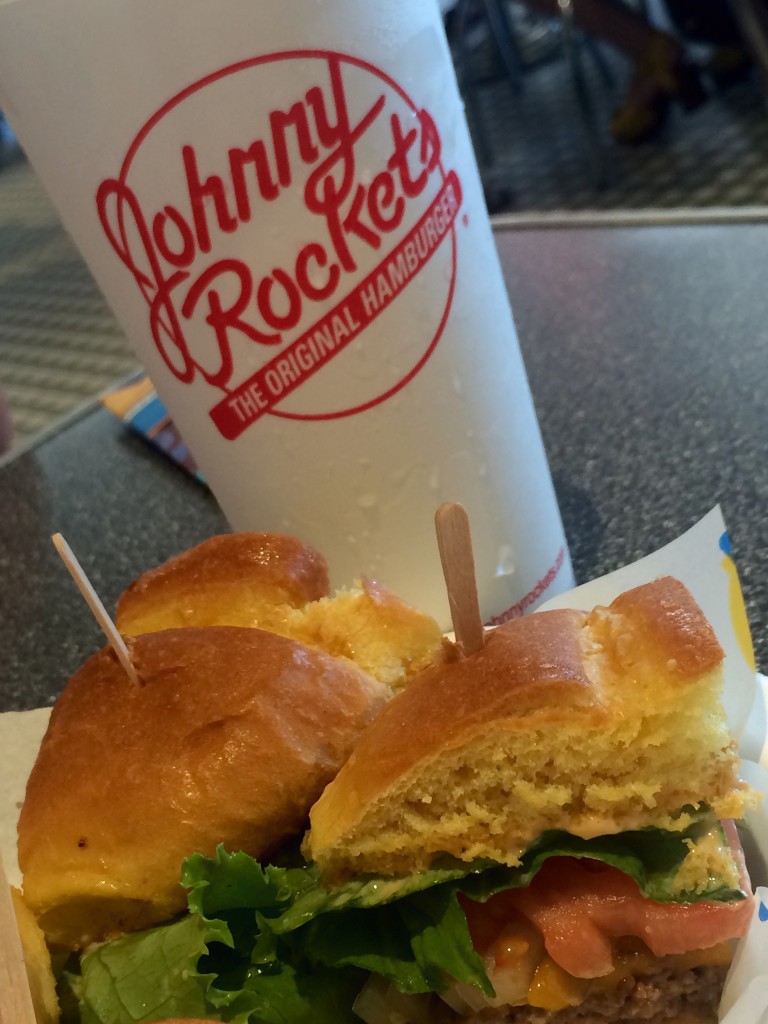 There's something about the ketchup that makes it all taste extra yummy! I'm pretty sure it's the signature ketchup smiley face served tableside, don't you think?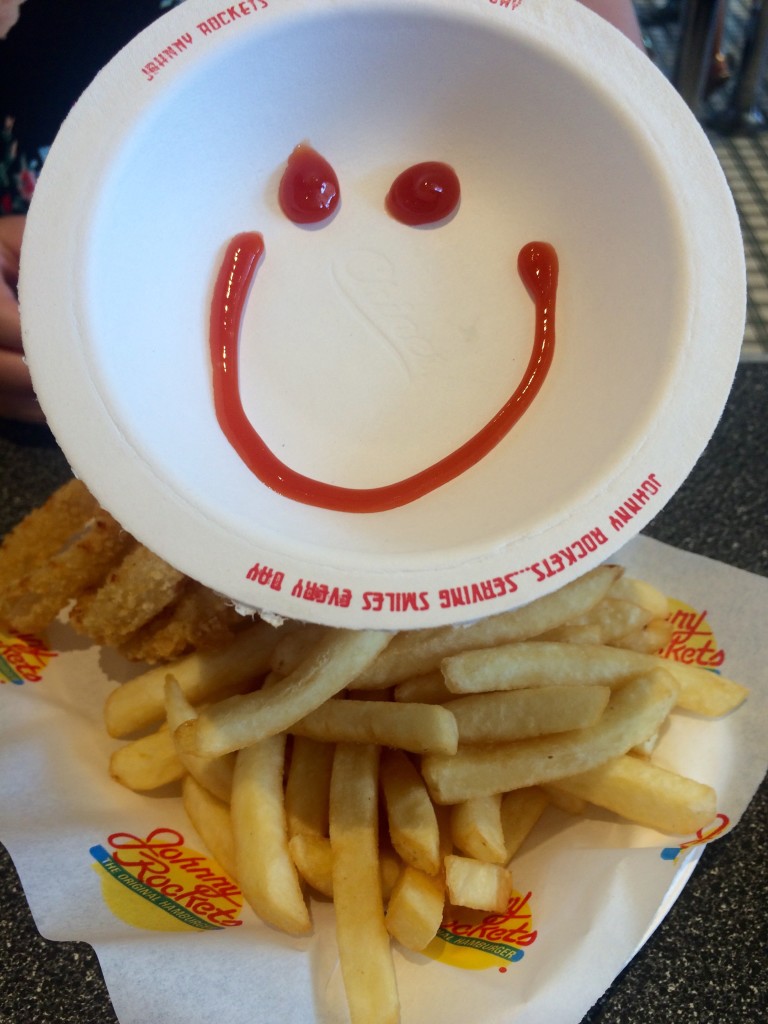 It was super fun to go back into the kitchen at Johnny Rockets for a shake making lesson! All of Johnny Rockets' shakes are hand-dipped, & hand-spun and are made with the finest USDA certified premium vanilla ice cream, whole milk, quality ingredients and real whipped cream. I appreciate  that Johnny rockets is very conscious of food allergies and uses an entirely separate spindle for mixing shakes containing peanuts, to avoid cross contamination.
We all crowded around the prep area and first learned how to make their Reese's Chocolate Peanut Butter Shake! It's almost automatic for you to lick your lips and say "Mmm!" when you hear the name of this shake!
The shake is made with scoops of real vanilla ice cream, whole milk, chocolate syrup, and Reese's peanut butter SAUCE (yep, that's a real thing).
After the shake is poured into a glass, it's topped with whipped cream and garnished with mini Reese's pieces and a half Reese's peanut butter cup on top! It's literally so good that it would make E.T. come back!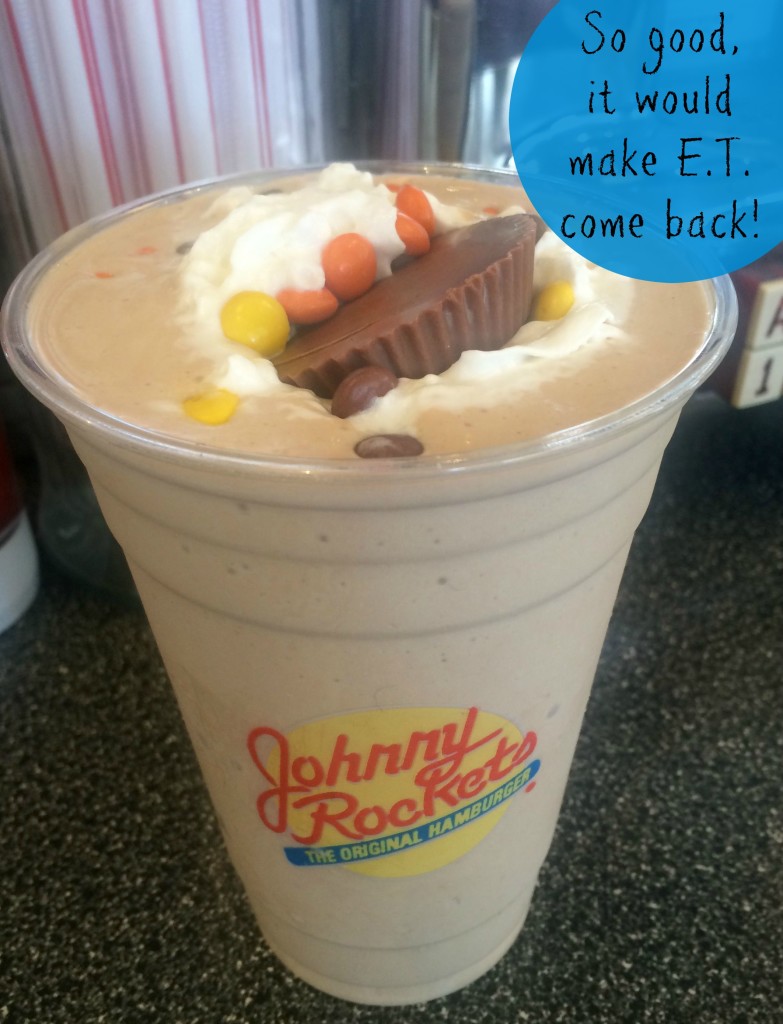 Johnny Rockets is offering their Reese's Chocolate Peanut Butter Shake at select locations through November 21st!

Next, we got a sneak peek (and taste) of Johnny Rockets' newest shake, created in collaboration with Sony Pictures and the Goosebumps movie….the Goosebumps Shake!  The shake is made with scoops of real vanilla ice cream, whole milk, chocolate syrup, and Oreo crumbles!
After it's mixed and poured in a cup, it gets a generous portion of whipped cream, more Oreo crumbles, and is garnished with gummy worms! I LOVE gummy worms!
Johnny Rockets will offer the Goosebumps Shake beginning on September 21st at select locations. You'll want to hurry into your closest location to try it because it'll only be available for a limited time!
We want to thank Johnny Rockets for inviting us to a fun afternoon out! You can find them on Facebook, Twitter, and Instagram.