It's no surprise that we are BIG Disney lovers in our home! Emi has always loved Sleeping Beauty and used to dress up like her a lot, even when we'd visit Disneyland. She even had one of the reversible blue/pink dresses that came from Disneyland Paris. For Emi's 3rd birthday, we even hired "Sleeping Beauty" to come to Emi's party to entertain the kids. I swear she was the real one, too! (She came from Dream Come True Entertainment)
We just love "Sleeping Beauty" and we love this classic Disney movie!
Today is such an extra happy day! It's the day that Sleeping Beauty is finally releasing from the Disney Vault! Disney's ultimate princess fairytale classic "Sleeping Beauty" will be available for the first time on Diamond Edition Blu-ray, Digital HD and Disney Movies Anywhere! Creating the ultimate at-home viewing experience, Disney's 2-Disc Diamond Edition Blu-ray Superset (Blu-ray + DVD + Digital Copy) contains digitally restored picture and sound, a digital copy of the film, and a variety of magical new bonus features!Additional all-new bonus features include never-before-seen deleted scenes "The Fair" (with Deleted Character The Vulture,) "The Curse is Fulfilled" and "Arrival Of Maleficent," plus the Beauty-Oke sing-along to "Once Upon A Dream." The Blu-ray Superset also includes classic DVD bonus features and more!
In honor of this grand occasion of "Sleeping Beauty' being released from the Disney Vault, I'm also attaching a link to download some fun printables and activities that go along with the movie. They're perfect for both boys and girls. I think we might even have a movie party at our house with our new DVD! Check them out just by clicking on the image!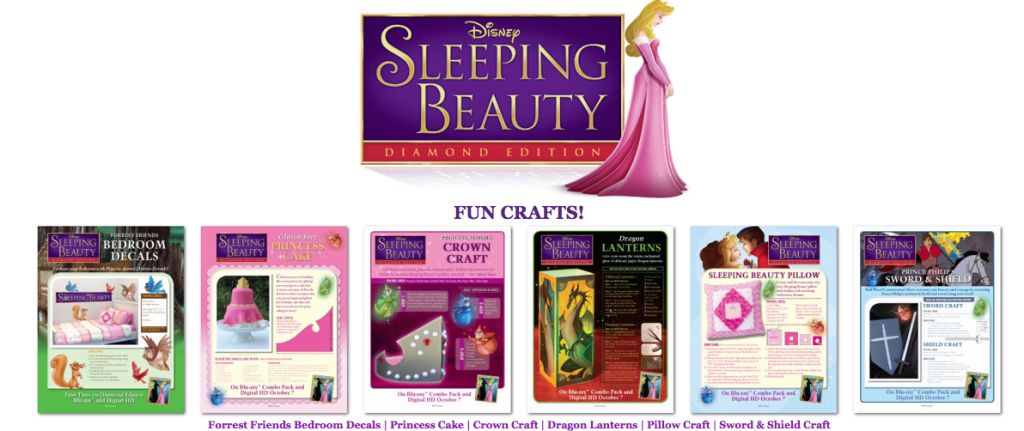 Finally, I'm giving away one copy of "Sleeping Beauty: Diamond Edition" to one of my readers. Just enter below in the Rafflecopter. How exciting is that? Good luck everyone!
a Rafflecopter giveaway