This is a sponsored post. All opinions are 100% my own. 
A few weeks ago, I had an opportunity to visit the Cox Smart Home in Canopy in Esencia, located the in the new, master-planned community of Rancho Mission Viejo. One of the model homes in the Canopy neighborhood was designed as a "Smart Home". Warmington Residential and Cox Communications worked hand in hand to design this home to be inclusive of several "smart" features that are powered by Cox's gigabit internet speed.
Residents of Rancho Mission Viejo are lucky to be the first in the area to have access to Cox's G1GABLAST service, which is 100 times faster than the average U.S. Internet service!  Since Cox is the first broadband communications company to deliver gigabit-internet speed service to Orange County business and residential customers, residents in Rancho MIssion Viejo are basically living "The Gig Life".
Watch this visual comparison of Internet speeds:

Why We ALL Need G1GABLAST! 
Let's look at a digital snapshot of my life. There are 3 people who live in my home. Between the 3 of us, we have 3 laptops, 1 desktop computer, 1 wireless printer, 3 cell phones, 2 iPads, 1 mini iPad, and a gaming system. That's a whole lot of devices! We aren't always using all of them at once, but there are times when someone is telecommuting from home, while someone else is doing homework, and a 3rd person is on their phone or even blogging on their laptop. There's nothing more frustrating than having to stop and ask others in your home to get off their device so you can have decent service!
I am so fortunate to live in the neighborhood of Esencia in Rancho Mission Viejo because we have G1GABLAST high speed internet and don't have to worry about how many devices are running at once. Truth be told, we're really spoiled now and I hope I never have to go back to "the old way". I don't think I would've survived with dial-up internet! 
Getting back to the Smart Home though…it was beyond cool to see the demonstrations they had going on, showcasing the capability of the home's high speed internet and how it can handle more than 10 interactive, visually stimulating demonstrations at once.Some of what was going on included a Wi-Fi cooking with a food blogger, telehealthy sessions with CHOC Childrens (via InTouch mobile robot), online music lessons that were streaming, a Wi-Fi pet and Wi-Fi pet feeder, virtual educational instruction, and more! With everything happening at once in the home, the heavy bandwidth was really put to the test! 
Here are some of my favorite features from that day: 
WiFi Pet and Pet Feeder
It was fun to be greeted by Chip, the Robot pet, right when I walked through the front door. There's nothing like coming home from a long day at work and having a pet there waiting for you. I realize that chip is a robot dog, but isn't he adorable?
These are some of the hottest toys that kids are asking for nowadays. The home also has "Feed and Go" Smart Pet Feeder set up, which has a built-in webcam that connects via Wi-Fi to the home network. Not only can you set it up to feed your four-legged companions, you can also keep tabs on them via your Smartphone.
Cox Contour Service With Voice Remote
Ryland Madison, director of Product Marketing, Cox Communications was on hand in the family room to talk about Cox Contour Service, which is available to all Cox customers. The remote offers a variety of features, which you can access from the couch. I know, firsthand, what an amazing set-up this is. You can even do everything with the "voice" button when you speak into the remote! No more searching through 1000's of channels to find your show!
Wi-Fi Enabled Cooking
If you're a foodie (like me), you may already know of Internet Chef Whitney Bond. She's best known for her YouTube videos, demonstrating how to put together recipes in 30 minutes or less. Whitney was in the kitchen demonstrating how she prepares some amazing appetizers using a Wi-Fi enabled WeMo slow cooker, which was functioning on the gig-peed internet. She also treated us to some of her delicious cookies!
For someone who relies on the internet for her job, having super fast speeds and capabilities within her home is essential. Whitney also showed us how she controls the slow cooker from her smart phone using the free WeMo app, even when away from home.
This could be a game changer for a working mom like me who spends time driving to and from sports practices, but somehow needs to prepare a meal that's ready immediately after practice, when I have a starving kid! Having the ability to adjust cooking time and temperature from the and and a smart device delivers the ultimate convenience and peace of mind.
Telemedicine sessions with Children's Hospital of Orange County (CHOC)
In one of the bedrooms, there was a demonstration of a telemedicine session. Michelle Jones, the telehealth manager for CHOC Children's and Dr. Jack Winkle with In-Touch Telemedicine.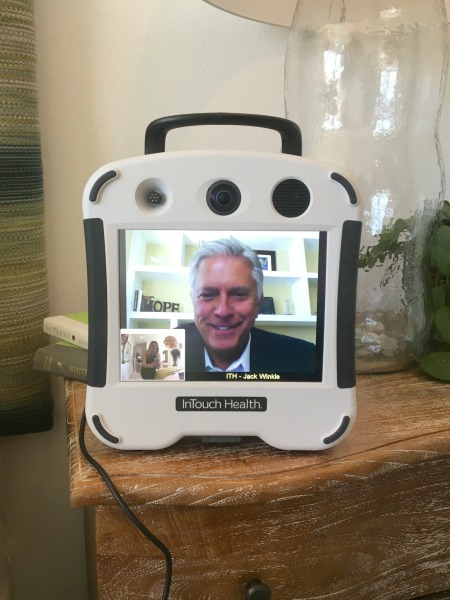 Dr. Winkle was speaking from the  In-Touch Express Robot because he was off-site at the time.. The capabilities of telemedicine are amazing, allowing the doctor-patient connection at any time to be possible. It's basically going to be the house calls of the future! 
Streaming Online Music Lessons With Skype
I was so impressed to be able to watch world-renowned violinist, Jason Yang, give a violin lesson via Skype.
His student was actually in Canada and Jason explained that he relies on Cox G1GABLAST to provide him with the necessary bandwidth to stream while he's working.

With the increased digital needs of people living in the 21st century, Cox has recognized that gone are the days of having just 1 or 2 devices running in a home. Not only is technology a way of life, it's also necessary for students and their homework, adults who telecommute form home, families streaming shows and movies at home, and using devices in the home that help make life easier overall. It seems like everything relies on internet speed and service.
      Canopy at Esencia is located at:
                100 Vasto St.
       Rancho Mission Viejo, Calif.  92694
My experience inside the Cox Smart Home was nothing short of amazing! To learn more about Cox Communications and the services it offers, visit here.