Have you gotten SMASHed yet? I hadn't until recently and now I'm wondering why I waited so long? I noticed the sign in the food court of "my mall", The Shops at Mission Viejo, but just hadn't gotten a chance to try it.
I decided to start with one of their shakes while I checked out seriously extensive menu. There were a ton of shake flavors to choose from, but the manager suggested I try one of their specialty flavors, so I chose something you can't get just anywhere…the Salted Caramel Shake! A shake is an appetizer, right?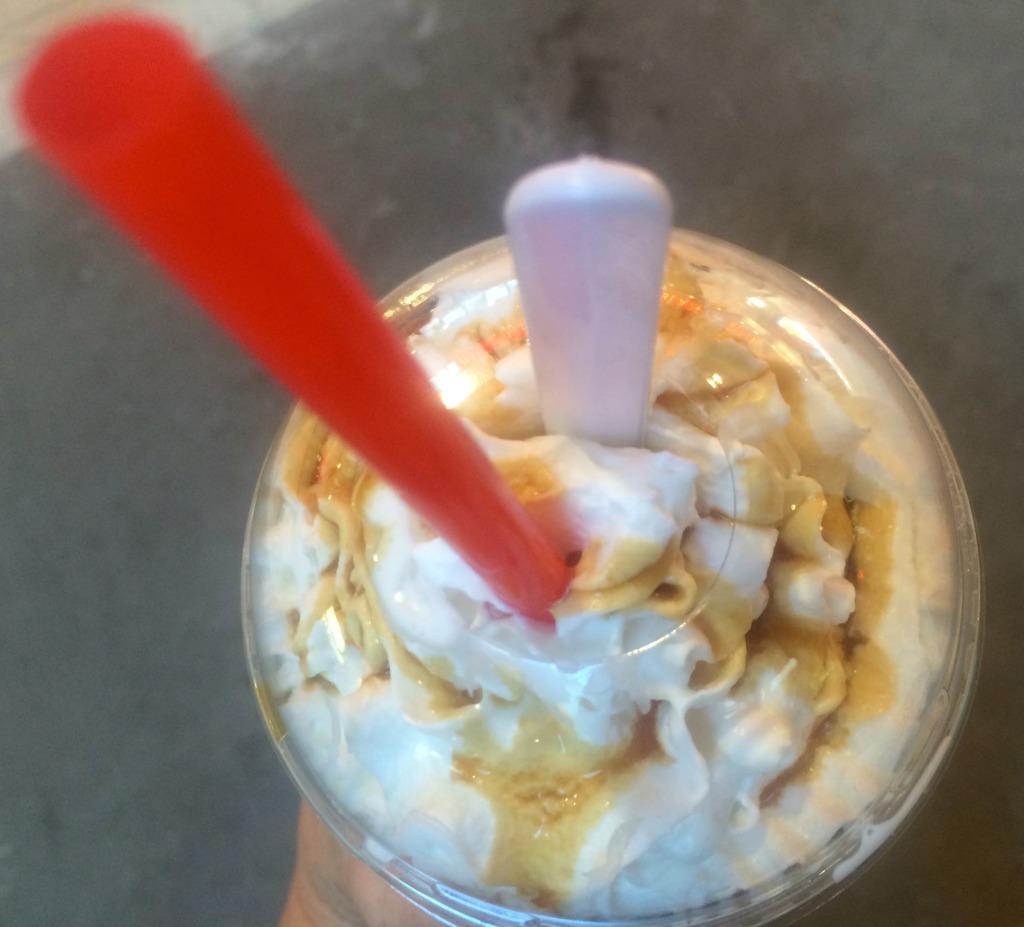 Whoa! Look at all of that whipped cream and that caramel drizzled on top! Their shakes are all hand-scooped and made with Haagen Dazs ice cream! I was having hard time getting very much of it since Emi seemed to have fallen in love with it first and isn't the best at sharing!
After I finally got my shake back from Emi, I stood there in front of the menu, drinking it, and feeling a bit overwhelmed, but in a good way. Their menu has A LOT to offer. I knew I at least needed to try a Classic Smash. In case you've never had one before, they're "smashed", seared and seasoned to order, using fresh, premium beef.
I opted for a Classic Smash with cheese. It has American cheese, lettuce, tomato, onion, pickle and plenty of Smash sauce, which is a blend of mayonnaise, yellow mustard, pickled relish and lemon juice, and is served on the yummiest egg bun ever! (they actually make all of their own buns, too!)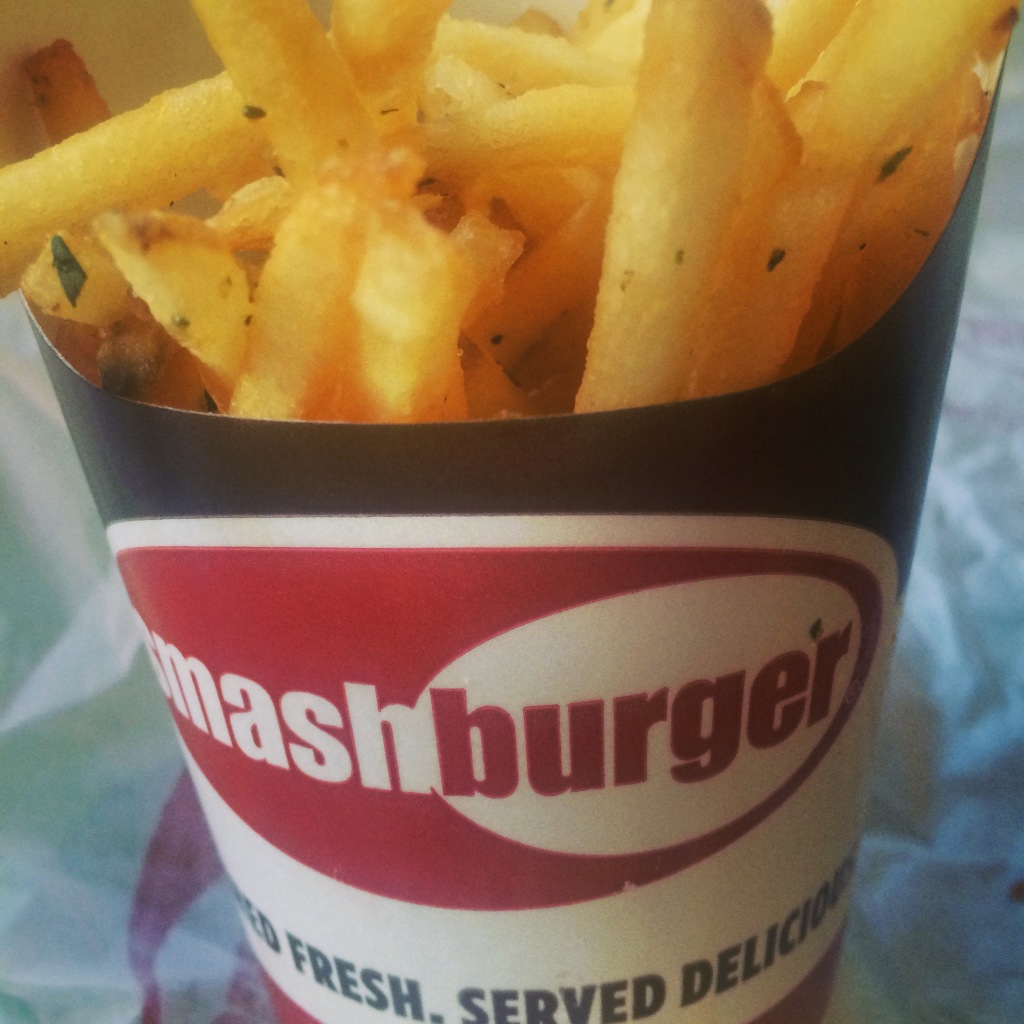 I was told that you really shouldn't have a Smashburger without having an order of Smashfries to go with it! So, I did! Smashfries are shoestring fries tossed in rosemary, olive oil, and garlic! They are beyond addicting and although the menu also features regular fries on it, I have no idea why someone wouldn't order Smash fries. They are just THAT good.
I also ended up with a Smashchicken, which is the chicken version of the Smashburger. It was the picture on the menu board that caught my eye and I KNEW I needed to try the Buffalo and Blue Cheese Smashchicken. You have a choice of a grilled or crispy chicken breast and it's topped with Franks's Redhot Buffalo Sauce, crumbled blue cheese, lettuce, tomato, and mayo, served on an egg bun.
I swear the minute I finished it, I wanted another one! The combo of the buffalo sauce and the blue cheese is crazy good! Some of the menu items (like this one) are considered "regional" and are only offered at certain locations. You can check that availability online.
Although I do love food and love to share about food, I think one of my other favorite parts about getting to write about places I visit, is making a connection with people. The afternoon that I visited SMASHburger, I got to chat a little bit with the store manager who figured out right away, that I was a "first-timer".  Jen was BEYOND knowledgeable about the menu, food preparation and even special menu items (I have friends who are gluten-free and vegan). Above all though, what really made the experience even more special was how genuine and nice Jen was. It truly makes all the difference when the person running the store is personable like that and is what will keep guests coming back again and again!
I cannot wait to go back to SMASHburger and try more items from their menu! I already know I'm going to have ANOTHER Buffalo and Blue Cheese SMASHchicken! Have YOU eaten at a SMASHburger yet? What is YOUR favorite menu item?