It's only August and here I am, already getting excited for Halloween! I was ecstatic to be invited to Knott's Media Preview where they released all of the exciting details for Knott's Scary Farm this year! Luckily some of my friends there with me to hold my hand though, because I was kind of scared and everywhere I turned, there were monsters and zombies!
 As the fog rolled into the already-dark theater we were all seated in, the lights went all the way out and screaming began. Most of the screams were excited Scary Farm fans, but I think I also heard a few REAL blood curdling screams too. I didn't dare investigate to see where those were coming from though!
Thank goodness @socalpocketmemories was there to keep me safe in the dark! I was so scared! 
The announcements started out with news about the return of the one and only, Elvira, Mistress of the Dark! Elvira will be making appearances in her show, Elvira's Big Top, every night of Knott's Scary Farm this year in the Charles M. Schultz Theater.
Elvira is truly timeless! (photo credit: Knott's)
This year, Elvira will also have her own Boo-tique and guests who spend over $50 in her Boo-tique will have an opportunity to meet Elvira!  Check out some of the merchandise!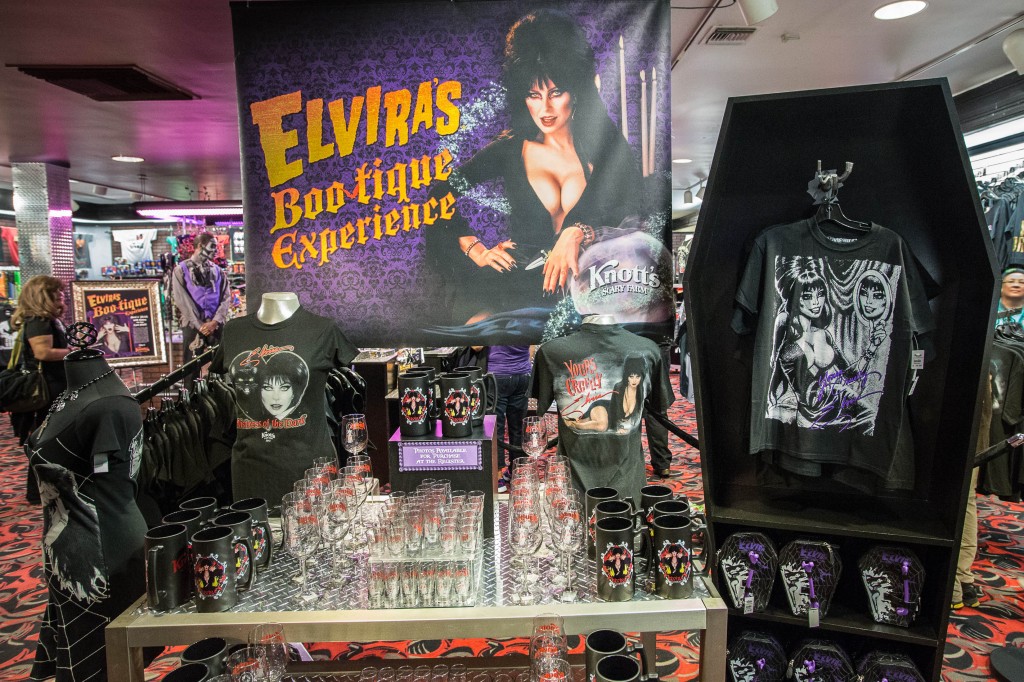 I already see some things I NEED from Elvira's Boo-tique! (photo credit: Knott's)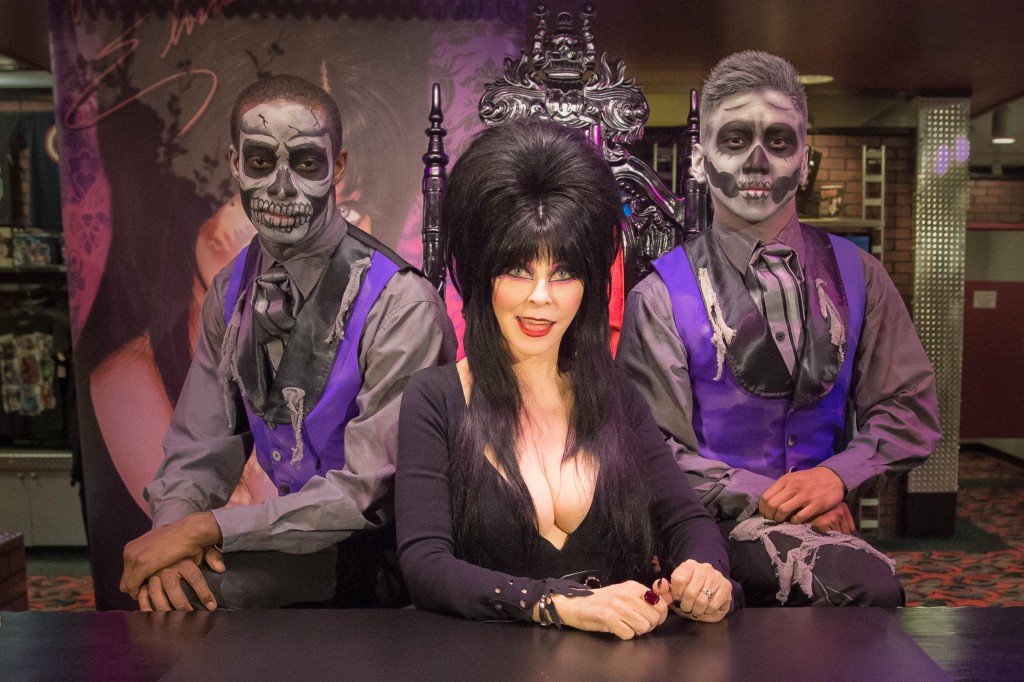 Wow, you can shop AND have a chance to meet her? That sounds like a win-win!
(photo credit: Knott's)
I grew up watching Elvira! If you could see her in person you would totally understand why I was fangirling that night!  The lady looks amazing from every angle and I swear she doesn't need to lie about her age because clearly she's only 29!
As soon as Elvira exited the stage, I heard a loud gunshot and looked to see the Sheriff was in town to announce that The Hanging would also be back this year for Knott's Scary Farm!
Yep, you can witness it over in Calico Square! Did you know that you can even vote for WHO they hang in Calico Square? Just click here to vote! (I, myself, am voting for Justin Bieber!)
I wouldn't want to get on these guys' bad side! (photo credit: Knott's)
Next came all of the news about which mazes and Scare Zones would be back for the 2014 season.
Here's a list of the mazes that are returning this year and where they'll be located:
Dominion of the Damned will be adjacent to GhostRider
Forevermore will be at the Mystery Lodge Entrance
Gunslinger's Grave will be adjacent to Silver Bullet
Black Magic will be near Xcelerator
Trick or Treat will be adjacent to GhostRider
Pinocchio Unstrung will be inside Wilderness Dance Hall
The Witch's Keep (Calico Mine Ride)
The 4 Monster Scare Zones you can find in the park this season are:
Ghost Town in Old West Ghost Town®
CarnEVIL at The Boardwalk
Fiesta De Los Muertos in Fiesta Village
Gypsy Camp in the GhostRider Area
These are some of the monsters you'll encounter in the Scare Zones! I can barely make eye contact with these pics!
(photo credit: Knott's)
Everyone was just DYING to hear about the new additions to Knott's Scary Farm this year! Here's what they're adding:
Voodoo will be adjacent to GhostRider
The Tooth Fairy will be adjacent to GhostRider
TRAPPED: Lock and Key inside Boardwalk Ballroom (Reservation & additional fee required. Click here for more info)
Special Ops: Infected will be throughout Camp Snoopy's six acres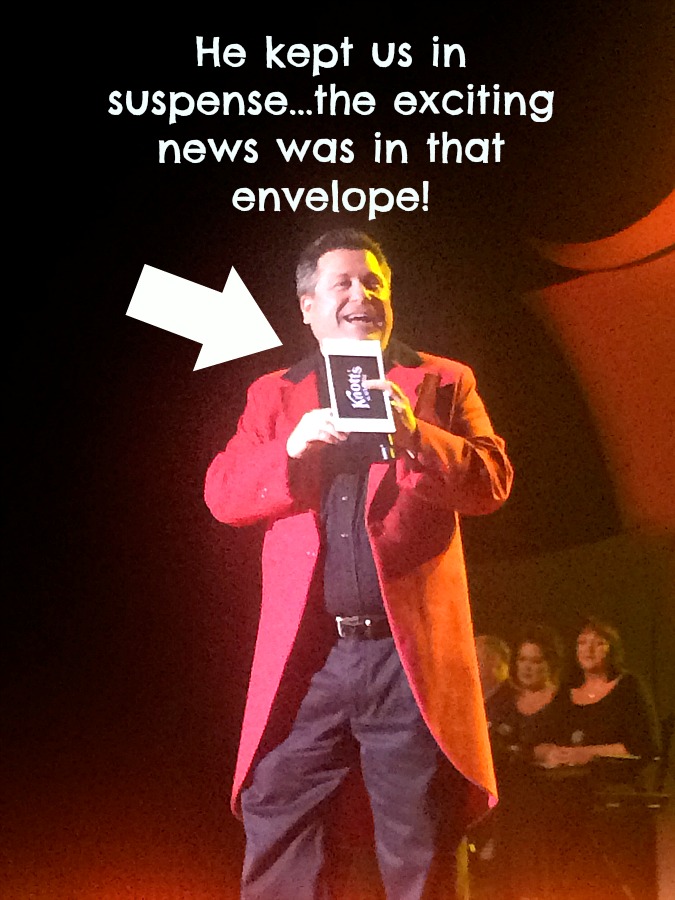 The final announcement was the BIGGEST and BEST one of all! 
Even with all of that exciting news about the horrific additions to Scary Farm this year, there was one more HUGE announcement to make and we were all made to wait in suspense….until finally they shared what the biggest news by far was…this year for Knott's Season Passholders, a special unlimited Knott's Scary Farm pass is available for purchase online for only $65 (plus applicable taxes and fees)!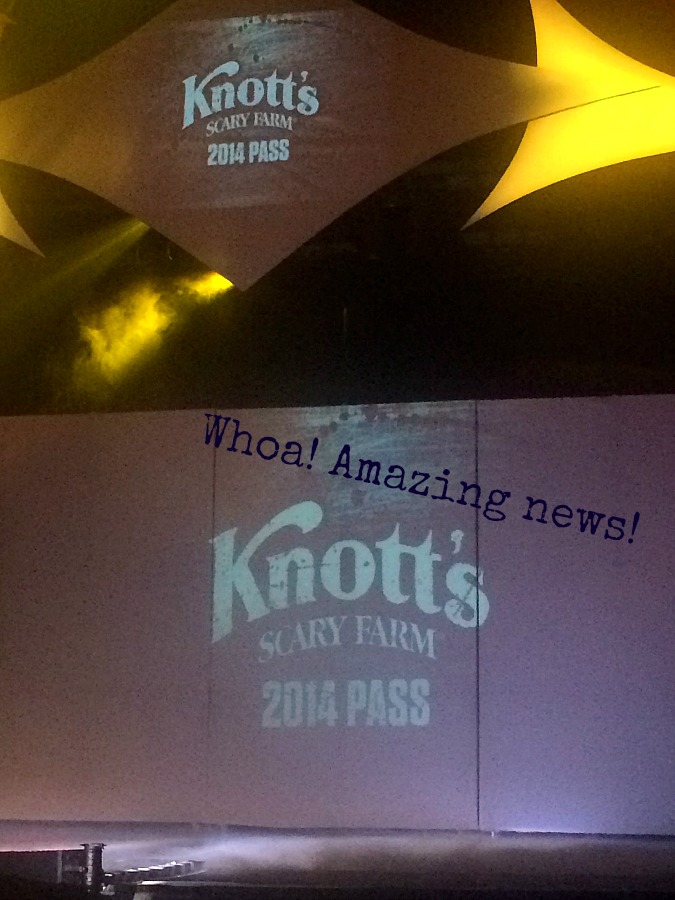 That means you can go as many nights as you wish and there are NO blackout dates! Wow, talk about a pass holder perk! These special tickets are on sale now through August 17th. If there are any left, they will go on sale to the general public on August 18 for $75 (plus applicable taxes and fees). This announcement pretty much brought the house down with excitement that night! I'm SURE all of the pass holders who were there went home and bought their Knott's Scary Farm pass! (if they didn't do it right then and there from their smartphones!)
It was such an exciting night of announcements and now I'm just counting the days down until Knott's Scary Farm starts on September 25th! Are YOU brave enough to partake in all the fun? I sure hope so!
For additional information about Knott's Scary Farm and to purchase event tickets, click here.
Connect with Knott's on Facebook, Twitter, and Instagram too!
DISCLAIMER: The opinions in this article are my own. I do not work for, or with, any brand mentioned in this article, nor do I have any official relationship with them. I have a relationship with GigaSavvy, for whom I create original editorial content.