This is a sponsored post. All opinions are my own. 
Did you know that 1 out of 6 children in Orange County are at risk of hunger each day? That is a statistic that hurts my heart. This time of year is referred to by many as "the most wonderful time of year" and yet, there are many local families that will spend the holidays homeless and hungry. 
You can help raise awareness about homelessness in Orange County by attending the 5th Annual Festival of Trees and Tree Auction on November 30, 2018  at Park Place Irvine from 6:30 pm – 9:00 pm. The event is an annual effort by South County Outreach to raise funds to help the homeless in our community, The funds raised through Festival of Trees help South County Outreach housing programs continue to provide over 20,000 nights to shelter to working poor and homeless families in Orange County every year. Last year, South County Outreach was able to raise $85,000 from the Festival of Trees event. That's amazing! They're hoping to raise even more this year's event with the help of the Festival of Trees' guests and sponsors.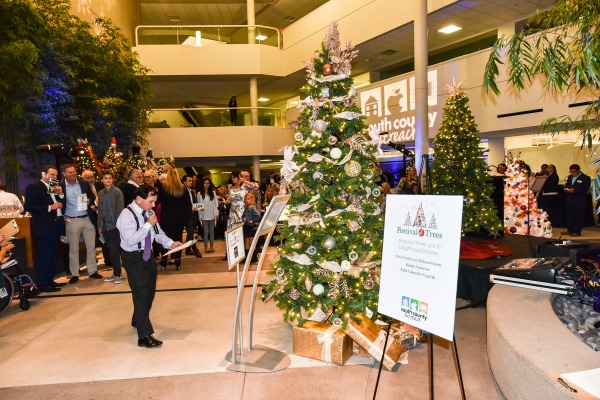 Guests in attendance at the Festival of Trees will come together on November 30, 2018, for this beautiful event which will be held outside among sparkling lights and a cascading staircase. Come expecting delicious provisions, carolers, and a lively auction in which the spectacularly sponsored and decorated trees will be bid on and won to support the cause. There will be Dicken's children carolers performing, as well as a choir from JSerra High School. Guests in attendance will be able to capture memories from the evening in a photo booth with backdrops.

The Christmas trees for this wonderful event will be elaborately decorated by sponsoring individuals, organizations or businesses. In past years, many of the trees have also had "under-tree" gifts; such as tours of Pixar, trips to the Magic Castle, spa days, expensive wines, high tech goods, etc.
"Stars of Hope" will also be auctioned off at the event at $1,000, $500, and $100. These are Swarovski crystal star ornaments and would make a beautiful gift option for anyone on your list. Each tree on display will be decorated with a unique theme and include some of the following:
Midnight Christmas
The Christmas Train
The Reason for the Season
Harry Potter Holiday
Santa's Toy Shop
Christmas at the Beach
World Peace Wishes
Disney's Very Merry Christmas
Marvel-ous Christmas
Wizard of Oz
These gorgeous trees will be on display at Park Place Irvine from November 17-30 and are open to the public for viewing. If you can't make it to the Festival of Trees event, be sure to stop by Park Place beginning November 17, where the elaborately decorated trees will be on display. Cast your vote and let us know which tree is your favorite!
Won't you considering joining South County Outreach this year for the Festival of Trees? It's a true event for hope. Tickets  for this year's Festival of Trees are $125 per person, with a discounted price for groups of 10+. You can purchase yours HERE. For information about the event or to sponsor a tree, please visit HERE.
The Festival of Trees will be held at
Park Place Irvine
3347 Michelson, Irvine, CA
South County Outreach is a local non-profit and has been established for over 28 years and provides fresh food to nearly 3,000 residents every month, They've also housed 30 homeless families over this last year. Other efforts they make in the community include a Holiday Toy Drive, Support a Senior, Adopt a Family and more.
Images and logo are property of South County Outreach and used with permission.