This shop has been compensated by Collective Bias, Inc. and its advertiser.  All opinions are mine alone. #AwakenYourTastebuds #CollectiveBias
I don't think there's a dad out there who isn't excited for the Star Wars: The Force Awakens to hit theaters on December 17th! I know my own husband and daughter can't wait. I love that they spend time talking about their mutual enthusiasm for Star Wars™ and that it isn't a gender specific topic. The trilogy was a big part of my own childhood and it's very exciting that my daughter's generation will also have the thrill of Star Wars™ as it continues.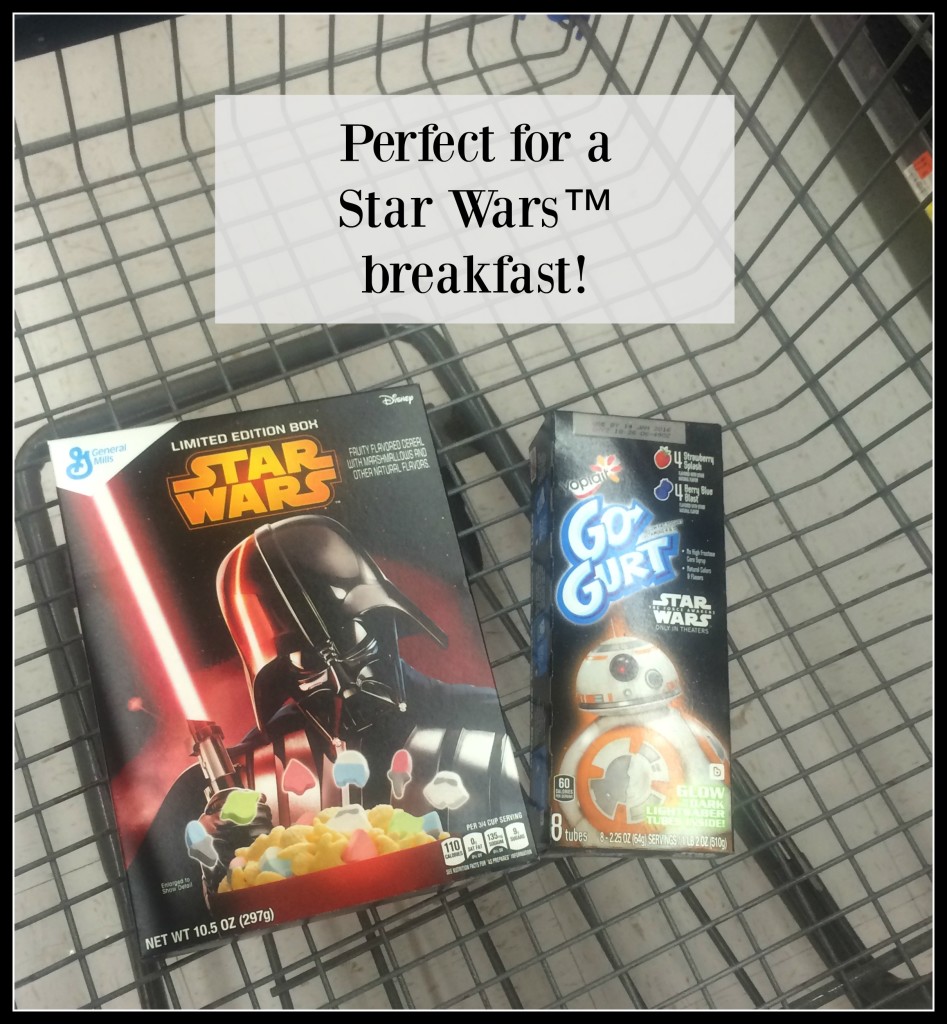 The other day, when I was grocery shopping at Walmart, I spotted Star Wars™Cereal on the cereal aisle! I also found the coordinating Star Wars™ Go-Gurt in the dairy section! I tossed both items into my basket and headed home to make a batch of special Star Wars™ mini donuts for my husband and my daughter to enjoy with their breakfast. How fun is that?
My daughter loves to sort out her cereals when they contain more than one kind of cereal in the box. In this case, she likes to separate the "regular cereal" from the little marshmallows. I'll admit, I immediately reached into the box and ate a few of the marshmallows, myself. 
They are so yummy I decided to use some of the little marshmallows as toppers on my mini donuts for this recipe. It's hard to resist a donut, especially when it has marshmallows on top! 
I was really excited about how my mini donuts turned out. I hope my husband and daughter have a fun little Star Wars™breakfast together!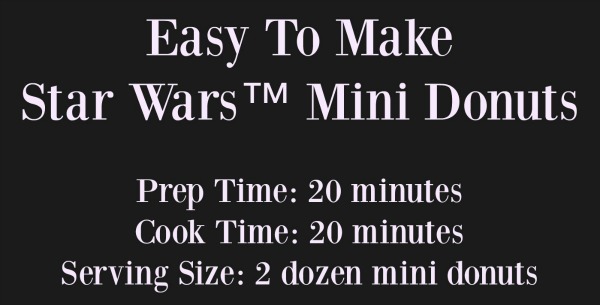 For the donut batter:
2 cups packaged cookie mix, dry
1/4 teaspoon baking soda
1 egg, beaten
1 tablespoon butter, melted
1 tablespoon vegetable oil
1/4 teaspoon vanilla
1/2 cup milk
1 tablespoon vinegar
For the icing:
1 Cup Powdered Sugar
1/4 teaspoon milk
your choice of toppings (I'm using marshmallows from the Star Wars™Darth Vader Cereal.)
I'm putting these time savers and tips before the recipe instructions because I know I sometimes jump into recipes without reading to the bottom. These tips are honestly valuable and I learned some of them from doing the wrong way the first time around on this recipe.
I used a package of store bought dry cookie mix in this recipe. I don't call it "cheating", I just call it being a smart mom who likes to save time. I chose a package of sugar cookie mix, but you could probably use any flavor or variety. 
Most donut batter recipes call for buttermilk. Since I didn't want to buy a whole container of buttermilk and waste the leftovers, I just whipped up a buttermilk substitute with milk and vinegar. (see recipe instructions).
When your batter is ready to put into the mini donut pan, it is SO much easier to stick it into a ziploc bag and cut the tip off, before pouring it in. (a baker's bag with a tip would also work). It's also important that you DON'T overfill each one because your donuts won't look like donuts. 
Before frosting your mini donuts, allow them to cool down completely. Oh and I give you permission to eat the ones that aren't "usable", meaning the ones that didn't hold the perfect donut shape. I wouldn't want them to go to waste.
Donut Batter Preparation
Preheat your oven to 475 degrees
Spray mini donut pan with vegetable oil  and set aside.
Mix milk and vinegar in a bowl and set aside for a minimum of 5 minutes to allow curdling.
In a separate bowl, combine cookie mix and baking soda. Add in the egg, butter, and vegetable oil and mix well.
Place donut batter into pastry bag or sealable plastic bag and cut a tiny hole in the end. (you could also use a tip for this.) 
Fill each section of the mini donut baking pan. I recommend only filling each one half way or less. DO NOT OVERFILL.
Place pan in oven and bake 4-6 minutes or until golden. You'll want to keep a close eye on them so they don't burn.
Remove donuts from oven and place on rack to completely cool down before frosting them. 
Frosting Preparation
Place wax paper underneath cooling rack where you'll place donuts after frosting. This will catch the dripping frosting.
Have your toppings nearby and ready to go.
Combine powdered sugar and milk in a bowl. If it's too thick, add a little more milk. The frosting will thicken quickly, so continue stirring after every few donuts. 
Dip the top of each donut into the bowl and move in a circular motion until it's frosted to your liking. 
Place back onto the cooling rack and apply toppings to each donut immediately before the frosting hardens.
Keep donuts in an airtight container, so they'll stay fresh,  if you're not serving them immediately.
Well, I hope the recipe was easy for you to follow and simple to make. Is your family as excited about the big release weekend as ours is? Leave a comment and tell me how you show your love for the greatest movie series in the galaxy in your home!