One of my most favorite annual birthday traditions is to get a Disney birthday button and celebrate my day at Disneyland Resort. The most special part about getting to wear one of a birthday button around the parks and the Resort, is that Cast Members everywhere will continue to wish you a "Happy Birthday"! Some may even catch you by surprise when they call you out by name! 
This year, my birthday was a little different though because we had to be out of town (for a cheer competition) on my actual day. My daughter was so sweet as she insisted we stop by the Resort on our way out of town, just to grab my button and spend a little time in the parks. We only had a few hours to do so, but we made every minute count and got to:
grab my 2016 birthday button
go down Main Street and give a bunch of High 4's to Cast Members
ride the Matterhorn Bobsleds
hang out with Farley the Fiddler
grab a Matterhorn Macaroon for the road 
As we drove away from Disneyland Resort that morning to get on the road, my daughter said, "Mommy, I'm sorry we barely got time to celebrate your birthday in the parks today."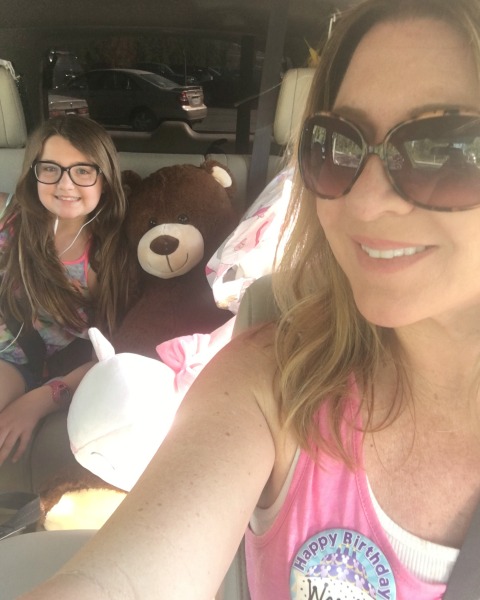 Little did I know, just as soon as we returned home from our road trip that Sunday afternoon, I'd be swept away from home and back to do some more celebrating! This time, we had a reservation at Steakhouse 55 at the Disneyland Hotel! Wow, what a special birthday treat!
Steakhouse 55 is one of my favorite places to dine at the resort. The menu offers so many delicious choices but I'm such a creature of habit that I always end up ordering practically the same meal, beginning with a celebratory glass of wine. 
I can't get enough of the Steakhouse 55 Wedge Salad. It's topped with cherry tomato, bacon lardons, candied pecans, and the most amazing blue cheese vinaigrette. Although I've never actually asked for it, I'll bet the recipe for the dressing is a secret! 
The Center-cut Filet Mignon at Steakhouse 55 never disappoints. Neither do the sides you can order to compliment your meal. We went with some Yukon Gold Mashed Potatoes, which are topped with traditional brown gravy and green onion, and some Steamed Local Asparagus, complimented with olive oil hollandaise and Maldon-flaked Sea Salt.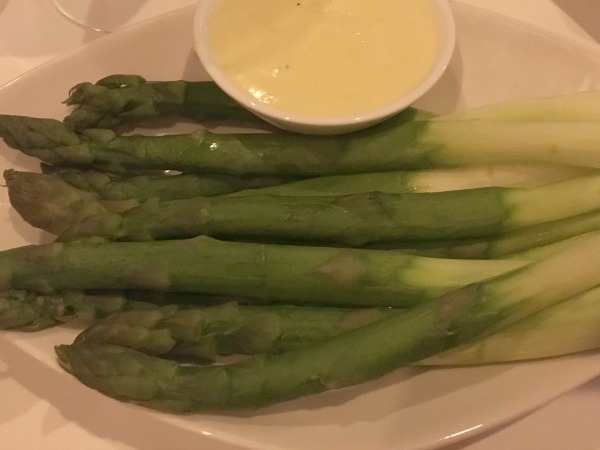 By this point, I was extremely content and almost too full for dessert…almost! I felt extra special when our server, Cast Member David, brought out a special dessert just for me. Mickey was right there on top, along with a single candle to make a birthday wish. 
I can't tell you what I wished for because it won't come true, but let's just say it was Disney-related!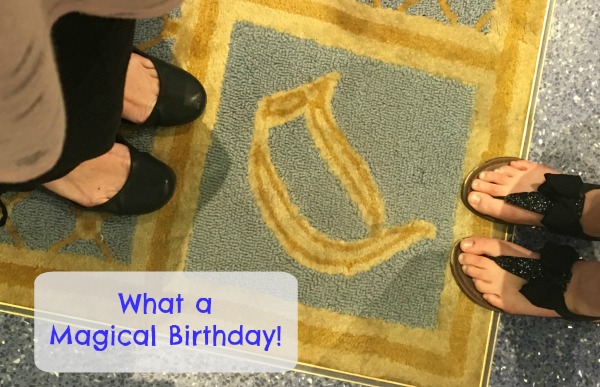 My birthday dinner at Steakhouse 55 was so Magical. I'm happy that my family closed out my birthday weekend by surprising me and taking me there!  It was delicious and the service was wonderful. Have you gotten to eat there yet? If not, I highly recommend making a reservation soon!