I received promotional items in order to write this post. All opinions are my own.
If you're a parent, I'm sure you've heard the term "STEM" used all over the place lately, especially when talking about education. STEM is an acronym and stands for Science Technology, Engineering and Math.
Many school districts and private schools have already began implementing curriculum and activities in schools that integrate these very necessary subjects into fields of study. Very important to remember is that STEM isn't aimed at just one gender but rather, includes and encourages both genders.
This holiday season, why not consider giving STEM toys from Educational Insights as gifts to the child(ren) on your list? Educational Insights has so many great ones, designed for all different ages, that'll make Merry and Bright gifts. Here are just 3 of the many great reasons to do so:
STEM gifts help better prepare a child for subject matter in school by providing them with the building blocks to succeed in science, technology, engineering, and math.
STEM gifts occupy children without the usage of screentime or TV. They're a great alternative to video games and social media.
STEM gifts are perfect for fostering playtime for both parents and children.
Here are just a few great STEM toys to consider for this year. Lucky for you, they're all available for purchase on Amazon, with shipping options that'll get them to your doorstep in time for the holidays.
Educational Insights GeoSafari® Jr. Talking Microscope – Featuring Bindi Irwin – for Preschoolers! – I love that Bindi Irwin is the face of this product, as I'm a big believer in encouraging girls to take an active interest in all.curricular areas, especially Science. Bindi Irwin shares kid-friendly facts about nature! Take a closer look with the only talking microscope for preschoolers packed with photo-quality images and audio about the amazing, up-close world of animals, plants, everyday items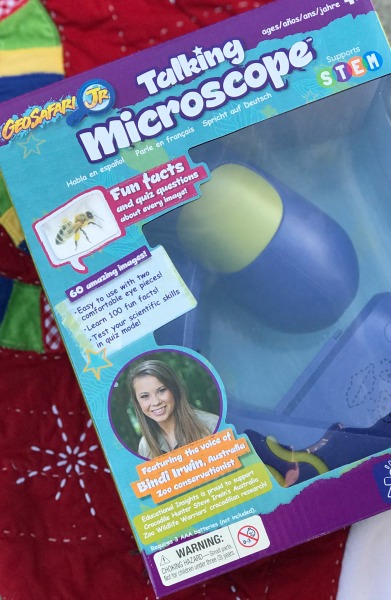 Learning Resources 1-2-3 Build It! – Your budding engineer will love using these mix-and-match pieces to build three different modes of transportation—an airplane, a tugboat, or a car (one at a time). Use the play screwdriver to put the large, durable pieces where they go.
Educational Insights Kanoodle®, Jr.– Puzzle play isn't just for the big kids anymore! Based on the award-winning Kanoodle® brain game series, Kanoodle Jr. offers on-the-go spatial-reasoning fun with simple-to-follow instructions and large puzzle pieces, perfect for little hands. Kanoodle Jr. includes 60 head-scratching puzzle challenges that easily slide into the Kanoodle Jr. board for solo play—perfect for kids 4–7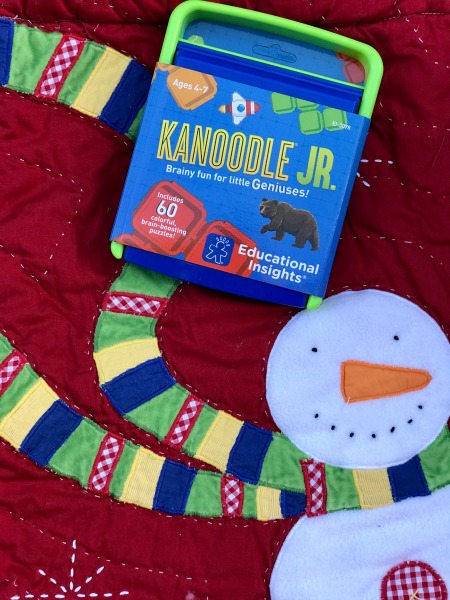 Educational Insights Smash Pong™ Game – Ready, aim, smash! Get the whole family poppin' with the hilariously fun and strategically silly challenge game perfect for kids 7+.
Educational Insights GeoSafari® Constellation and Solar System Explorer – Stargaze from any room in the house with this telescope-shaped projector to view all 12 Zodiac constellations in three view modes: celestial, connected, and illustrated. Includes a 28-page explorer guidebook, packed with facts and stories about the constellations.
GeoSafari® Motorized Solar System– Watch the planets rotate just like they do in space with eight motorized planets and a glowing light-up sun. Turn off the lights and project a star show on the ceiling for the ultimate in-room space experience!

Educational Insights Playfoam® Shape & Learn Alphabet Set– Preschoolers can practice making letters and more with this all-new Playfoam set featuring 8 colored Playfoam bricks and 13 double-sided cards for learning letters. Kiddos can place their squishy, squashy Playfoam on top of the letter card to practice molding the letter shapes for alphabet mastery. Make learning last with no-mess, non-stick Playfoam that never dries out!

As I mentioned before, you can order these Learning Resources STEM Toys and more here through Amazon and select expedited shipping options, including PRIME, to have them here in time for the holidays! That's a win-win! Good luck finishing your shopping! Happy Holidays!
Connect with Learning Resources on Facebook,
Some images are property of Educational Insights and used with permission.