The Melt, newly opened inside of The Shops at Mission Viejo is a fun, casual eatery that boasts bright white and orange decor and a menu that caters to cheese lovers of all ages!
The Melt's menu is built around a simple key principal: better comfort food for today's kids (and adults). They feature a variety of our favorite All-American classics on the menu, but prepare them in a way that doesn't leave you feeling with discomfort or heaviness you sometimes take away from a typical "comfort food" meal. 
The Melt uses only the freshest ingredients, including locally sourced produce for their menu items. They're nostalgic about their no-artificial-flavors-necessary offerings like ooey, gooey grilled cheeses melted to order. They offer juicy burgers made with a custom blend of Angus and Wagyu beef, chicken sandwiches, comforting homemade soups, and mac n' cheese with real aged cheese.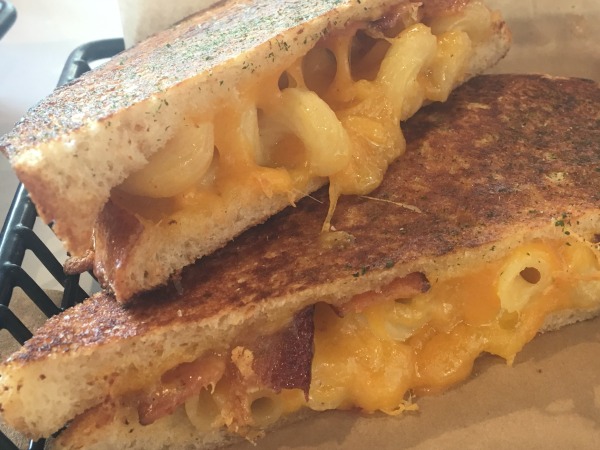 Oh and did I mention their all-natural sodas and shakes? You won't find any artificial color or sweeteners used in them. Their handmade shakes are delicious! 
The Melt offers a great kids menu. The portions are hearty and are served with sliced apples. We added a salad onto ours. 
I believe our most favorite item on their menu, hands down, was the Mac Daddy! It's a grilled cheese sandwich made with an Aged Sharp & Mild Cheddar Cheese Blend, Macaroni, and Bacon, served on grilled Artisan White Bread! This sandwich is everything!
The Melt prides itself on the ability to create some real happy moments for its customers, using quality ingredients including everything from high fructose corn syrup free-ketchup to artisan-baked buns to the season's peak produce. As a parent who's trying to feed her family the best food choices, this makes me a "real happy mom"!
To find the closest location to you, visit their site here.
I was invited to a media menu tasting in order to facilitate this review. All opinions are 100% my own.