The latest location of The Pizza Press recently opened in Rancho Santa Margarita and as soon as I saw the sign, I was excited to try it. I'd heard great things about this eatery, as they'd already opened 8 other locations in Southern California and have several more on the way.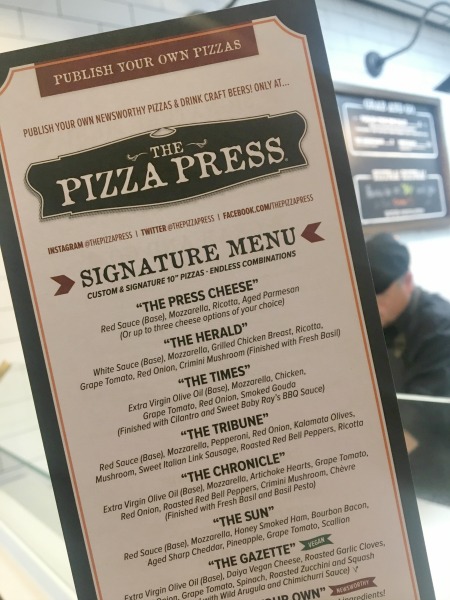 The Pizza Press offers a variety of delicious new creations and old classics. Guests also have the choice to create their very own pizza, which is prepared right in front of you, using the day's freshest ingredients! The Pizza Press is revolutionizing America's favorite food.the chance to "publish" their pizza to their liking.
Guests at The Pizza Press get to start building their custom pizza with "a blank slate", a.k.a. their dough. They then get to select their choice of sauce, then cheese, and finally the toppings from the day's freshest ingredients.
Once this is all done, their pizza is "published" as it goes into the 475 degree pizza oven for about 4 minutes. What comes out is a delicious pie!
The Pizza Press also offers fresh salads. You can start with greens and add your choice of toppings to customize your salad. Caesar and Bow Tie Pasta salads available.
We opted to add some Garlic Cheesy Bread to our meal which is made with extra virgin olive oil, minced garlic, mozzarella, aged parmesan, Italian herbs and comes with a side of red sauce. Yum!
The theme and decor inside The Pizza Press is modern twist on the Roaring Twenties, complete with quirky newspapers from yesteryear. It's such a fun atmosphere and the food is outstanding. You'll want to visit Pizza Press soon so you can "publish" your own meal!
To learn more about The Pizza Press and see their full menu, go here.
We were invited to a media tasting in order to write this review. All opinions are 100% my own.