When I received an exclusive invitation to attend the 1-year Anniversary for Elements Massage Costa Mesa, I jumped at the chance to spend a night getting pampered with some of my social media friends.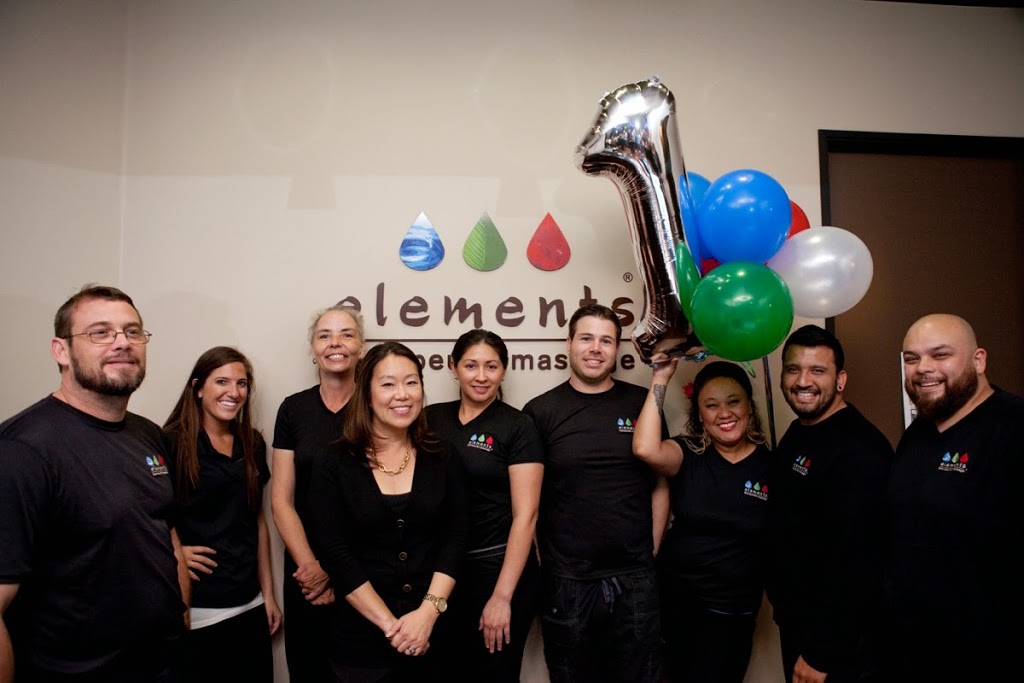 Erina Buckley, owner of Elements Massage Costa Mesa, and her wonderful staff!
(photo by The Suitcase Studio)
Upon arrival, I was checked in and immediately scheduled for a complimentary mini massage, which is one of the services they offer as part of their Wellness Program. You can count me "in" for anything that involves the word massage! Not only was I entered into a drawing for some fabulous prizes, but I was also one of the first 20 guests to check in, and therefore got one of the amazing swag bags filled with goodies inside from Philosophie, AlternaVites, LeBrisa, Violet Love, and COCOMOCORN!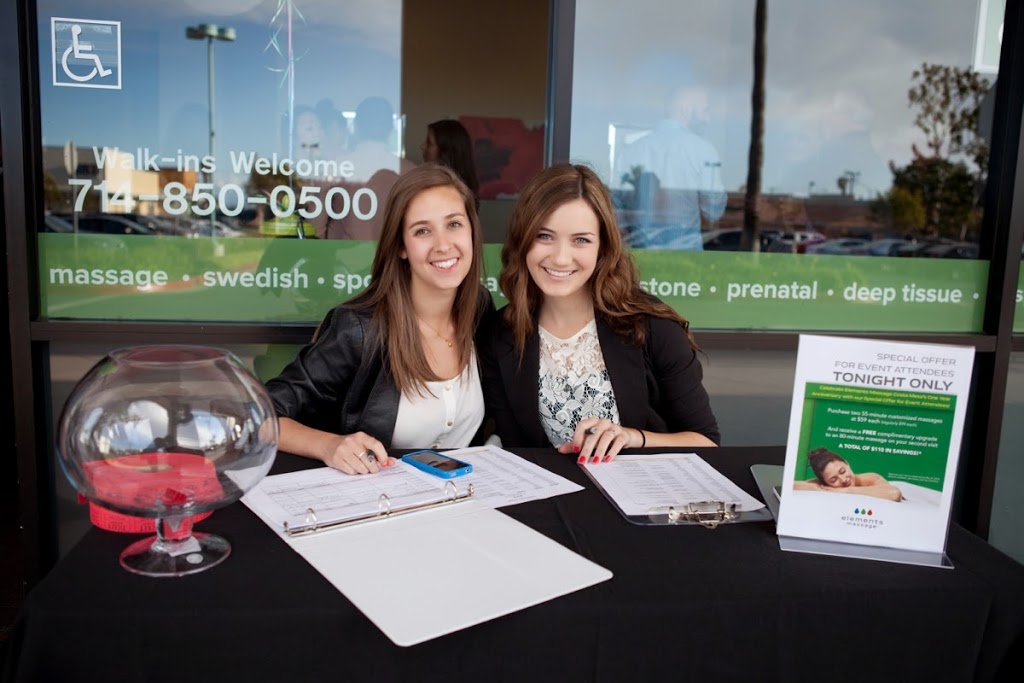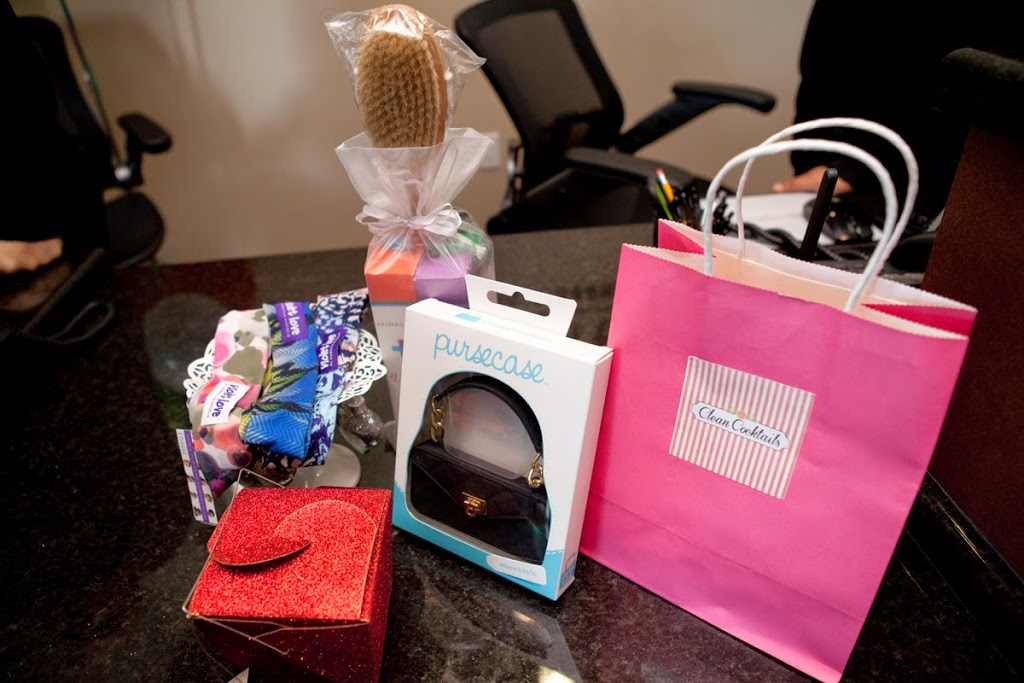 Raffle prizes were provided by Elements Massage, SkinAgain, Dermasuri, Pursecase, Violet Love, and Clean Cocktails!
(photo by The Suitcase Studio)
I was excited to meet up with my friend, Alma and also have the opportunity to mingle with some others who I also consider to be fabulous social media superstars.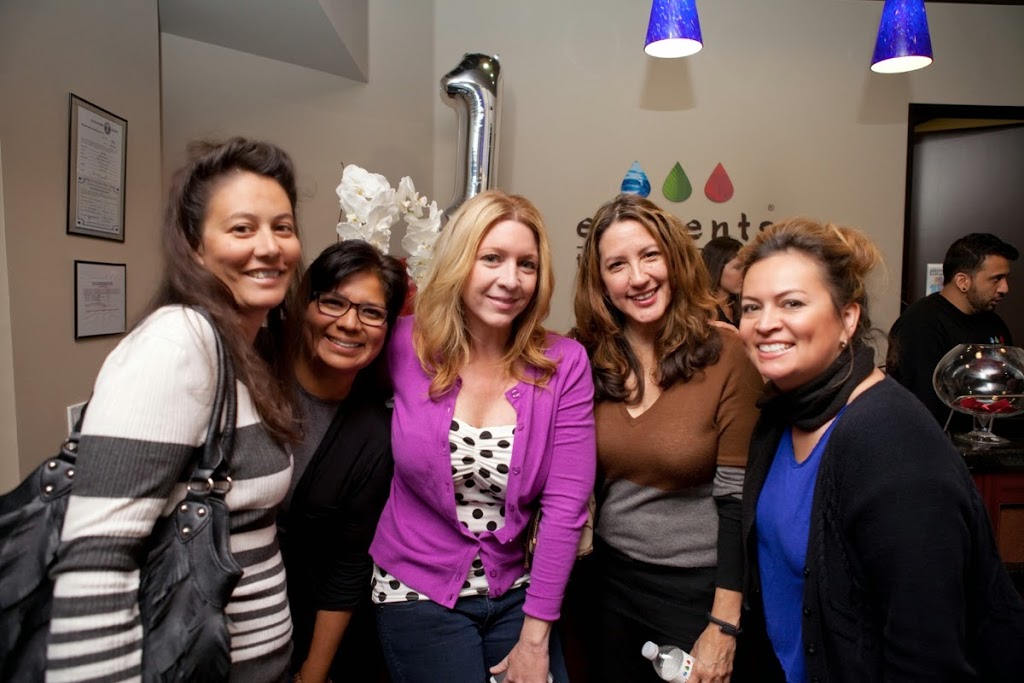 Hanging out with some fun ladies!
(photo by The Suitcase Studio)
It was fun to see that Michelle from The Suitcase Studio! She just happens to be one of my favorite photographers and was there to capture this fun event with her magical camera! 
Michelle is so tolerant of my "selfie with friends" policy, too! Aren't we cute?
At the reception, in the lobby of the spa, there were some amazing cocktails being served by Clean Cocktails and a delicious, healthy snack being provided by My Fit Foods. LeBrisa Designs was also there displaying some of their latest pieces, which we had fun trying on. The ambiance was just so relaxing and inviting, which is what I like about this location. 
Samantha from Clean Cocktails serving up some deliciousness!
(photo by The Suitcase Studio)
Healthy AND delicious!
(photo by The Suitcase Studio)
Just some of the beautiful pieces by LeBrisa
(photo by The Suitcase Studio)
It was inspiring to listen to Erina Buckley speak about how she came to be the owner of this Elements Massage location, just a little over a year ago, after first being an Elements Massage client, herself. She told the story of how she exited the corporate world to do something she felt far more passionate about and how she wanted to do something that has a positive influence on others in their journey for overall wellness. 
Erina Buckley, the owner of Elements Massage Costa Mesa. Such a fabulous and passionate female entrepreneur!
(photo by The Suitcase Studio)
I love the idea behind the concept of this spa. What they refer to as the Elements Way is something they created to help individuals achieve overall health and well-being through relaxation and rejuvenation. They use a holistic approach and strive to deliver a personalized program for each individual, connecting health and massage. It's a truly unique program that you won't find at other spas or massage places. 
When it was my turn for a "mini massage" I followed the masseuse back to one of the rooms, where he proceeded to ask me some questions about the areas I thought needed most attention and what type of pressure I preferred. He also asked if I got massages often and when the last time I got a massage was? At that point, I think you could hear crickets in the room, as I truly couldn't remember! I explained to him that I'm a mom and I don't have very much time for myself, especially not for things like this. He then gave me some very important advice and explained the importance of taking time out for myself, in order to do something to make ME feel better. He said that my excuse of "being a mom and not having time for myself to do these types of things" was even MORE of a reason why I needed to do so! It felt like I'd melted into the table after my 15 minute mini-massage! I think I'm going to take his advice and get back into Elements Massage Costa Mesa for a full massage right away! That 15 minutes felt like a paradise vacation, so I can only imagine what a full hour will be like! 
A post-mini massage group selfie! We sure do all look relaxed! Thank you Elements Massage Costa Mesa!
In honor of their 1 year anniversary, Elements Costa Mesa is offering a special month-long promotion. You can book two 55-minute massages at $69 for each appointment, regularly $99, between now and May 31, 2014 and receive a complimentary upgrade to an 80-minute massage during your second appointment. This is a total of $100 in savings! Mention the promotion "Anniversary" when booking, to redeem this special offer. Both services must be redeemed by May 31, 2014. 
Elements Massage Costa Mesa is located at 2701 S. Harbor Blvd, Suite E-3 in the Mesa Verde Center. To book your appointment call 714.850.0500.
It's amazing how easy it is for me to drink water when it looks like this!
(photo by The Suitcase Studio)
So, can YOU remember when the last time was that you did something for yourself? 
If not, then you really should change that!