Have you checked out The Triangle in Costa Mesa, yet?  This lifestyle and entertainment center, is conveniently located at the end of the 55 Freeway, where Newport Blvd., Harbor Blvd. and 19th Street intersect.
With the upcoming holidays, school breaks and even El Nino, The Triangle is a great place for families to spend an entire day together. Bring the family to enjoy such activities as brunch at La Vida Cantina, a movie, bowling at the hip and fun Tavern + Bowl (where you can link your social media accounts to share your bowling scores), dinner at Saddle Ranch Chop House (oversize cotton candy and bull rides, anyone?) and even a stop at Creamistry (opening this weekend) for a shake or custom nitrogen ice cream creation, or a latte or Affogato for mom and dad! (Or make it a date night and end the evening at Sutra!)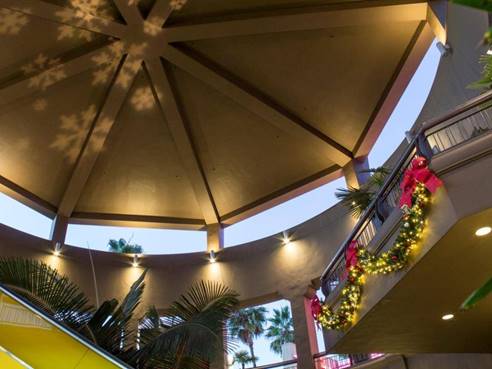 The Triangle in Costa Mesa has decked its halls for the holidays. Visitors at the center will now enjoy the sights and sounds of the season with festive decorations and holiday music.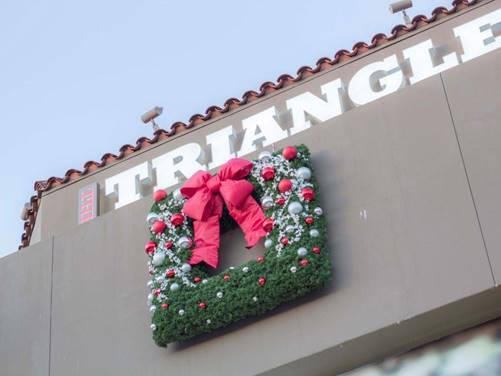 Decorations include:
3,300 white lights illuminating 19 palm trees surrounding The Triangle along Newport and Harbor Boulevards
100 ft. of green garland adorned with red bows wrapping 10 light standards along Newport Blvd. on the upper level of The Triangle
100 ft. of green garland adorned with white lights and 15 large red bows and draped in swags around The Triangle's rotundas on Newport Blvd. at 19th Street and Newport Blvd. and Harbor Blvd.
Eight green wreaths as big as 6 feet across, adorned with silver balls and red bows and lit with white lights
Snowflakes illuminating the inside of The Triangle's rotunda off Harbor and on the upper level near Black Knight. 
Located in the heart of Costa Mesa, The Triangle is a 200,000 square foot lifestyle center, providing popular dining, entertainment and services, including a car wash on the first level of the parking structure. The Triangle The center offers seven levels of free parking, as well as a Valet on the first level near Tavern + Bowl.
For more information about The Triangle, visit the center on Facebook, Twitter, and Instagram.
This is not a sponsored post. All images and logos property of The Triangle.