I received a download of this soundtrack in exchange for this post. All opinions are my own.
Confession: I was really late to the game for "This Is Us"!
I'd seen a couple of the series previews and knew it was coming last fall, but I rarely sit down to watch much on television. So, I watched my first episode on an airplane. Well, kind of. I loved the first part but it got cut short as we began landing and they shut it off. I
t was still a couple of months before I found myself actually sitting down to really get into "This Is Us". I binge watched it and WHOA! I was hooked!
If you are one of the handful of people left who haven't watched it yet, don't worry! This Is Us: The Complete First Season is already available on DVD so you can catch all of the episodes before the second season starts.
Did you know?  
"This Is Us" was nominated for 10 Emmy Awards including Outstanding Drama Series?  The show chronicles the Pearson family across the decades: from Jack (Milo Ventimiglia) and Rebecca (Mandy Moore) as young parents in the 1980s and 1990s to their now adult kids Kevin (Justin Hartley), Kate (Chrissy Metz) and Randall (Sterling K. Brown) searching for love, fulfillment and healing in the present day. This grounded, life-affirming dramedy reveals how the events in our lives – both big and small – impact who we become, and how the connections we share with each other can transcend time, distance and even death.
If you asked me to talk about my favorite character, favorite part, or favorite song from the show, I would have a hard time pinpointing those down. I am a fan of every single actor in this cast. They are all amazing in their own way and every storyline has me hooked. Did I mention how excited I am for the Season 2 premiere on Tuesday, September 26 at 9pm on NBC? 
It's of the most addicting shows I've ever watched! When I was asked if I wanted to preview and share about the music for "This Is Us" I thought to myself, "HECK YEAH!".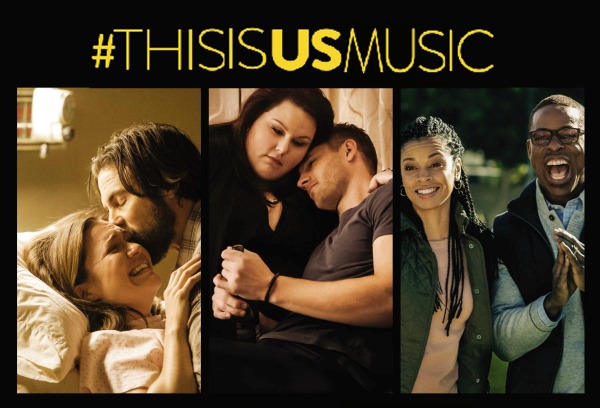 This Is Us (Music From the Series)  is a companion to the show everyone loves and will be available September 15 via UMe. With instantly recognizable hits and classics, an original song and a compelling score, the soundtrack features 20 songs curated by "This Is Us" Creator/Executive Producer Dan Fogelman and his team, music supervisor Jennifer Pyken and composer/musician Siddhartha Khosla. Each musical element is carefully woven throughout the series, with the songs clearly defining a moment or serving as a gentle guide through the complex emotional journey.
I love the songs so much. I don't know if it's because they remind me of different moments in the series or if it's because many of the songs remind me of my own childhood? For me, music is a way to record memories and hearing certain songs take me back to certain moments and snapshots in time. The entire first season was really special to me and now having the opportunity to download and listen to all of those songs, brings an extra big smile to my face!
This Is Us (Music from the Series) includes:
Death With Dignity – Sufjan Stevens
You Can Call Me Al – Paul Simon
Willin' – Mandy Moore – Listen on YouTube here
Can't Find My Way Home – Blind Faith
Uptight (Everything's Alright) – Stevie Wonder
The Calvary Cross – Richard Thompson & Linda Thompson
Watch Me – Labi Siffre
The Wind – Cat Stevens
Come Talk To Me – Goldspot
Blues Run The Game – Jackson C. Frank
If Only – Maria Taylor (featuring Conor Oberst)
Northern Sky – Nick Drake
If I Ever Was A Child – Wilco
Because Of You – Gene Clark
Evergreen Cassette (Tape Mix) – Goldspot
Without You – Badfinger
The World's Smiling Now – Jim James
Photograph – Ringo Starr
We Can Always Come Back To This – Brian Tyree Henry
This Is Us Score Suite – Siddhartha Khosla
Great News! You can preorder This Is Us (Music from the Series) by visiting here!  You can also join in the This Is Us Music – Facebook Listening Party on Sept. 15 at 10am PT/1pm ET on Facebook.
"This Is Us" Season 2 premieres Tuesday, September 26 at 9pm on NBC and I've been counting down the days! Will you be watching it too?