If it's possible to have a "favorite wall", I do! I found it last year when Emi and I were walking through Downtown Disney, on our way into The Disneyland Resort for some casual Halloween-time fun. We stopped to admire the Lego Store display outside and BOOM…there it was! The wall spoke to me, like no wall had ever spoken to me before, and demanded that I photograph it immediately! Maybe I was imagining, maybe I just had candy corn on my mind, because seriously this wall looks like a giant piece of candy corn! Although I'm fortunate enough to have a very photogenic model for my pictures, she's not always as enthusiastic as I am about having to be camera-ready almost all the time.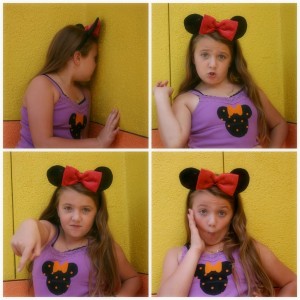 Regardless of what I got out of her, which looks to be a bunch of smolders, looking back at these pictures just gets me REALLY excited for Halloween time at Disneyland and Disney's California Adventure! It's such a beautiful time of the year in the parks. It's just something that everyone should get to experience at least once! I love the beautiful decorations, the pumpkin goodies and the happy Fall feeling in the air!
Have YOU had the chance to visit the parks at Halloween time? If so, what are some of YOUR favs?