This is not a sponsored post. All opinions are my own. 
I can't even remember how long it's been since I've been anticipating the arrival of "Toy Story 4"? I just know it's been a long time coming. Personally, I have so many mixed feelings about this film. It feels like the end of an era and I just don't know if I'm ready for that.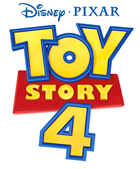 Wasn't it just yesterday that we were all introduced to Buzz, Woody, Jessie?  I literally can't throw away any of my daughter's toys since parts 2 & 3 came out.  I just don't want the whole Toy Story series to be over and I'm going to be an emotional mess in the theater!
With that being said, I absolutely adore "Sporky"! He's the cutest addition to the cast and I can't wait to see how his character plays out. Bo Peep, on the other hand, has me curious. She doesn't seem like the nicest….
I was excited to watch the "Toy Story 4" final trailer today. Have you watched it yet? Here it is:

"Toy Story 4" opens in U.S. theaters on June 21, 2019. Are you as excited to see it as I am?
Images, logo and trailer are property of Disney-Pixar and used with permission.