I received promotional products in order to write this post. All opinions are my own. 
The other day we were so excited to open a very special package from Disney Store that we found on our doorstop. To our delight, inside of the box were all of the TOYBOX collectible action figures! You know how much we love all things Disney! Have you heard of these yet?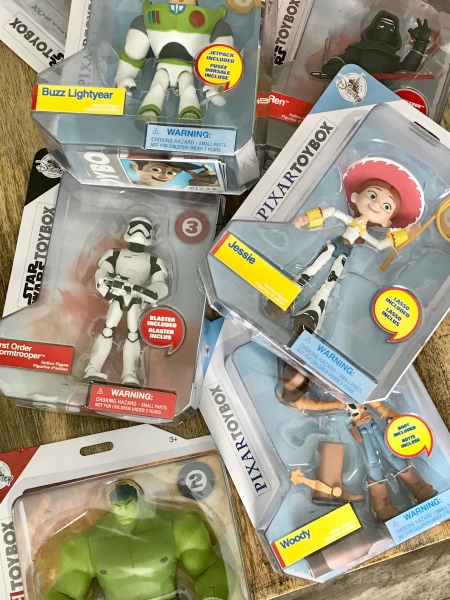 TOYBOX action figures are a new collection of action figures that bring adventures to life with characters from across The Walt Disney Company. These collectible action figures are from PIXAR, Star Wars, and Marvel and each is designed for real world play. Each one of the figures has 14 points of articulation, a signature accessory and a universal hand grip, allowing the accessories to be swapped between characters.
Here are the TOYBOX figures we received:
TOYBOX Pixar series – So far, this series includes Woody, Jessie, and Buzz Lightyear. 
TOYBOX Star Wars series – So far, this series includes Kylo Ren, Rey, and a First Order Stormtrooper.
TOYBOX Marvel series – So far, this series includes Thor, Hulk, and Iron Man.
*Please note: Each of these figures is sold separately. 
How cute are the TOYBOX figures? I don't think I can pick out my favorite because I love them all! TOYBOX collectible action figures are priced at $12.95 each and are available exclusively at the Disney Store and on ShopDisney.com. Don't forget to keep an eye on ShopDisney.com for a new characters to release each month. We're excited to collect them all! Thank you, Disney Store for the very special surprise! Happy Holidays, Everyone!
Some images are property of ShopDisney.com.