Simon Malls is inviting moms to sit back, relax and enjoy an evening that focuses on style and more at The Shops at Mission Viejo, all in celebration of Mother's Day. Indulge, a stylish treat for mothers, is presented by Diet Coke and will take place on Thursday, May 8 from 5 p.m. to 8 p.m. in Center Court.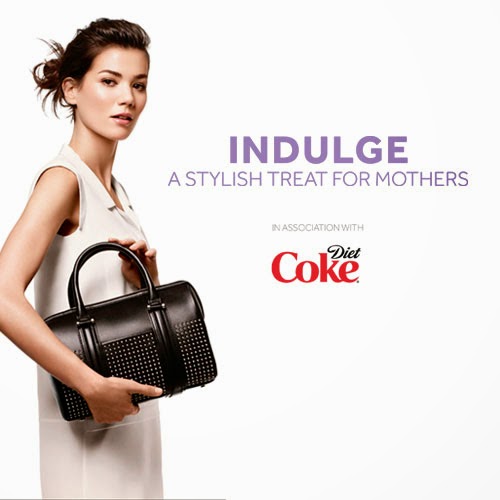 This event will provide moms with a much-needed opportunity to treat themselves to a night out and celebrate motherhood through a fun, fashionable shopping experience. Event attendees of Indulge can do MUCH more than just shop for spring style must-haves. Moms and their friends can experience fashion tips and style consultations from retailers like Old Navy and Fossil. There will also be beauty services available, including a complimentary mini facial from Origins, delicious refreshments and drinks, plus special event giveaways from Harlequin® books and retailer offers throughout the mall. 
Additional Indulge offerings include: 
     *Mini-Style Makeover Giveaway: During the first 30 minutes of the event, three lucky attendees will be selected to experience a free mini-fashion makeover. Tiffany Borland of fashion blog Tuolomee and Style Setter for the center will surprise women at random with the chance to shop for a new look, receive expert style advice and reveal their new ensemble at the end of the event. 
     *Mixology Stations: Mixologists will shake up appealing drink combinations for moms to sample and explain how to replicate recipes at home. Bacardi will be sampling their Grey Goose Le Melon Vodka brand. 
     *Food Sampling: Moms can try samples from some of the area's best restaurants and hear about the latest food trends. Muscle Beach will be treating all moms to a free 16 ounce lemonade, while Ruby's Diner will serve French fries and Cajun French fry samples. Williams-Sonoma will also host a risotto demonstration at their cooktop. 
     *Stylish sounds: Enjoy sounds by local musical performers, including a steel drum band from Brad Winchell of Sounds of Paradise. The mall's atmosphere will be transformed into a chic, lively entertainment event venue. 
     *Diet Coke Sampling: Enjoy a refreshing ice cold Diet Coke. 
     *Chic-est Mom Photo Op: Moms can walk the red carpet and strike a pose as they remember the night with a fun photo op and share their experience via social media (#indulgeatsimon). 
     *Pampering Stations: Moms can indulge in pampering stations including mini eye facials and hand massages from Origins and a braid station from Toni & Guy, with a complimentary eyelash application in-store. 
     *Swag Bags: Swag bags containing retailer offers and discounts will be given to the first 600 shoppers on a first-come, first-served basis.  
Simon Malls' Indulge events are free & open to women of all ages.