Last week, we spent the perfect day with friends at Buccaneer Cove inside BOOMERS in Irvine! If you haven't been there yet, it's somewhere you should definitely hit up THIS summer with the kids!
 Buccaneer Cove is a giant water play area (inside of a self-contained gated area) located inside of BOOMERS in Irvine. It features 5 different water slides, each catering to adventure seekers of different heights and ages. In addition to the water slides, Buccaneer Cove also has a wet tunnels, spray loops, spray cannons an interactive Aqua Dome, and a huge splash bucket! It's like a kids' paradise. Let's talk a little bit more about the slides though. First of all, they each have a name.
The Yellow Slide is the tallest and longest slide in Buccaneer Cove. It's 380 feet, from start to finish. You'll climb up to the top (on the 4th level) and slide down this fully enclosed yellow tube. As you slide down, you'll twist through a figure 8, then pick-up speed with a straight chute and spiral to the end!

The Blue Slide is one of three slides that begin on the 3rd level. This slide is one curvy ride! Also an enclosed slide, once you push off into the blue tube, you'll whirl through a figure 8, pick-up steam in a straight run, then sling through a power bend to the end!


The Red Slide is another one of the three slides that begin on the 3rd level. This one is fast! When you drop off into the enclosed red tube, you'll quickly fly through a splashy S-curve, then plummet through a spiral to the end!
The Open Slide is the only non-enclosed slide intended for the bigger kids! It also starts up on the 3rd level and puts you through the paces. You'll whirl through a counterclockwise spiral and then suddenly sail through another spiral in the opposite direction. Then – splash! It's over, and time to do it again!
This is the perfect slide for the smaller water babies. It's a two-lane open slide and both lanes start at the 1st level. It's a gentle slide but a big thrill for kiddies under 36" with parental supervision. 
In addition to the water slides, Buccaneer Cove also has wet tunnels, spray loops, spray cannons,  an interactive aqua dome,  and a huge splash bucket! It's literally a water wonderland for kids!
As a mom, one of my favorite parts about the entire place is that you can see your kid(s) from most locations that you'd choose to sit at. It doesn't require that you, too, go on all of the slides or be in the water play area, unless that's your sort of thing. There is plenty of seating all around Buccaneer Cove.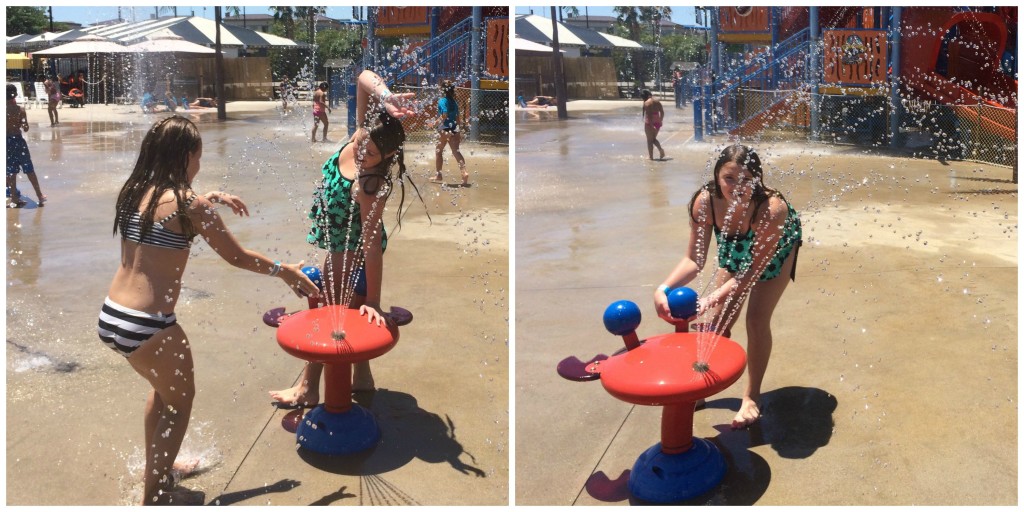 Buccaneer Cove offers guests the option of renting a cabana for the day.  For a very reasonable price of $75 for the entire day, the cabana includes services of a host or hostess for an hour and a bucket of bottled water for your party. You can order food from your host or hostess, which they can bring to you.
The cabana comfortably accomodates 6 guests but we actually had more. Also, the kids in your group will most likely never come into the cabana except to eat.  Cabanas at Buccaneer Cove are limited so you'll want to plan ahead of time and even reserve one online here.
Right inside Buccaneer Cove is a snack bar where you can purchase snacks, sweets, and beverages. You are also able to walk over to the snack bar inside of BOOMERS to order food that you can bring inside of Buccaneer Cove. The BOOMERS snack bar has items on the menu such as chicken fingers, hot dogs, nachos, and salads. (The Caesar salad was delish!) They also serve entire pizzas which are perfect for a big group. Please note: there is no outside food or drink permitted inside of Buccaneer Cove. 
Buccaneer Cove is Open from Memorial Day Weekend through Labor Day.
The hours are as follows:
Monday – Friday 11:00am to 6:00pm / Weekends Only 11:00am to 7:00pm
For more information about tickets and operating hours for Buccaneer Cove, click here.
Connect with Boomers in Irvine on Facebook, Twitter, and Instagram!
I'd like to thank the entire staff at Buccaneer Cove for your hospitality and hosting us for the afternoon!