Orange County is getting an all-new attraction this holiday season called Winter Fest! Opening December 8 and continuing through January 3, Winter Fest will be at the OC Fair & Event Center in Costa Mesa. The festival embodies the spirit of the winter season, bringing fun and merriment to sunny Southern California. The event was created to engage and delight guests of all ages. Winter Fest is an affordable holiday experience that ensures a fantastic adventure rain or shine, for seventeen days and nights during the traditional holiday school break. The fairgrounds are the perfect venue for Winter Fest, offering both indoor and outdoor space. The majority of the main attractions and entertainment are within buildings, essentially making Winter Fest 'El Nino-proof.'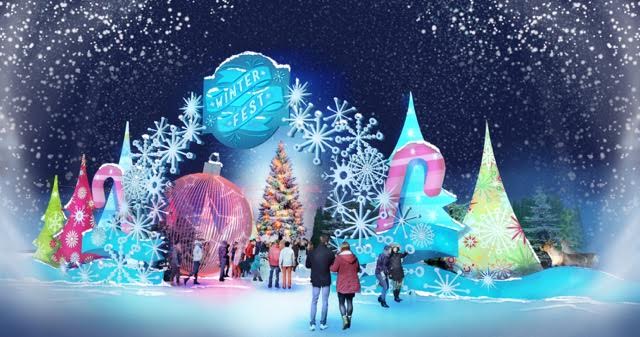 Passing through Winter Fest's icy gates reveals a whimsical wonderland where guests can stroll through the center of the world's largest illuminated ornament. Attendees can sample holiday treats while sipping hot cocoa or specialty craft cocktails, and enjoy activities for guests of all ages. 
Entertainment includes:
roaming holiday characters
performances by singers and artists
magicians
a nightly Christmas tree lighting ceremony with snow flurries.
Guests are encouraged to arrive early for Winter Fest's opening moment each day, and stay throughout the night to enjoy all of the festival's attractions.
Admission and Activities
Winter Fest admission tickets start at only $10 online. (for a limited time only) Ticket prices Monday through Friday are $10 online, $15 onsite for children age 4 – 11, and $20 online, $25 onsite for adults. Ticket Prices Saturday and Sunday are $15 online, $20 onsite for children age 4 – 11, and $25 online, $30 onsite for adults. Children 3 and under are free.
Adult season passes for unlimited access for all of Winter Fest's dates are available for $45 advance and online (limited supply); children's season passes are available for $25 advance and online (limited supply).All tickets are a fantastic value, allowing unlimited access to tube down the 130-foot, six-lane ice slide (available for guests 42" and taller). Tickets also include one complimentary carnival ride and game in the midway, and access to themed bounce houses for young attendees.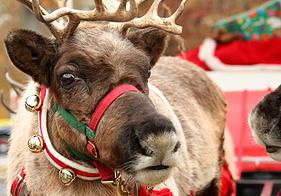 Admission includes access to the following activities:
time with the most famous couple in the North Pole, allowing guests to meet Santa Claus,
heartwarming tales from Mrs. Claus during story time
the elves' arts, crafts, and games in the North Pole building
festive face painting
balloon art
official photos with Santa Guests
more than 30 carnival rides and games are available for an additional fee
reindeer graham cracker feedings  (by the way the reindeer that will be there are actually the ones that were studied for the movie Frozen-fun fact!)
rides on the North Pole LTD trackless train
ice-skating
*some activities require an additional fee 
Ice Skating and Private Cabanas
The Hangar building inside the fairgrounds will be transformed into an elegant festival space with a massive ice skating rink, where brilliant hanging snowflakes light up the ice below. Onlookers can watch skaters circle the rink while beloved holiday films play on the theater-sized projection screen in the background. Skating is available on a first come, first serve basis; $15 per person including skates. Skate assists are available for $5. Private, rink-side VIP cabanas are also available for $99 per session, creating a Winter Fest destination for holiday office parties, birthday parties, family retreats, or couples looking for a new way to celebrate date night. Each cabana holds up to 10 guests but can be expanded to accommodate parties up to 100. All cabanas offer a special menu with holiday inspired foods and craft cocktails, and a cabana server to attend to guests' needs.
Food, Treats, and Libations
Frolicking throughout Winter Fest can stir up an appetite, which can be satiated with tasty treats and delicious libations. Guests can visit Mrs. Claus' Bakery for sweets while watching live fudge cutting and cinnamon roll making. Merry wanderers with a heftier hunger can enjoy seasonally and internationally inspired foods, including soups in bread bowls, potpies, tamales, Chinese food, crepes, and turkey and stuffing. Traditional SoCal fun foods will also be available, including pizza, tacos, grilled cheese, and BBQ kabobs. Kettle corn and popcorn will be offered for guests on the go, and thirsty festival-goers can indulge in a tempting hot chocolate and martini bar. The OC fairgrounds' traditional Baja Blues Restaurant will be re-imagined as a snow-covered ski lodge, where guests can enjoy food, libations, and local bands.
Operating Hours
Winter Fest casts its icy spell over the OC Fair & Event Center for seventeen days and nights December 18 – January 3. Hours of operation are 11 a.m. – 10 p.m. Sunday through Thursday, and 11 a.m. – 11 p.m. Friday and Saturday. Special hours of operation include December 24 (Christmas Eve) 11 a.m. – 5 p.m. and December 25 (Christmas Day) 2 – 11 p.m. Santa and Mrs. Claus will be present at Winter Fest every day and night through Christmas Eve, December 24.
For additional information about Winter Fest, click here. Connect with Winter Fest on Facebook and Twitter.
This is not a sponsored post. All images and logos property of Winter Fest.