YOTEL New York, together with Flight 001 and JetBlue is celebrating the season by offering guests the opportunity to win travel-themed gifts throughout the month of December with 12 Days of Travel Surprises!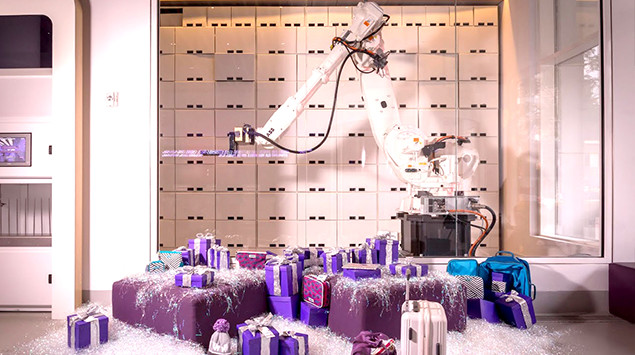 The initiative is made possible by YOBOT, YOTEL's beloved luggage storing robot that will personally deliver the gifts to guests in Ground Control. The enormous, friendly and efficient luggage-storing robot holds guests' luggage in any of the 150 bins situated behind a transparent glass wall. The interactive and playful experience allows guests to use a touchscreen to transport their luggage to the storage bin via a giant robotic arm. The luggage can then be easily retrieved with the simple scan of a custom barcode.
This holiday season, YOTEL will make the experience even more exciting by stocking select bins with special travel-oriented gifts for those staying at the hotel. While guests use YOBOT to store their luggage, they will have the unique opportunity to win JetBlue travel certificates, hotel stays and fun travel essentials from Flight 001. If one of the stocked vaults is selected, YOBOT will bring the gift to the guest before proceeding to store their baggage.
JetBlue will contribute round-trip travel certificates, while YOTEL will offer two night stays at its New York location in a Premium View Cabin. Gifts from Flight 001 will range from rolling luggage and travel essentials, to beauty accessories and more.
Eligible participants may also play online at yotel.com/sweepstakes. Visitors to the site will be prompted to log in and select a virtual YOBOT bin each day for a chance to win a range of travel surprises. Participants are encouraged to share their excitement on social media with #YOBOTSANTA!
For inquiries, please contact [email protected].
Connect with YOTEL on Facebook, Twitter, and Instagram.
This is not a sponsored post. All opinions are 100% my own. Images property of YOTEL New York.