This is not a sponsored post. All opinions are my own. 
Yogurtland will celebrate the 8th annual International Frozen Yogurt Day celebration on Wednesday, Feb. 6. Fans can bring a friend to celebrate and indulge in a buy one, get one free offer from 2pm – 7pm at all participating locations.
This year, Yogurtland's celebration of dessert creativity will include two handcrafted flavors made in collaboration with The Hershey® Company:
Chocolate Toffee Bar made with Heath Bar frozen yogurt – Fans are invited to enjoy a smooth and creamy low-fat frozen yogurt flavor inspired by Hershey's® Heath Bar. Featuring sweet and buttery toffee, roasted nut, and smooth milk chocolate flavor notes.
Peanut Butter Cup made with Hershey's® Cocoa and Reese's® Peanut Butter frozen yogurt – Yogurtland brings back this fan favorite flavor, offering guests an irresistible combination of peanut butter and chocolate. Blending Hershey's® Cocoa and Reese's® Peanut Butter, this flavor creates a creamy spoonful of delicious sweetness in every bite.
"We are thrilled to be celebrating another year of International Frozen Yogurt Day with our Yogurtland guests, We invite all our fans to bring a friend and share in the fun of this BOGO offer by creating a tasty treat using any of our delectable flavors and delicious topping options." – said Jennifer Ehrencron, Yogurtland's senior marketing manager.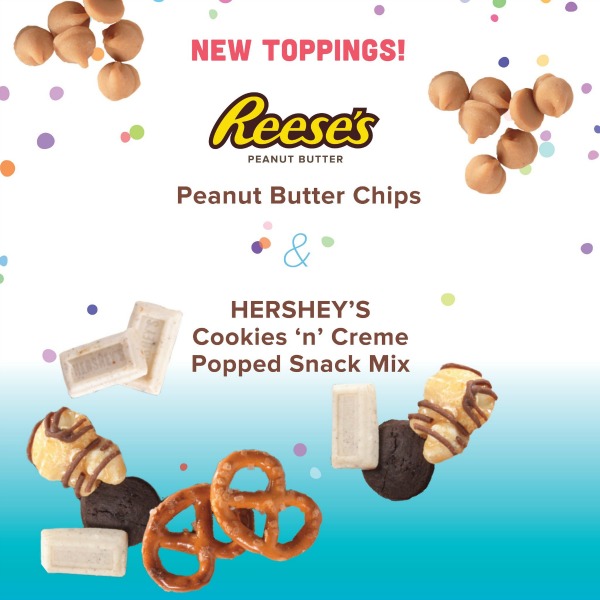 For a limited time, Yogurtland is also offering fans the perfect pairing of Hershey® toppings for these delicious flavors. Sweet meets salty with the Hershey's® Cookies & Crème Popped Snap Mix. Combining Hershey's® mini Cookies 'N' Crème Bars, mini chocolate cookies, pretzels, and chocolate-drizzled popcorn providing the perfect sweet and salty balance. Guests can also top off their sweet creations with the smooth and creamy Reese's® Creamy Peanut Butter Chips.
Yogurtland will celebrate International Frozen Yogurt Day at all of its locations on February 6th. Grab a friend and head on over to take advantage of the buy one, get one free offer from 2:00PM – 7:00PM! To find your nearest Yogurtland location, go HERE.
Images are property of Yogurtland and used with permission.