This is not a sponsored post. All opinions are my own .
I was so excited to see a brand-new Yogurtland location is now open in Sendero Marketplace in Rancho Mission Viejo! It's no secret that we love Yogurtland!  Having Orange County's newest location open up practically next door to my house was the best thing to happen all month!
With a ribbon cutting ceremony and grand opening specials, the Rancho Mission Viejo location of Yogurtland officially opened its doors on Friday, July 13 and had a line out the door! (It unofficially opened on June 20 though.) If you haven't been over to try out some of their delicious fro-yo or even their light ice cream, you need to get over there soon!
Yogurtland features non-fat and low-fat yogurt flavors, ice cream, and no sugar added choices while using milk that contains no antibiotics or added hormones. Fruit flavors are fortified with Vitamin C for an extra boost. They even have 3 featured flavors for summer: Blue Raspberry Sorbet (made with Jolly Rancher® blue raspberry flavor),Cookies and Crème Smores AND Butter Pecan light ice cream! These are all available only for a limited time.
Yogurtland guests can create their own treat, snack or dessert from a variety of handcrafted frozen yogurt, ice cream, and non-dairy sorbet flavors and an abundant topping bar with fresh fruits, candies, premium sauces, and more to create an experience as unique as they are.
I love that Yogurtland's "flavorologists" continually create craveable flavors that keep fans loving their taste experience. I had no idea that Yogurtland owns its own dairy and by controlling the manufacturing process. delivers the highest quality flavors, setting new standards for the industry and delighting guests all year long.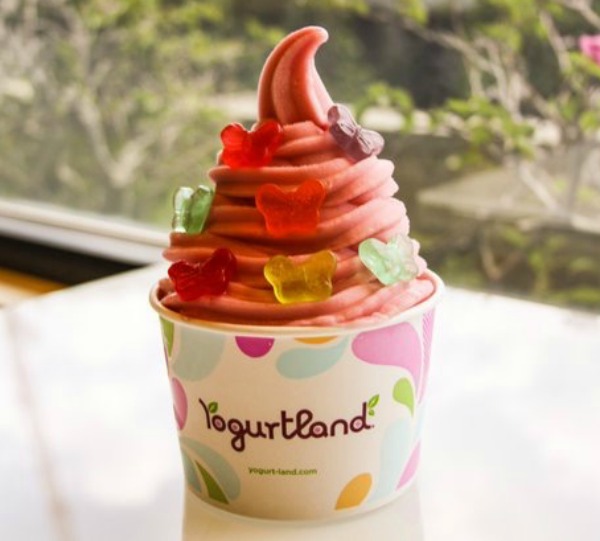 Yogurtland in Sendero Marketplace is located next to the Starbucks at 30841 Gateway Place, Rancho Mission Viejo, Ca. 92694. Yogurtland has more than 320 locations across the U.S., Australia, Dubai, Guam, Myanmar, Oman, Singapore, Thailand, and Venezuela. For more information, please visit here.
Last image is property of Yogurtland and used with permission.