One of our favorite places to go for a treat is Yogurtland. Have you visited a location yet? They always have so many delicious flavors, that it's hard to decide on just a few. (luckily the cups accommodate more than 2 flavors at a time!) 
On a recent after school trip to Yogurtland, we got to experience something extra special happening. Their 4th Annual "Flavor Quest" is happening now through June1!  Yogurtland's "Flavor Quest" will take fans on a global culinary journey with nine hand crafted, custom flavors and three new toppings, in honor of nine countries around the world. A new flavor launches each week and will be available for two weeks. 
The fourth annual Flavor Quest special flavors and toppings are: 
Indonesian Chocolate Java Cake: This decadent dessert takes the cake with rich chocolate and subtle notes of coffee to create this Indonesian-inspired perfection.
English Toffee: Blended with real butter toffee sauce, this rich gourmet sweetness will bring out your British side.
Thailand Mango Coconut Tart: Taste a true tropical treat from Thailand and one of the country's most beloved culinary combos. This flavor pairs two of the best mango varietals in the world and blended it with coconut water for a lightly tart flavor that refreshes your taste buds. 
Austrian Apple Strudel with Caramel: A new take on the classic Austrian dessert, this flavor blends real caramel, apples and notes of cinnamon for a delectable treat.
Middle Eastern Fig & Honey Gelato: To create this sweet combination, figs, a staple from the Middle East, are paired with a touch of honey to create a rich and sophisticated gelato.
Mexican Horchata: With real cinnamon and almonds, this creamy treat is an authentic spoonful of the deliciously sweet and popular Mexican rice drink.
 Argentinian Dulce De Leche Cookie: Creamy dulce de leche is combined with shortbread cookies to create an irresistible South American flavor.
New Zealand Kiwi Raspberry Sorbet: This flavor-packed sorbet blends real raspberries and kiwi fruit to create a naturally sweet and crisp combination.
American Peanut Butter Parfait: Enjoy a taste of true Southern comfort food without the guilt. This no sugar added flavor combines rich vanilla with real peanut butter for a delicious spoonful of flavor.
Flavor Quest will also feature three new toppings: light French Galette cookies, rich and creamy Venetian Chocolate Truffles, and buttery Mini Shortbread Fingers.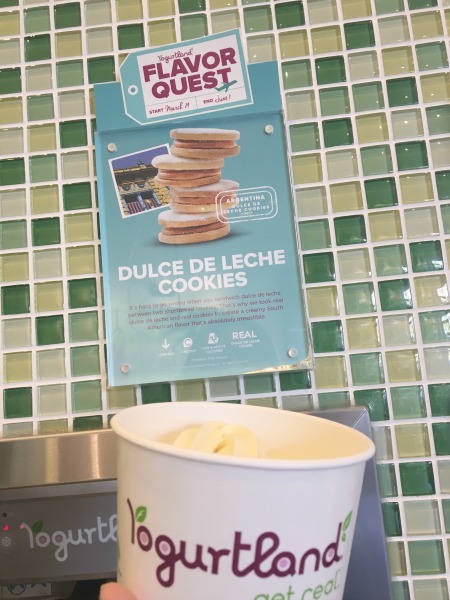 So far we've tried 5 of the 9 flavors. We loved each one for a different reason so please don't ask me to choose my most favorite! If you haven't visited Yogurtland during their "Flavor Quest", you should do so before it ends on June 1st!
I was provided with a media tasting in order to facilitate this post. All opinions are 100% my own.