I received promotional products in exchange for coverage. All opinions are my own. 
The holiday gift buying season is coming to an end and if you're like me, you still have a bunch of people left to buy for on your list. I know on my own list there are several nieces and nephews to buy for and I want to score points for being "the cool aunt" by picking out the perfect gifts for them.
This year, my nieces and nephews have some fun ZIPIT items listed on their Holiday Wish Lists. Have you seen this adorable line of pencil cases and pouches, storage boxes, backpacks and bags before? They are so cute!
ZIPIT bags stand out in a sea of boring, unoriginal bags and cases. They are a hot item that every kid seems to know about. My daughter was the one who first told me about them and now she has an entire collection of ZIPIT that she uses for school.
I've put together a little ZIPIT Holiday Gift Guide to showcase some gift ideas that you can check out for those left on your list to buy for. Here are some of the coolest ZIPIT gifting items this year:
Grillz Junior Backpack – IPIT Grillz Children Backpack come with built in attitude so you can go through your day in style! The hood, eyes and shimmering grillz combine to make this one cool school bag.
Color Boxes Storage Case – Durable pencil box with a hard, protective shell. It holds up to 60 pens and pencils! It can also store your scissors, sharpeners, crayons, markers, and more. I love this bold geometric design.
Talking Monstar Pencil Case – The design features one long zipper that can be fully zipped and unzipped! It's a cool pencil pouch for boys or girls 
As an added feature, there's a free Monstar app that goes with this poiuch and is so  fun and playful. You can download the free app to your iOS or Android device and your pencil case will come to life with a personality of its own! Play games, take photos and videos, and share them with your friends on social media. Here's a short video showing how it works:
Beast Box Storage Case – keep your school supplies, office supplies and more safe inside this sturdy fabric covered case. This is a cool pencil box for girls and boys of all ages!
Shell Backpack – Keep everything safe and sound inside the protective soft shell exterior of this super cool backpack with zipper closure.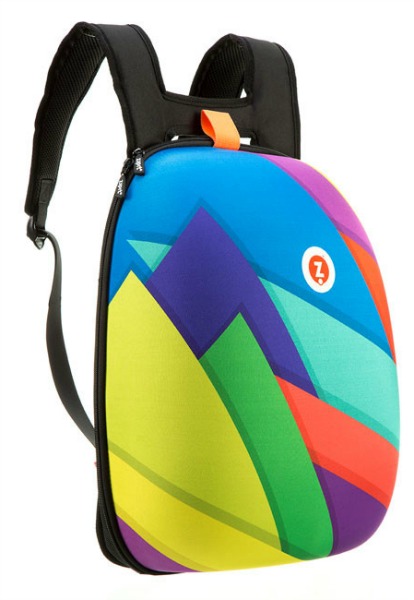 Monster 3 Ring Binder Pouch – A 3 ring pencil pouch with a playful Monster smile to protect your school supplies and help you stay organized all year long.Trust
Trust me when I say, any ZIPIT product you decide to give as a gift this year will hit it out of the park with the kids on your list! ZIPIT is sold in over 30 countries around the world, the worlds' major chain stores, and soon in our own specialty retail store and is constantly growing and developing an ever-changing variety of products. To see their full line of products, please visit their site here.  For holiday delivery, shop for ZIPIT products on Amazon here and don't forget to select expedited (or Prime) shipping at checkout. Happy Holidays!
Connect with ZIPIT on Facebook and Instagram.
Some images and logos are property of ZIPIT and used with permission.