I was provided with accommodations in order to write this post. All opinions are my own. 
I recently stayed at the Grand Legacy at the Park in Anaheim with a group of girlfriends and it was so much fun! We were there on the weekend of CHOC Walk in the Park and it was so convenient to stay there because this hotel is just across the street from the Disneyland Resort in the heart of Anaheim.

"The Grand" isn't a new property, although it was recently renovated in a big way, but the hotel has been a family favorite for over 40 years.
Today I want to give you just 5 of the reasons you should book a stay sat the Grand Legacy at the Park on your next trip to Anaheim.
Location, location, location
The Grand Legacy at the Park is a prime location, literally across the street from Disneyland Park, Disney California Adventure Park, and the Downtown Disney District. What this means is you have easy access to walk to and from the Parks. There's really something to be said about staying so close by. You don't have to even think about driving to the Resort and paying for parking there. It's also convenient because you have the option of returning to the hotel to rest and recharge at any time during the day, if you need to. Families traveling with children know the importance of naps and this location allows you to go back and do so easily, without having to travel very far. Sometimes you realize you might need to change your outfit or shoes, grab a jacket, or even go back and get something you forgot to bring to the Parks. Knowing your hotel room isn't very far away is really reassuring. For me, location is key, especially on a family vacation.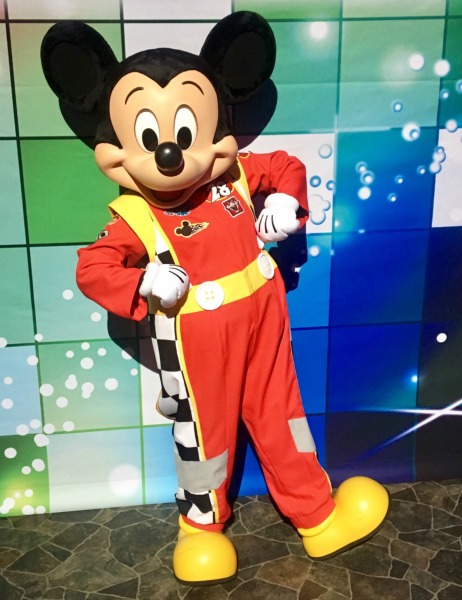 They have newly renovated rooms and suites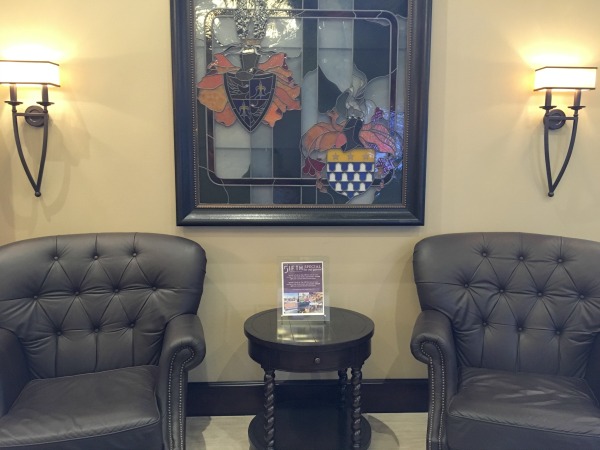 The Grand Legacy at the Park went through a major renovation just last year, which included a brand new lobby and new suites, some that are even facing the Disneyland Resort!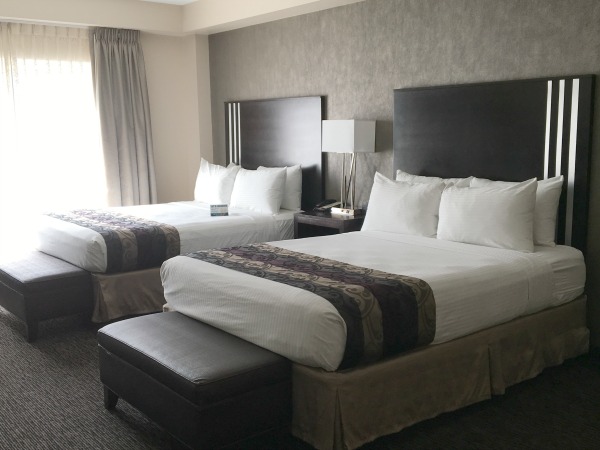 The hotel offers renovated rooms that range from Classic 2 Double Beds up to Grand Legacy 3 Room Suites. Whichever room you stay in, you'll find all the comforts of home with these amenities:
a mini-refrigerator, microwave
tea and coffee-making facilities
Wi-Fi
complimentary Tarocco toiletries
Other amenities you'll find at the Grand Legacy at the Park include a complimentary Snack Bag" (includes seasonal fruit, water, a granola bar, and string cheese.) which you can grab and take with you in the morning if you're leaving early but don't want to take the time to have a full breakfast.There are also 2 self-service coin laundries available on property, along with 24 hour dry-cleaning. Roll-away beds and cribs are available for Deluxe, Premier, Luxury, and Suites at no extra charge and are based on availability. Car parking is $15.00 plus 17% tax/fees per car, per night, with a limit of two cars per reservation. For reservations in our Classic, Deluxe, and Premier rooms, the second car parking fee will be $25.00 plus 17% tax/fees per night. They also offer valet at no additional cost for your convenience. While you're staying at The Grand, you'll also want to take advantage of the heated pool, which features a beach entry and a kids area.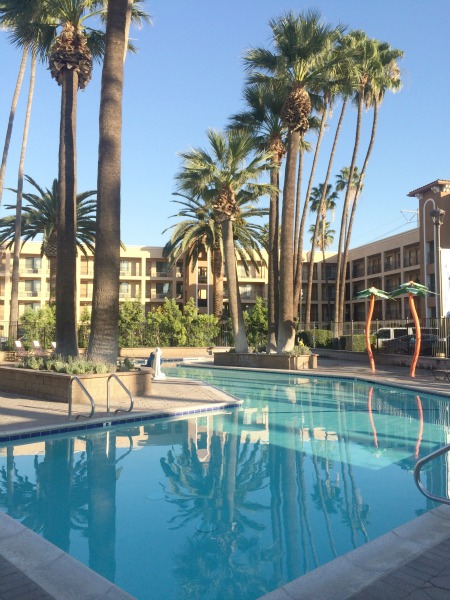 The Grand Legacy at the park is home to Anaheim's ONLY Rooftop Bar
Another really great reason you'll want to stay at the Grand is because up on the rooftop, you;ll find Anaheim's only rooftop restaurant & bar, The FIFTH.
You can enjoy an assortment of artisan cocktails, craft beers, and delicious small plates perfect to share in the 5000 square foot open-air rooftop.
There are fire pits and plenty of seating all around, allowing guests to get a fabulous view of the Anaheim skyline, along with the nightly Disneyland® Resort fireworks. (when available)
The FIFTH is also a great location for a special occasion or celebration and is available to book for private parties. For more information about reserving the space for your special occasion, you can email:  [email protected]. Please note: The FIFTH welcomes guests of all ages but becomes 21 & over at 10pm each night.
There are great food options adjacent to the hotel
One of the unique features about this hotel is there are food options you're going to love, adjacent to the hotel. They are actually just outside of the hotel and offer you the option of eating there or bringing the food back to your hotel room.
You'll find a Jimboy's Tacos, Pizzaterian, and a Creamistry. When I'm traveling, especially with my family, I like to have several options to choose from so that everyone can find something to eat that they like.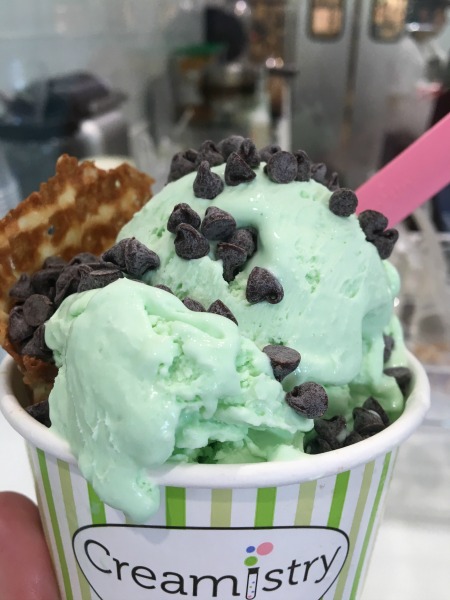 For your convenience, there's also a Discount Tickets & Tours and an Alpha Gift  Mart also located next to these eateries.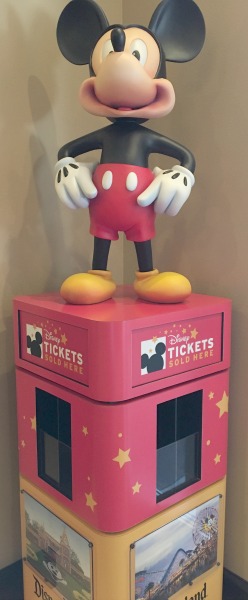 It's in the heart of Orange County and close to many other nearby attractions 
Although I keep mentioning Disneyland Resort, Grand Legacy at the Park hotel is also close to a variety of other nearby attractions and destinations in the Orange County area, some of which include:
Anaheim Gardenwalk
Anaheim Convention Center
The Grove of Anaheim
Angel Stadium
Honda Center
Anaheim Packing House
Knott's Berry Farm
Knott's Soak City
Medieval Times Dinner & Tournament
Pirates Dinner Adventure
Discovery Cube OC
The Grand Legacy at the Park is really a great hotel to stay at when you're visiting Southern California. Whether it's for a family vacation, a convention, a runDisney event, a business trip, etc. you'll be pleased to know that they also run incredible specials year-round and have great packages, even offer an Annual Passport Special, so you'll want to sign up here to receive their newsletter in your inbox. Hotel guests can even purchase Disneyland® Resort tickets at the front desk. To check rates or make a reservation, please visit here or call 714.772.0440 or 800.854.6097.
Grand Legacy at the Park is located at
1650 S. Harbor Blvd.
Anaheim, CA 92802
You can connect with Grand Legacy at the Park on Facebook ,Instagram, and Twitter.
Some images and logo are property of Grand Legacy at the Park.