This post is in partnership with The Motherhood and Screen Time, but all opinions are 100% my own.
Technology is a wonderful thing. It's brought our world up to light speed and has made many things so much easier and efficient. With that being said, I also feel that technology is a double-edged sword, especially when it comes to kids.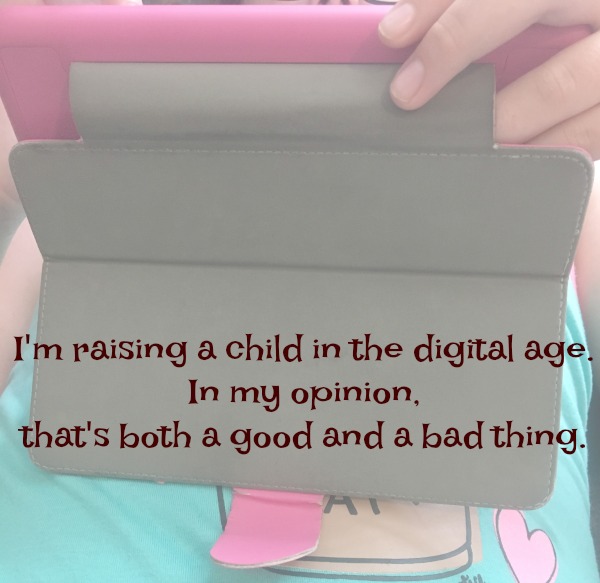 Since our children are growing up in the digital age, many of them are using technology to open up their worlds. My own daughter uses her devices for a variety of things on an everyday basis, including communicating with friends, watching YouTube videos, playing games and using apps, doing homework, and going on social media.
As a parent, it's one of my main responsibilities to protect my child and keep her safe from any physical and/or emotional danger – so I've always been cautious about her use of technology, especially when it comes to The Internet. Parents 10 years ago never had to consider the added responsibility that comes with having a child in the technology age because you also have to protect them from the dangers associated with being online – and the disadvantages that come from too much time in front of a screen (such as obesity, irregular sleep schedules, loss of social skills and less time for play).
Especially during the summer, there's so much for kids to explore beyond their screens, which is why I'm sharing 5 reasons why parents need to download the Screen Time app (You can click here to sign up now – there's a free basic version, but the premium is worth the $3.99/month and includes a free 14-day trial).
Here are some of the advantages of the premium version of the Screen Time app:
Time limits – As a parent, I feel it's important to set time limits on my child's use of technology. It's vital when she has things like homework and bedtime, and in the summer, I try to encourage outdoor play and discovery that doesn't always involve a screen.
App blocking – With that being said, I also recognize that certain apps are necessary (and even required), especially for homework during the school year. Screen Time allows me to free up those apps she needs for homework, or apps we can use together to enhance quality family time, while making the others unavailable until later.
Remote management – I also recognize that technology time limits should be altered for weekends, vacation times and summer, and there are plenty of apps out there that can enhance playtime and outdoor/offline discovery (see a great list of them below). It's so convenient that I can set the limits of my child's usage of her iPad from my phone or any browser by just logging in.
Pause & Play – We all know how kids can become entranced by their devices – just one more video, one more game. Screen Time can help break that cycle by allowing you to pause onscreen activity without endless nagging or bargaining, so you can sit down to dinner as a family, take a walk through the neighborhood, enjoy your summer together. On the flip side, play, you can also add bonus screen time without changing any settings.
Daily web and app use reports – I've had a couple of months to test out this wonderful app in my own home, with the use of my iPhone and my daughter's iPad. Since she spends time on her iPad on a daily basis, I'd always tried my best to monitor and supervise what she was doing – but when I was introduced to Screen Time, these daily reports enabled me to better keep track of her activity and set reasonable limits.
Screen Time is already running on over 1 million devices, and it's obvious just how that came to be. It's a great app that households everywhere should be using to keep control over their own children's usage on devices. To try it now, visit screentimelabs.com.