Back-to-School is an exciting time of year for parents, students, and teachers! It's a chance to start fresh and begin another year of learning! 
Prior to the first day of school, I've usually spent several days of my summer break working on my classroom. I always want it to be perfect for my students. There are pencils to sharpen, name tags to personalize, bulletin boards to put up and so more.
Once the new school year gets under way, I still find myself spending extra hours after school each week, in my classroom. It just seems like there's always something that needs to be done.

I have a teacher confession to make: I am so busy trying to get it all done that I'm guilty of not taking care of me. There are actually days when I skip lunch to work in my room or run off homework or cut up paper for an art activity. I guess I have a lot more teacher confessions I could make in addition to that one.
I've read a lot about self-care lately and am learning the importance of doing so. It's important to take time out for yourself during the workday, even if it's just 5 or 10 minutes at a time. My skipping lunch to work isn't something I should be allowing to happen and I'm going to change it, in addition to some other things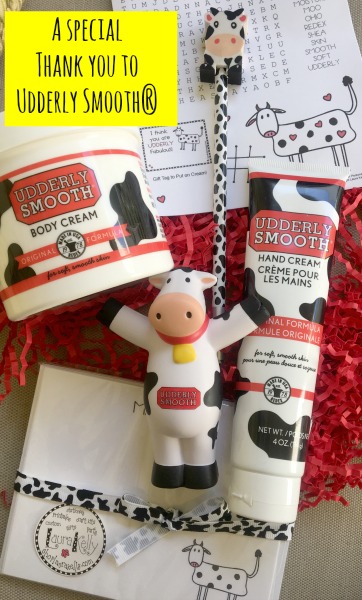 I was so touched when I received a special teacher care package, filled with goodies, from Udderly Smooth®! It was so thoughtful of them to send it to me and several of my teacher friends. Have you heard of their products? They are beyond moisturizing and have the most adorable packaging! I love cows! Also, all of the products are made in the USA!
The first thing I reached for when I opened the package was the cow stress ball. Stress balls are like the world's best invention. Kids love them too!  It's definitely something I will utilize in my classroom often!
These products couldn't have come at a better time because keeping my hands moisturized at work is something else I am totally lagging on. I must wash my hands at least 100 times a day, as I'm always coming in contact with little ones. Ok, that might be a slight exaggeration but keeping my skin moisturized needs to be another priority at work.
I put together a list of the things I'm going to try to work on this year at school. I'm going to keep this list on my desk as a friendly reminder and daily check list. I'm there to teach, create, and inspire…but I also need to take care of me!
What are some of the things you need to do to take better care of yourself? Maybe you could make a declaration of those things like I did. 
You can enter to win an Udderly Smooth® gift pack and a $100 Walmart gift card. Just enter below on the Rafflecopter. Good luck everyone!
a Rafflecopter giveaway

Connect with Udderly Smooth® on Facebook, Twitter, and Instagram.
This is not a sponsored post. I received a teacher gift from Udderly Smooth® and was excited to share about it. All opinions are 100% my own.