Hollywood's legendary El Capitan Theatre presents a special engagement of Jon Favreau's all-new, live-action film THE JUNGLE BOOK April 15 – May 1, 2016, in Dolby Vision™ 3D and Dolby Atmos®. Dolby's breathtaking projection technology – 3D Dolby Vision™ – is a state-of-the-art laser projection system that delivers richer colors and distinctly brighter images while preserving deep and dark blacks.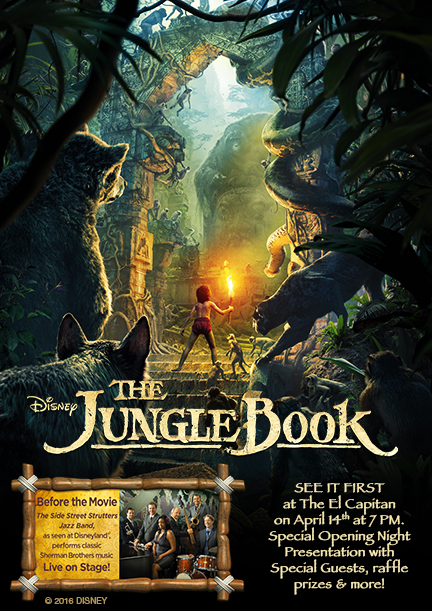 Here's the trailer for "The Jungle Book":

Before the movie, guests will be treated to a performance by The Side Street Strutters Jazz Band, as seen at Disneyland®, playing classic Sherman Brothers music live on stage.
On April 14, El Capitan guests will have the opportunity to be among the first to see the epic story of THE JUNGLE BOOK at a special opening-night screening at 7 p.m. Throughout the engagement, the El Capitan will also offer a special Limited-Edition VIP Pin Admission Ticket (while supplies last), which includes:
a limited-edition Jungle Book pin
a reserved seat
popcorn and drink
Guests at the El Capitan Theatre will be the only audiences in the world to experience the new movie THE JUNGLE BOOK in Dolby Vision™ 3D laser projection. Dolby Vision™, along with Dolby Atmos® audio technology, provides a unique immersion into the action-packed world of THE JUNGLE BOOK with all of its memorable characters. El Capitan Theatre will lso be starting its 90th Anniversary Celebration. It remains one of the great movie-going destinations and there's truly no better place to have an ultimate Disney film experience than at El Capitan.
Daily showtimes for "The Jungle Book" will be 10 a.m., 1:15 p.m., 4:30 p.m., and 7:45 p.m, with a 10:55 p.m. on opening weekend (Friday through Sunday) and each Friday and Saturday during the engagement of the film. Tickets are on sale now, available at the El Capitan Theatre (6838 Hollywood Blvd.), online at http://www.elcapitantickets.com or by calling 1-800-DISNEY6. Special group rates for parties of 20 or more are available by calling 1-818-845-3110. Showtimes and dates are subject to change.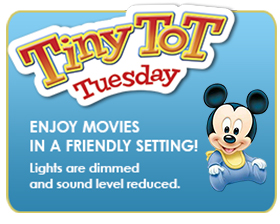 The El Capitan Theatre will also host a very special 2D Tiny Tot Tuesday every Tuesday at 10 a.m. during the run of THE JUNGLE BOOK. During these special screenings, parents and small children may enjoy the movie in a 2D tot-friendly way—with lights dimmed rather than out and reduced sound levels.
El Capitan guests may also enjoy a Dave & Busters Movie & a Meal Offer, which includes a reserved seat for THE JUNGLE BOOK, choice of entrée from the Dave & Busters Eat & Play menu and a $10 Dave & Busters game card. Reservations required 24 hours in advance with movie ticket.
So are you excited to see this legendary story come to life in 3D? I know we are!
This is not a sponsored post. All opinions are 100% my own. Images and logos are property of El Capitan Theatre and Disney