This is not a sponsored post. 
Let's talk about character dining at Walt Disney World Resort. Do you have a favorite place to dine at? For our family, character dining is a must-do on every one of our trips there! It's a chance to enjoy a delicious meal together and grab some great photos of our family along with some of our favorite Disney characters. We LOVE Winnie the Pooh!
One of character dining experiences to go to is The Crystal Palace inside Magic Kingdom Park. It's where you'll find Winnie the Pooh, Piglet, Tigger, and Eeyore. 
Located on Main Street, U.S.A., The Crystal Palace is the perfect place to start your day off, as well as a great place to grab some dinner after a day of exploring. 
As you walk through the front door of The Crystal Palace, you'll notice how light and bright everything is, as the decor was inspired by the Victorian greenhouses of the late 1800's. With topiaries and tropical palms galore, It's the perfect setting to have a "Friendship Day Celebrashun", which is what Winnie the Pooh and his friends do there every single day! 
Guests have the option to dine at The Crystal Palace for breakfast, lunch, or dinner, depending on what time of day they visit. The food is served as an All-You-Care-to-Enjoy buffet. Since Mickey waffles seem to be one of our family's favorites, we usually opt to dine there for breakfast, following Extra Magic Hours in Magic Kingdom Park.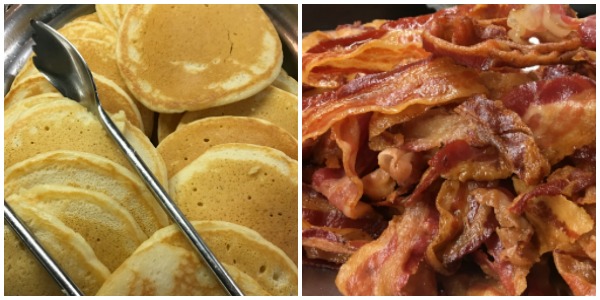 Guests will be delighted to choose from a bountiful selection of breakfast items including:
made-to-order omelettes
assorted hot and cold cereals
freshly-baked pastries
breakfast meats
breakfast potatoes
pancakes, french toast, and Mickey waffles
fresh fruit
yogurt
There's even a special Pooh's Corner, Children's Buffet, which is where you'l be able to grab those Mickey waffles. We're all "children" at Walt Disney World though, right?
Coffee, tea, milk, juice, and other non-alcoholic options are also included with your meal.
While you're enjoying your meal, Winnie the Pooh and his friends walk around and visit each table to sign autograph books and take photos, allowing you to capture those special moments to look back on and smile about for years to come! Helpful tip: Have your camera  and/or phone ready to go before they get to your table.  
Our family hasn't had the chance to try the lunch or dinner option yet at The Crystal Palace but I will tell you that the breakfast is fabulous!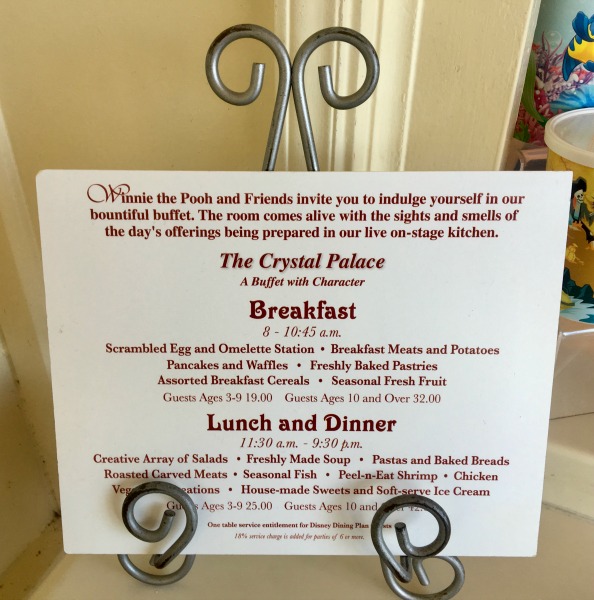 To view the menu, pricing, and to check table availability, go here. As always, you can also make a dining reservation by calling (407) WDW-DINE or (407) 939-3463. Have you dined at The Crystal Palace before? Leave me a comment below telling me who your favorite character to visit there is?
To view the entire list of character dining experiences at Walt Disney World, go here.
*Please note: A valid park admission is required to access The Crystal Palace.