This shop has been compensated by Collective Bias, Inc. and its advertiser. All opinions are mine alone. #PowerfulFusionClean #CollectiveBias 
We recently moved into a new home and I am absolutely in love with having everything brand-new, especially my kitchen. One thing I still haven't gotten used to in this kitchen though is having such a large countertop space. My counter top is grey quartz and includes the sink, the prep area, and an area to sit at barstools, directly in front of the sink. There's no real separate place to set my dish cloth, pot scrubber, and my dish liquid, NEW Palmolive® Fusion Clean™.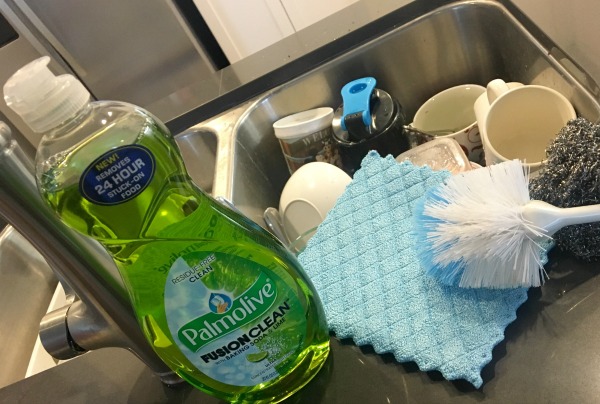 It seems kind of awkward to have these things sitting right in front of where people gather, The big countertop is intended to be the focal point of the room. It's also the area where everyone's things "land" when they come home, like keys, wallets, planners, etc. I'm going to share a picture of what my counter top looks like on any given day with you, so please don't judge.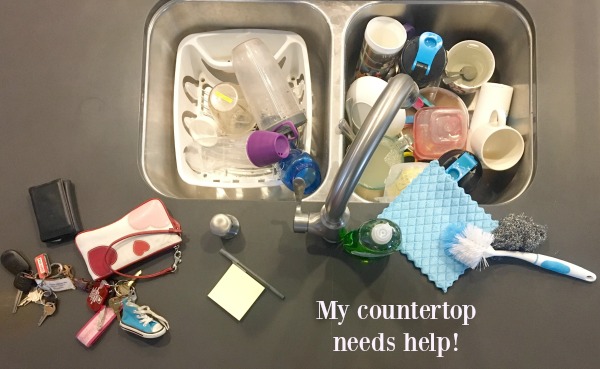 I realized that I needed help staying more organized in that area.  So I decided to make a decorative sink organizer using a Mason jar, that I could keep right up on the counter. 
Lately, I've been doodling and coloring in those adult coloring books, as a way to relax. Have you seen those yet? I wouldn't call myself an artist but I got brave and decided to draw my own design on the Mason jar….freehand! (I practiced on paper first, of course.) 
It was so easy to do. Honestly, if you feel like it's not looking cute, just wait until you admire it from afar. There are parts of mine that turned out asymmetrical but don't show. I'm kind of obsessed with my design! (see below to learn how you can make your own decorated Mason Jar)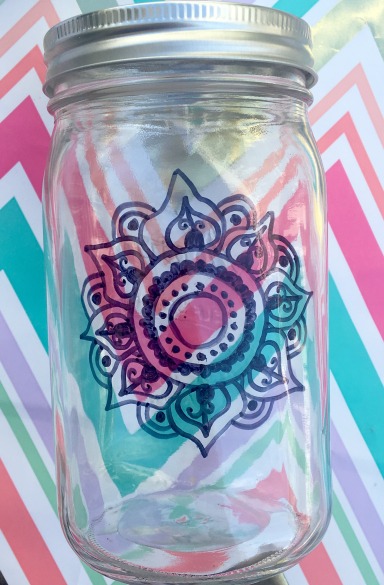 So let's look closer at my sink area now. Storing the metal scrubber, the scrubber on a stick, and the dish cloth in the Mason jar seems to keep it all looking nicer. I like having my Fusion Clean™ Baking Soda & Lime out on its own because I use it so often. Have YOU tried it yet?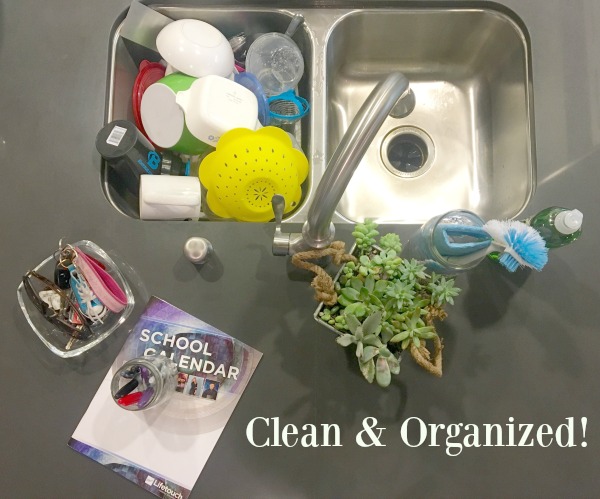 New Palmolive® Fusion Clean™ dish liquid provides a Modern Twist on Cleaning™ It's specially formulated for tough cleaning challenges and as you could see from my previous sink photo, my dishes sometimes pile up and don't get washed right way. Luckily,  the unique formula removes 24 hour stuck-on food. It's available in Baking Soda & Lime (the green one) and Baking Soda & Grapefruit (the pink one).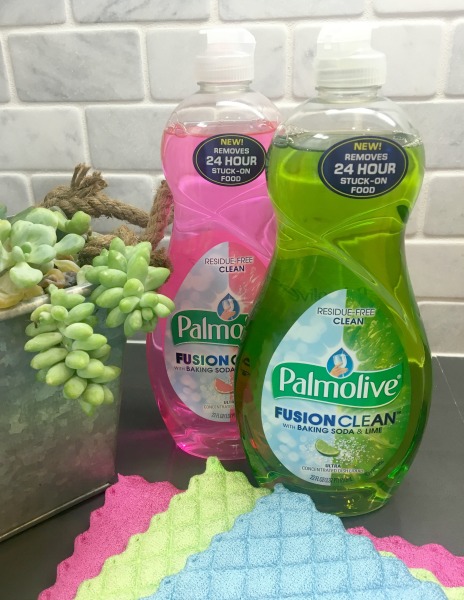 I found mine at Ralph's,on the household cleaners aisle, and couldn't decide between the two, so I bought both! You can find New Palmolive® Fusion Clean™ dish liquid at Kroger and Kroger Banner Stores. (Ralph's, Fred Meyer, and Food 4 Less). 
I love how organized my sink area jar looks now and how the colors shine through the Mason jar on my counter.
Pick up some NEW Palmolive® Fusion Clean™on your next trip. You can also grab a coupon for $0.50 off 22oz or larger one by clicking here. 
Here are the supplies you'll need:
a Mason jar
fine point oil-based paint pens (I used black)
cotton swabs
nail polish remover 
Directions 
Thoroughly wash and dry your Mason Jar.
Draw your design onto the jar. I highly recommend practicing beforehand on paper. 
If you make a mistake, you can "erase" by dapping the area with a cotton swab containing nail polish remover. Make sure the glass is dry again before resuming the drawing.
When you are completely happy with your design, allow the jar to dry for 24 hours. 
After 24 hours, you'll need to "bake" your jar, to set the design on the glass. Place the jar, upside-down on a baking sheet, into the cooled oven, Turn on the oven to 350 degrees, allowing the jar to heat up along with the oven. Having the glass heat up with the oven, will help avoid cracking of the glass.
Allow the jar to "bake" for 30 minutes. At this point, turn the oven off and open the oven door to allow the jar to cool down with the oven.
Remove the jar after it's cooled down.
The jar will be completely sealed at this point. I highly recommend hand washing the jar instead of putting it into the dishwasher.