When I was invited to the grand opening celebration of the Don Roberto Jewelers in Huntington Park, I gladly accepted as it was a chance to meet up with some of my girlfriends for some "Mommy Time" to do some jewelry shopping.  There were mariachis, food, balloon animals for the kids, and a raffle for some great prizes!
I loved their beautiful costumes! 
I enjoy trying on jewelry and Don Roberto has a gorgeous selection of jewelry and watches in their store.  My eyes were immediately drawn to some pieces in the front case of the store. Everything was so sparkly and I spotted the most perfect necklace with a little crown on it. Obviously this necklace would be perfect any princess, both young and old.
Right next to the crown necklace was a lock and key necklace. I loved the way this one too. I wear a lot of white gold and I like the look of pavé. The salesgirl was so helpful and even suggested pairing the 2 necklaces together to create an even prettier look.
As I continued to browse the jewelry case, I also found some gorgeous heart earrings with a matching heart necklace. I could feel my Don Roberto jewelry wish list growing by the minute!
A hot pink pop of color was the first thing that caught my eye from the watch case! They have a huge selection of watches in the store that are very reasonably priced, including Juicy Couture. I had no idea that Juicy Couture watches were made my Movado!  That speaks a lot about their quality.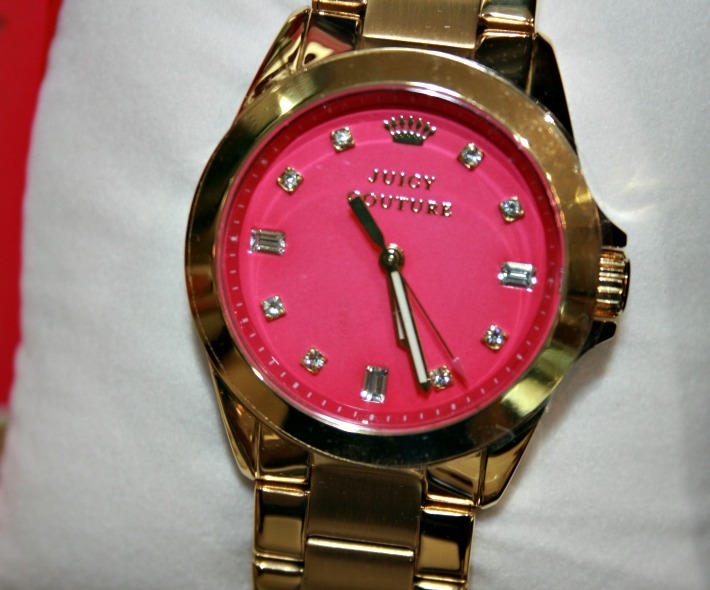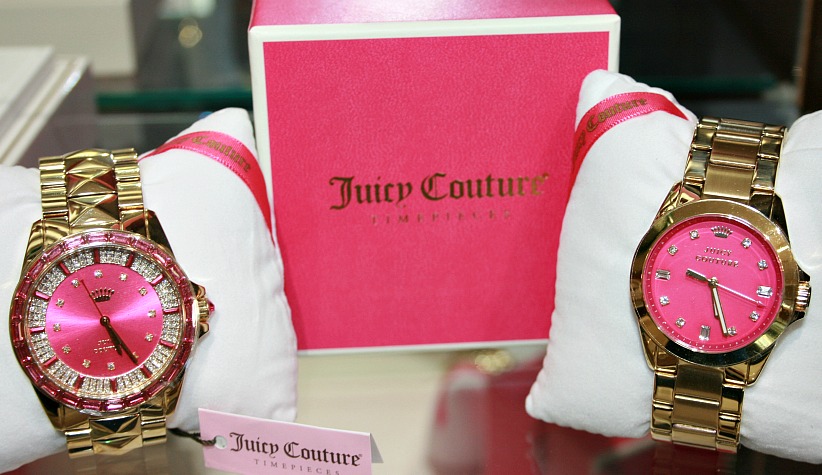 Both of them are beautiful! I love the extreme bling on the left one, but love the simplicity with just some bling on the right!
I also loved some of their other watches, especially the Hello Kitty collection. It seemed like everyone was trying these watches on. You're never too old to love Hello Kitty!
After trying on a few watches, we decided we needed to stop and take a selfie! It's just what my friends and I love to do!
Jewelry shopping with @ThatsItMommy and @KindaSillyMommy was so much fun! 
When we resumed our shopping, I checked out some of the beautiful earrings. I loved the petite hearts because I usually wear really small earrings, but I also loved the flower earrings. They were very sparkly on my ears.
I also tried on this delicate bracelet that was all hearts linked together. I could wear this for everyday but also for a special occasion where I need to dress up an outfit or formal dress.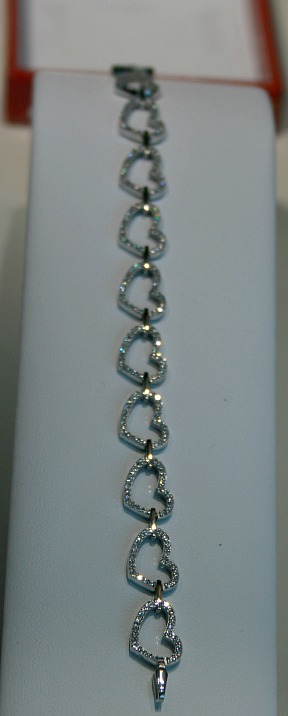 The last piece I tried on was a very simple, tri-colored necklace. I like the combination of the metals on this necklace. I also like that it's different from anything I usually wear.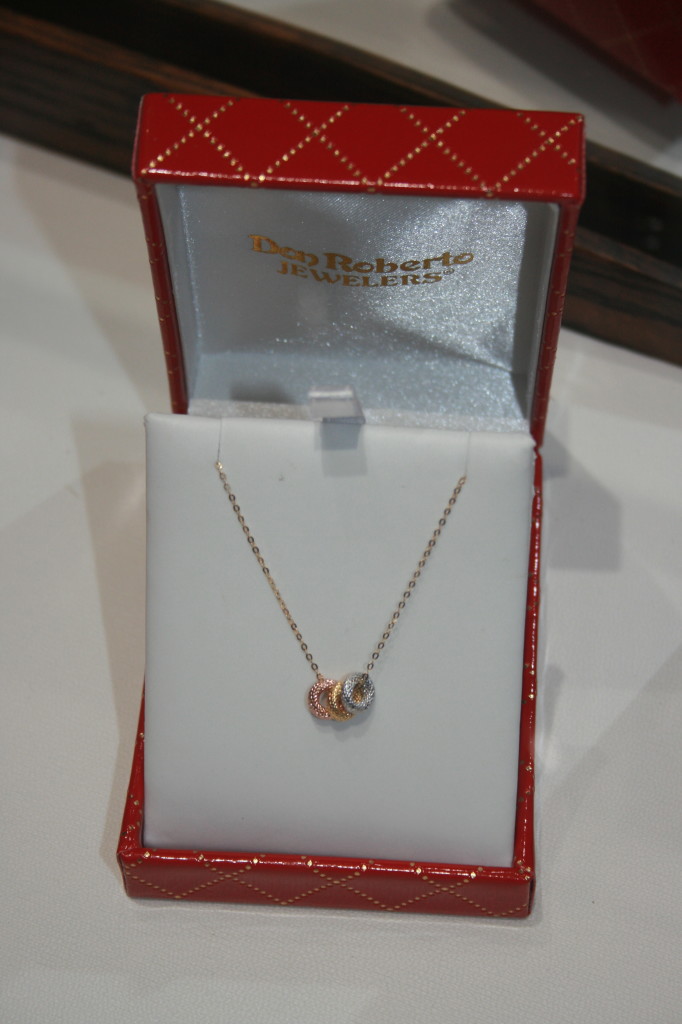 After spending almost 2 hours in the store, trying on jewelry and socializing, I needed to make a decision about what I was going to get. Sometimes you end up finding way more than you originally intended to shop for. Don Roberto offers an "Easy Pay" option, which is a line of credit that makes buying jewelry WAY easier.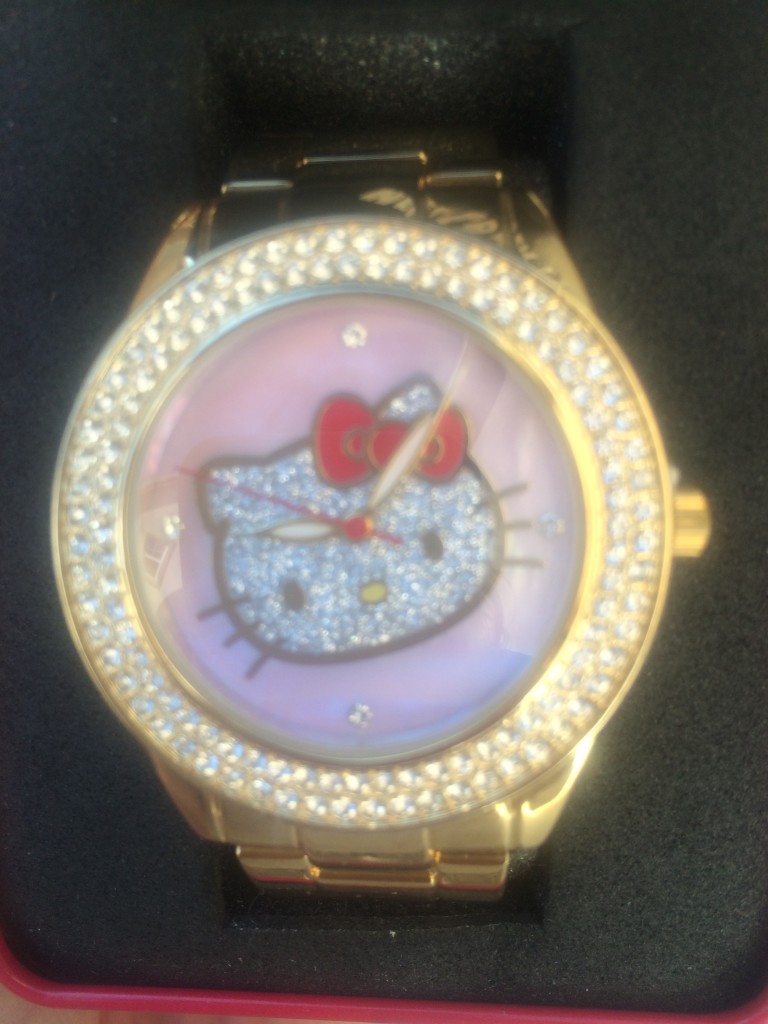 Look at my new Hello Kitty watch! 
I finally decided on one of the adorable Hello Kitty watches! Why not? I never buy anything like that for myself and so I decided to do so for once. They packed my new watch it in this beautiful red bag for me to take home.
I had such a fun experience shopping at Don Roberto Jewelers. The staff was so friendly and helpful and really made me feel welcomed. I hope to go back and shop there again soon. They know how to "Bling it on"!
Did you see anything that YOU liked?
Connect with Don Roberto on Facebook, Instagram & Twitter.
Disclosure: I was invited to attend a grand opening celebration at Don Roberto Jewelers and received a gift card as compensation for sharing about the event on my social medias. All opinions are my own.