Summer is here and there's never been a better time to visit Knott's Berry Farm! This year marks the 75th Anniversary of Knott's Ghost Town and in honor of this milestone, they've got a whole lot of special things going on in the Park this summer, now through September 5th! 
I was invited to a media day at Knott's a couple of weeks ago and I had the opportunity to experience all the fun! I actually can't wait to go back again with my family! 
I think one of my most favorite parts about Ghost Town right now is the all-new interactive experience called Ghost Town Alive!  Park guests get to step inside of this little Old West town and interact with the residents there. Whether it's the Barbershop, The Sheriff's Office, The Post Office, The Mayor's Office at Calico Town Hall, or Goldie's Place, you'll be totally engaged with the people of Ghost Town.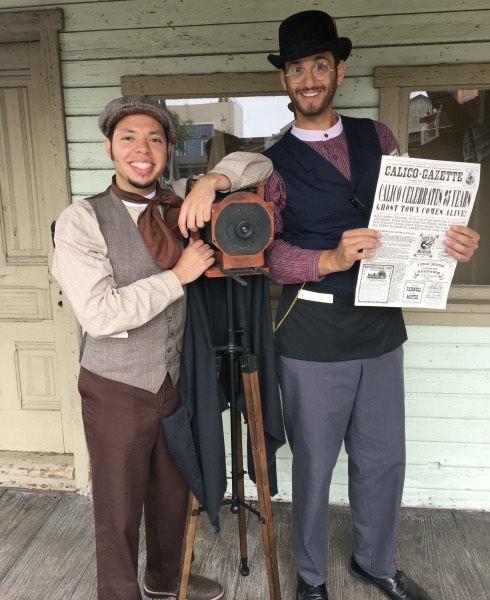 Whether you visit , you'll feel like you're "too modern" to even be there. (Ok not really, I'm just kidding). Seriously though, I could've spent the entire day in Ghost Town! Some of the Ghost Town Alive! experiences include:
Getting a handlebar or walrus mustache "shave" at the Barbershop
Trying your luck at a game of cards with the sneaky Sheriff
Meeting the prospector and his trusty burro, Brutus
Locking up the bandits in the town patty wagon
Voting for the Mayor in the town election 
Drawing up hand-made wanted posters
Visiting the Livery Stable to meet the friendly equestrian team of horses (Brutus the burro is there also.) 
Another fun daily event in Ghost Town that you shouldn't miss is the Hoedown held right in front of the Bird Cage Theater! The whole town shows up and park guests are encouraged to join in!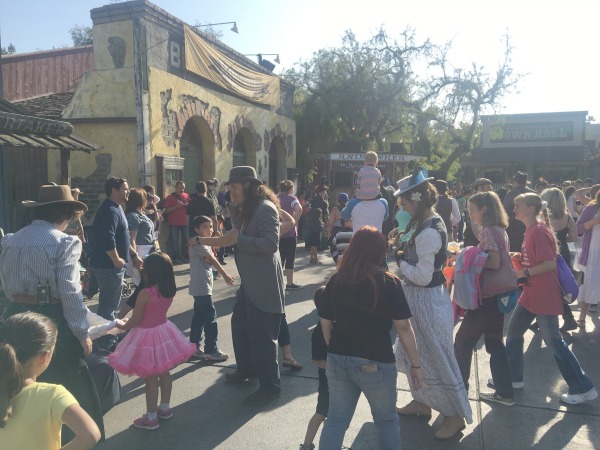 Just inside of Ghost Town, stands the tallest, longest and fastest wooden rollercoaster on the West Coast…GhostRider! GhostRider is a Knott's fan favorite! After undergoing a recent resoration, GhostRider is now open  with a complete wooden re-tracking of the entire 4,533 ft. long track. So, of course, I braved a ride on it myself with a friend! 
It was amazing! I mean, it was beyond scary, and she kept her eyes shut the entire time but it's supposed to be scary right? Let me just add that the new cars and track are so smooth! You're going to love it!
Some of the other fun things I recommend doing while you're at Knott's 75th Anniversary of Ghost Town this summer are:
Visit the new(ish) Starbucks location outside the Park for a Boysenberry Latte or Boysenberry Frappucino. (also available inside the Park at the Gourmet Coffee Hut)
Check out the all-new Wild West Stunt Show in the Wagon Camp.
Grab a funnel cake from Ghost Town Grub 
Take in a performance of the all-new "Circus of Wonders" on the new Calico Stage.
Have lunch or dinner in the sparkling new Mrs. Knott's Chicken Dinner Restaurant.
Rest your feet (and enjoy air conditioning) while you watch a performance of "Blockbuster Beagle…On Ice!" over in the Charles M. Schulz Theatre.
Pan for Gold
Visit the Calico Saloon to watch the Calico Saloon Show and enjoy a cool beverage.  I stopped by with my friend to enjoy a Sarsaparilla. 
All of the fun I experienced at Knott's as part of their 75th Anniversary Celebration is part of regular admission to the Park and will continue until September 5th! I highly suggest you get there sooner, rather than later, cause you don't want to miss all the fun! Also, try to keep yourself out of Knott's Jail whilte you're there. (unlike me)
For more information about Knott's Ghost Town 75th Anniversary Celebration, visit http://www.knotts.com. Connect with Knott's Berry Farm on Facebook, Twitter, and Instagram.
I was invited as a member of the media to a day at Knott's in order to facilitate this post. All opinions are 100% my own.