I have very fond memories of visiting Farrell's as a child with my family. It was mostly on special occasions like mine or my brother's birthdays, but we did get to go there on other occasions as well! Going to Farrell's for our birthdays was something we'd look forward to every year.  It was the original Farrell's children's menu that's responsible for my love of Peanut Butter and Banana sandwiches! Yep, the original Farrell's had them on the kids menu and they were my fav! (I wish we had digital cameras back then so I would have pictures of it all to post now!)
Over the past few decades, Farrell's has gone through some restructuring. At one point, they only had one location anywhere near me. Imagine my excitement when I started to hear about new locations opening up in California over the past few years! I hopped on the chance to be able to create an annual Farrell's birthday tradition with my own daughter that was similar to what I enjoyed doing as a little girl. Did I mention we have a Farrell's location within 5 minutes of our home? How lucky is that?
After having a super 9th birthday celebration at our local Farrell's last year, my daughter couldn't wait to get there again this year for her 10th birthday celebration! I don't think we ever get tired of the ambiance in there.
The kids keep pretty busy with the fun Junior Zookeepers menu. Even at 10 years old, they're still into it. The offerings on their menu are items that they actually enjoy and want to order. They're also generous portions. Nothing beats a good old-fashioned grilled cheese!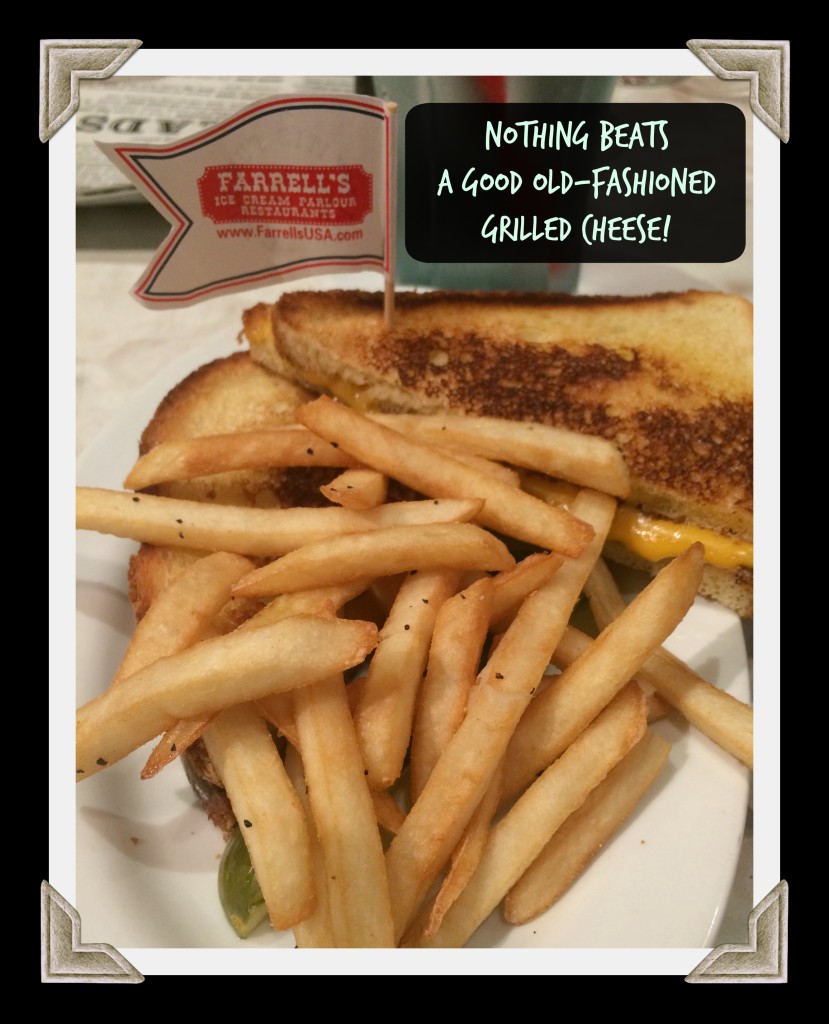 Did you know that Farrell's offers gluten-free options for guests and also has a nut allergy menu? I think that's really important. It allows guests who might not be able to dine out of their own home normally, because of food allergies, to have options and the freedom to eat out in a restaurant without worrying. Not only does Farrell's have these menus, their servers are educated about the different items and know the menus really well.
The kids always find it necessary to request an extra plate of pickles from our server to munch on. It's all about the pickle for them! Bob Farrell's Motto is "Give Them The Pickle and They'll Come Back!" Well I know it keeps us coming back! That's for sure!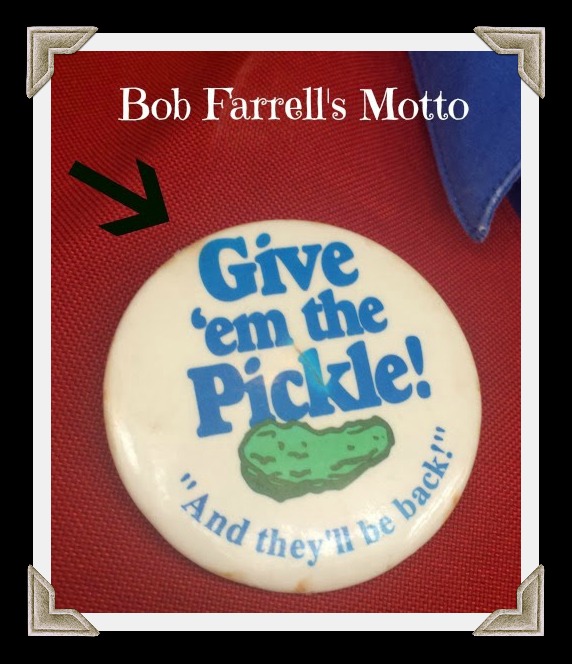 Although I love the food at Farrell's, we all know that the BEST part comes last….the dessert! Their dessert menu can be overwhelming (in a good way) to look at because there are so many different sundaes to choose from. It just means that you need to go back and try different sundaes on other occasions! For my daughter's birthday, we decided to ring in "double digits" properly….with The World Famous Farrell's ZOO! This was in addition to the complimentary birthday sundae they already bring you!
If you have never heard of The World Famous Farrell's Zoo, pay attention to this because it's a must-try for any and all Farrell's go-ers!  It's made up of 4 scoops of their famous ice cream, 3 fruit flavor sherbets, 4 delicious toppings, whipped cream, cherries, and bananas! Oh and I forgot to mention the animals! (Hence the name "Zoo"!)  Not only is it a ridonkulous sight too see but the crew at Farrell's makes it an extra big deal by ringing the fire station siren to grab your attention when it's time to deliver it to a table.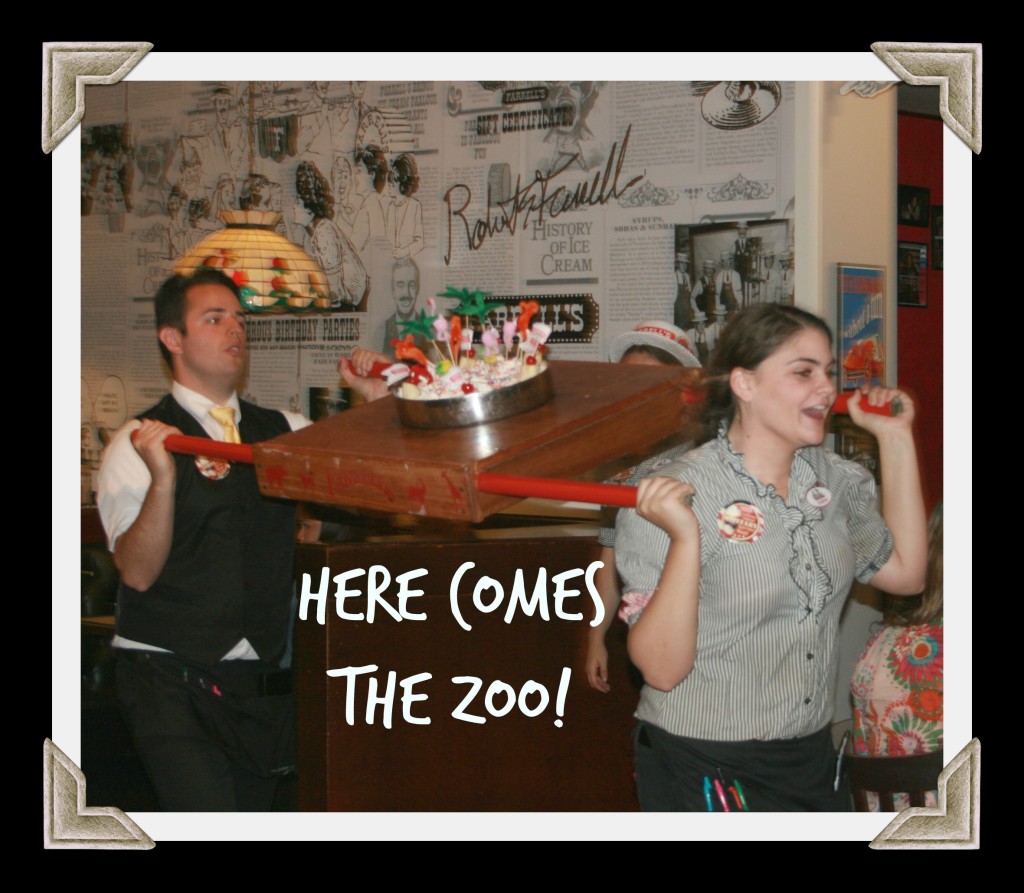 This concoction is so huge that it takes 2 servers to deliver it to your table and they bring it out on a stretcher! It's quite the way to celebrate and sure made my birthday girl feel like the center of attention! After all of the hoopla and the birthday song of Farrell's choice, the server will help dish out the zoo to all of the guests. It's beyond yummy in the tummy. My daughter chose to set all of the animals aside to take home with us.
We had the best time celebrating my daughter's 10th birthday at Farrell's and want to send a special thank you to our server Brooke, who really helped make it a special night! We'd also like to thank Chad and Steven who are always accommodating during our frequent visits to Farrell's!
It looks like my daughter has started a new collection of her yearly birthday stickers from Farrell's on the inside of her closet! Well, until next year…..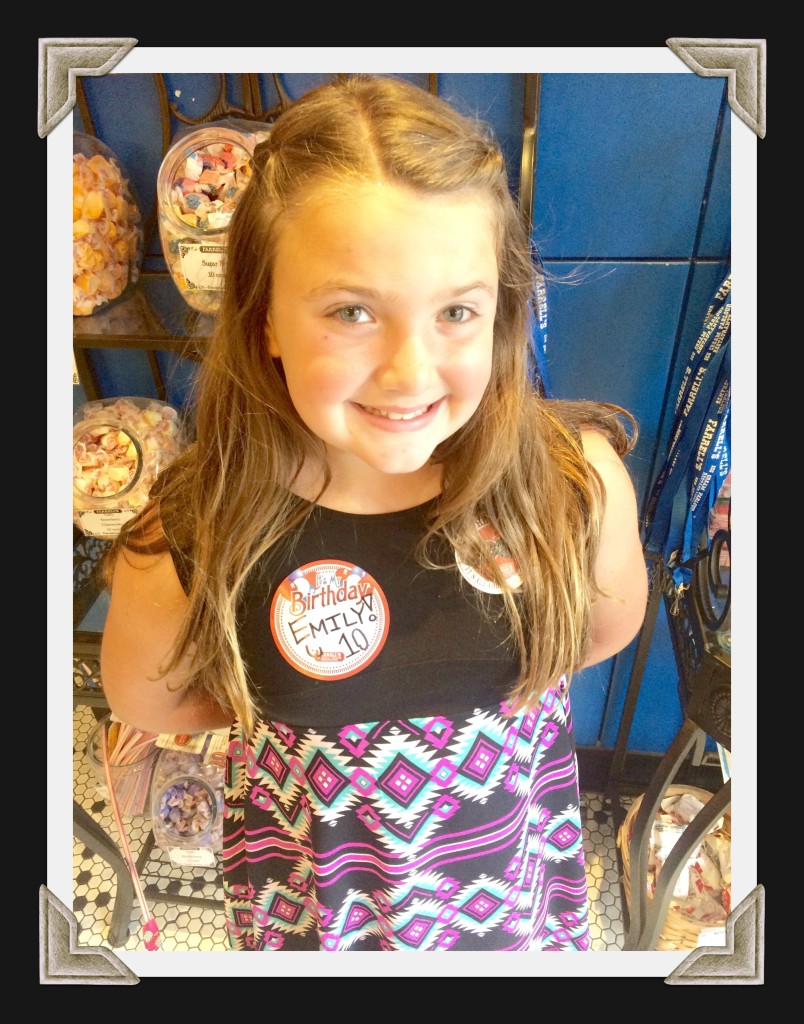 Have YOU been to Farrell's to celebrate a birthday or special occasion? If not, what are you waiting for? Get there!
Connect with Farrell's Ice Cream Parlour Restaurants on Facebook, Twitter & Instagram!