This is a sponsored post. All opinions are my own.
College football bowl season is well underway! Game Day can be like a holiday in our home meaning that it's a great chance for friends and family to get together and enjoy great food while we watch the game. Our times are always filled with lots of laughter and good, clean rivalry.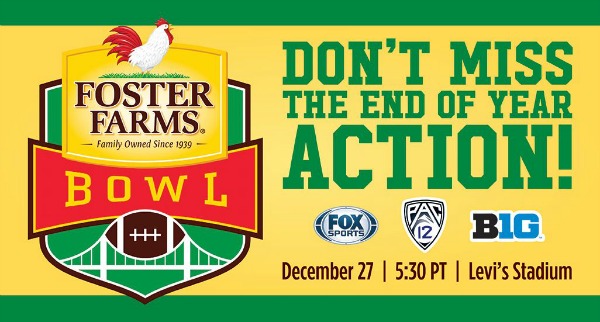 Up until the early part of January, there are plenty of opportunities to everyone together to watch the games and "Feed Your Fandom" with Foster Farms, especially when it comes the bowl games. including the Foster Farms Bowl, which will feature the exciting match-up between the Arizona Wildcats of Pac-12 and the Purdue Boilermakers of the Big Ten, and air on Fox Sports on December 27th at Levi's Stadium in Santa Clara, CA. Will you be tuning in?
Foster Farms has a great line of products for all of your game day needs. Whether it's a platter filled with wings, ground turkey for tacos, chili or juicy burgers, chicken breasts and legs marinated in your favorite sauce and grilled to perfection, Foster Farms .nuggets and corn dogs, Foster Farms also offers sliced turkey which goes great for game time hoagies and sandwiches.
At participating supermarkets you will find a code to scan on specially-marked Foster Farms packages of fresh chicken, ground turkey and lunchmeat and also on signs in the frozen food aisle that will connect to up to $7.50 in coupon savings when buying participating Foster Farms products.
Also on the packages and at this Foster Farms website you will find great game day recipes like Buffalo Blue Cheese Roll-Up Sandwiches, Easy Chicken Party Poppers, Chicken White Bean Chili and other game day recipe ideas as well as savings to Feed Your Fandom during the college football bowl season.
You also have to remember to set out kid-friendly options on your Game Day table. It's so easy to please kids with Foster Farms Corn Dogs, Mini Corn Dogs, Popcorn Chicken and Crispy Strips. I set up ketchup and ranch for the kids to put on their plates for dipping. I also attempt to be clever by leaving some fresh vegetables on the table as well.

Somehow kids don't mind eating their veggies when there's ranch. Have you noticed that? The more content the kids are during a game, the more watching time you're going to get in. On Game Day, it's definitely Foster Farms for the win! 

Do you have a favorite recipe or dish you like to prepare for your table when you host everyone over to watch the game? Share with me in the comments.

I'm excited to be hosting a giveaway for one (1) lucky winner to receive $58 worth of Foster Farms Coupons (3 of the $9.99 Frozen Chicken Coupons and 4 of the $6.99 Corn Dog Coupons) To enter, just fill out the Rafflecopter below. Good luck!
a Rafflecopter giveaway

Giveaway open to U.S. Resident 18+ and is open until 11:50 p.m. on December 2017. Winner will be chosen from the Rafflecopter and entries will be verified and winner will be notified via email. No purchase is necessary. Giveaway is not affiliated with Facebook, Twitter, or Instagram.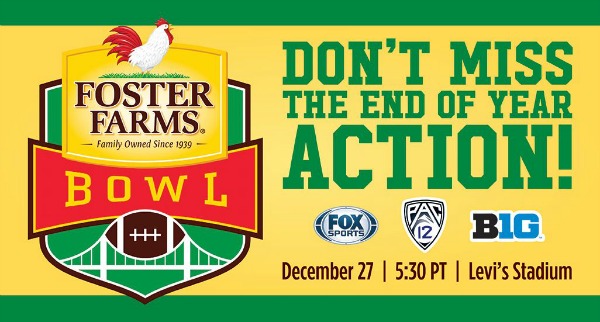 Feed Your Fandom by stocking up on Foster Farms during the college football bowl season and head to Foster Farms for great game day recipe ideas and savings. Don't forget to watch the exciting year-end action when the Arizona Wildcats of the Pac-12 battles the Purdue Boilermakers of the Big Ten in the Foster Farms Bowl airing on Fox Sports on December 27th at Levi's Stadium in Santa Clara, CA.
Some images property of Foster Farms and used with permission

.