One of my favorite places to eat is Fresh Brothers Pizza! In addition to their delicious pizza, I always have to order some Fresh Knots and couple of Meatball Sliders while I'm there! Luckily, my family loves Fresh Brothers as much as I do so we never have a problem finishing all of it. Oh, I'm hungry now just typing about it and looking at the pictures!
Fresh Brothers offers healthy options made with fresh ingredients! When it comes to our kids and their nutrition, it's important that we provide them with as many opportunities to eat healthy foods as possible. Did you know that Fresh Brothers has a Fresh Kids Special Sauce, which is a mix of finely ground veggies blended into their pizza sauce? They use it on the kids pizzas and kids can't even taste the difference! The Fresh Kids Special Sauce is just one of the ways they cater to kids. They also offer several gluten-free options, including gluten-free pizza!
When I was looking for somewhere to take my daughter and her friends to celebrate her birthday, I knew exactly where I wanted to go! Fresh Brothers! Our children are invited to a ton of birthday parties throughout their elementary school years and we're all aware of the quality of typical "party pizza" being served at these parties. I can feel good taking the girls to Fresh Brothers for a party because the entire concept behind the restaurant is providing guests with the freshest ingredients. (Hence the name "Fresh Brothers")
It was so easy to schedule a Fresh Brothers "Make Your Own Pizza Party"! We live close to the Newport Beach location and I had a choice of having our party outside on the front patio or inside. We opted for inside and when we arrived, there was an area "reserved" just for our party, with drinks for each guest (that I had pre-ordered) and some Fresh Brothers balloons.
We were greeted by our party hostess "Kylie". She was really great with the girls and so patient. The girls were excited to start the party by getting to decorate their own pizza boxes first. Fresh Brothers provided the markers, crayons, and stickers to decorate them with. This was the perfect activity for these creative pre-tweens.
Next, each of the girls got to make her own pizza. They brought out dough and every imagineable ingredient the girls might ask for, to top their pizzas with.  After they finished making their individual pizzas, the pizzas were taken back to the kitchen to be cooked in the pizza oven.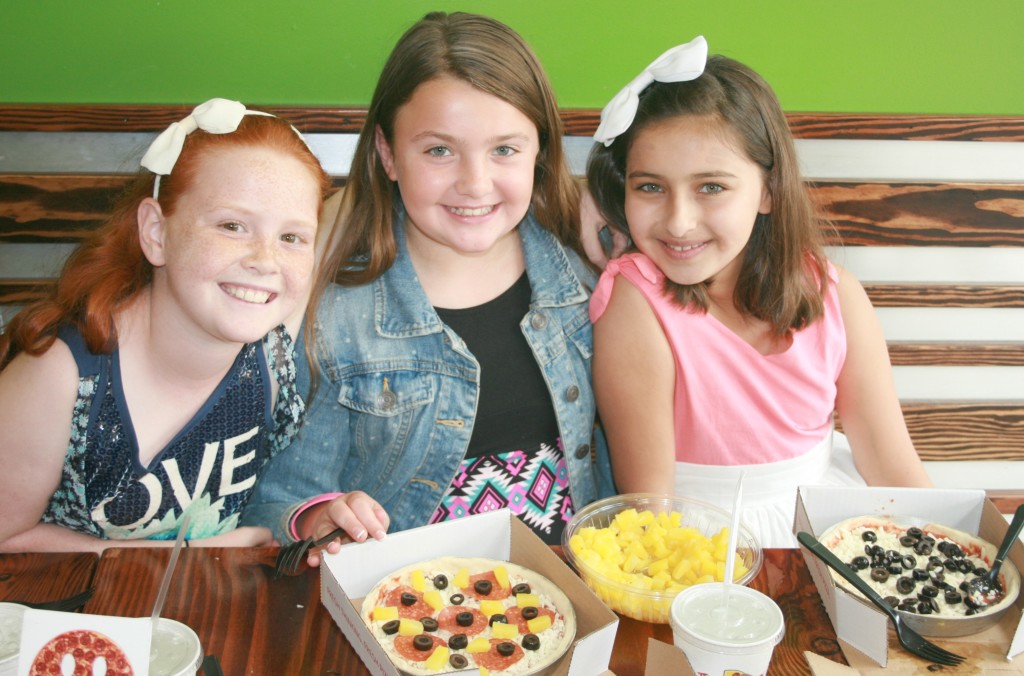 While the girls waited for their pizzas to cook, they had fun playing with pizza dough! A huge pizza dough was brought out for all of them to break up and share. They loved creating different shapes and making things like mustaches with the pizza dough.
The table got quiet when their pizzas were delivered fresh from the oven. Although they had the option to take home any leftover pizza in their decorated pizza boxes, there weren't any leftovers. That's just how great the pizza tasted! I ordered a Greek Town Special Salad for myself! I love their salads.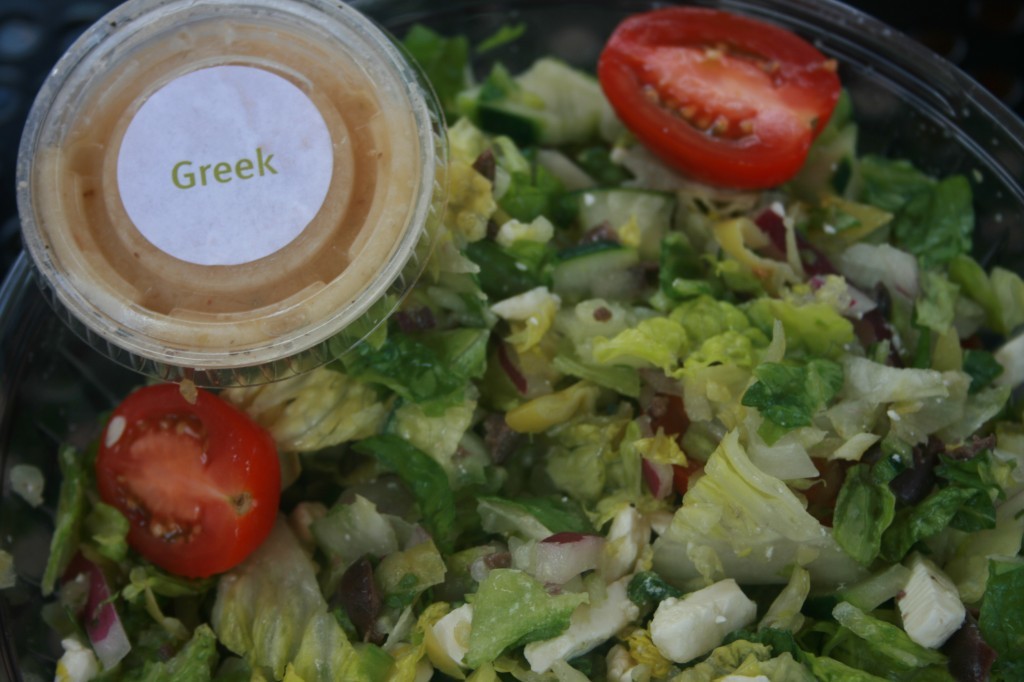 The week before our party, I stopped by Fresh Brothers and picked up an empty pizza box to use for the adorable matching cake I had made. (The cake was something we saw on a Nerdy Nummies video.) I also grabbed some of their adorable stickers to use on the favor bags. I just love their smiley face logo, don't you?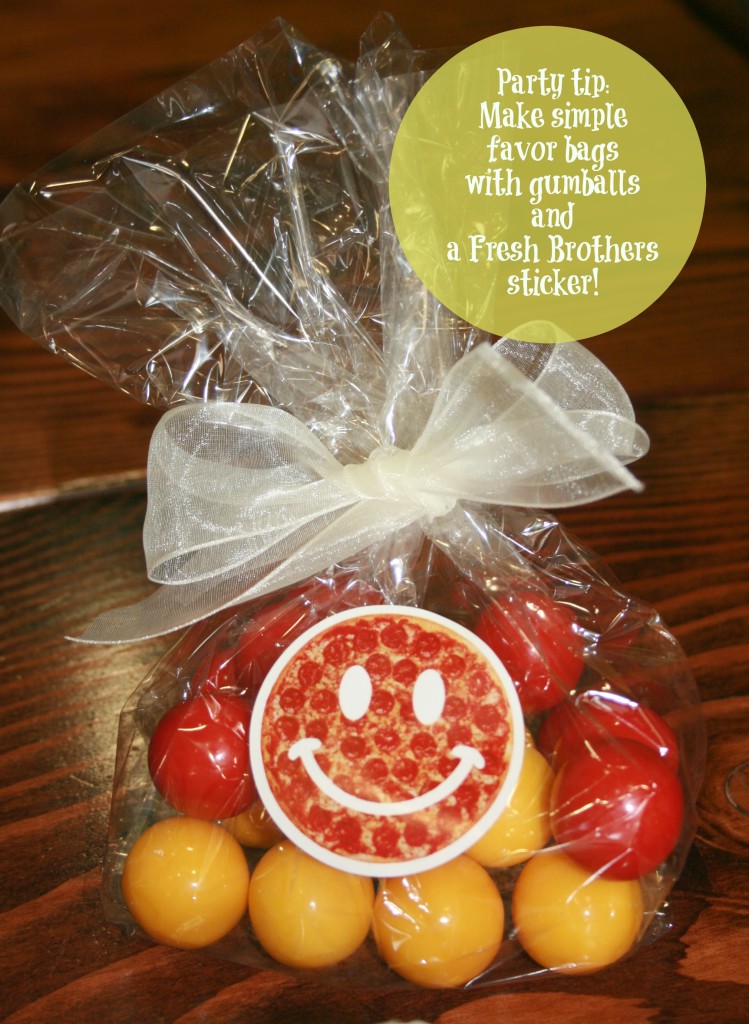 At the end of our party, each girl received their very own Fresh Brothers t-shirt! So cute! And the back says "I made my own at Fresh Brothers"! Such a fun keepsake!
A Fresh Brothers Pizza Party is perfect for guests of all ages. It was a lot of fun for my daughter and her friends and I got to enjoy the party too while our party hostess took extra special care of us!
To read more about party options at Fresh Brothers, click here. Fresh Brothers currently has locations in Los Angeles and Orange County. To find a location, click here. Connect with Fresh Brothers Pizza on Facebook, Twitter, and Instagram.
A very special thank you to Fresh Brothers for hosting my daughter and her friends for a "Make Your Own Pizza" birthday party. No monetary compensation was received. All opinions are 100% my own.