This is not a sponsored post. Images and logo are property of The America's Family Pet Expo. All opinions are 100% my own. 
The America's Family Pet Expo will return to the OC Fair & Event Center in Costa Mesa Friday, April 28 – Sunday, April 30, 2017. All creatures great and small, from four legged to flying, will all be on display at this annual family-friendly event.
The Pet Expo offers visitors education on responsible pet care, entertainment, and pet adoptions and is the ultimate destination for all pet lovers. Each year the show progresses to include the best in pet ownership and care and offers a variety of educational presentations, product launches, amazing pet acts and our popular animal adoptions, as well as showcasing the latest trends in the pet care industry.
At the 2016 Pet Expo, there were more than 500 animal adoptions including dogs, cats, and even a few guinea pigs, that were adopted from the Pet Expo's Southern California animal rescue partner organizations. Pet Adoptions will be handled onsite at the Expo for those looking for that perfect animal addition to the family. There will be hundreds of animals hoping to find their "furever home" from local community partner organizations at the Pet Expo.
The Pet Expo is excited to announce the return of the crowd pleasing "Cook's Racing Hogs & Dogs," a race that consists of four pigs, which run from one end of a 90-foot U-shaped track to the other. Four dogs then compete in a similar race. Waiting at the end of the track is a treat – vanilla ice cream and a golden Oreo cookie.
The 2017 Expo will be the "Cat's Meow" as the The Catit Playground Debuts. The interactive activity brings a close up view for guests to watch adorable adoptable cats and kittens and see how they interact with different toys and people. This is a great atmosphere for guests to learn all about cats and toys they like.
Lucy's Wave Maker will return and also feature a cat surfer. The world's one and only mobile wave machine makes an encore appearance America's Family Pet Expo showcasing the best surfing dogs and cats too! The wave maker made international headlines from its appearance in the 2017 Rose Parade. America's Family Pet Expo is the first stop on the 2017 National Tour that kicks off in Costa Mesa.
Returning favorites to the Pet Expo include Repticon, reptile show and sale, offering hundreds of common and rare species of reptiles in all shapes and sizes, such as lizards, snakes, and spiders. Plus, the ever-popular Splash Dogs will also be on hand offering a "splashing" good time as these dogs compete at dock jumping.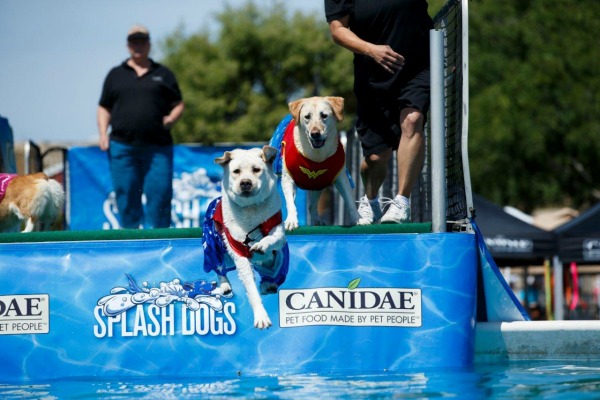 Added to the Expo line-up is the America's Family Pet Expo Hobbyist Aquascaping contest. This new feature will consist of intermediate to advanced "aquarists" in a competition to create the most appealing natural aquarium. The participants will use a variety of live plants and other natural decorations in order to create a miniature underwater jungle. Pet Expo attendees are encouraged to come watch the process of setting up a fully functional planted aquarium from 10am on Friday, April 28th to 12pm on Saturday, April 29th. Ribbons and cash prizes will be awarded to the top 3 aquascapers on Saturday, April 29th at 5:00pm.
Pricing for The Pet Expo is as follows: 
General Admission, $15.00
Seniors 60 and over, $13.00
Children 6-12, $10.00.
5 yrs and under, free.
Active and retired military free with ID.
Event parking is $8.00. 
Show hours are:
Friday 10am-6pm
Saturday 10am-7pm
Sunday 10am-6pm
I'm also having a giveaway where one of my lucky readers can win a family 4-pack to this year's event. To enter, just leave a comment on this post sharing your favorite pet with me. I will close the comments on Sunday, April 23 at 11:59 p.m. and pick one winner via Random Number Generator. Winner will be notified by email and will be mailed the tickets. Tickets have no cash value. Giveaway open to U.S. residents only, 18 and older. Good luck everyone! 
OC Fair & Event Center is located at 88 Fair Drive, Costa Mesa 92626.  Kindly leave all pets at home. For more information and to purchase tickets online visit http://www.PetExpoOC.org .