I was invited to attend a media event as a guest of Knott's in order to write this post. All opinions are my own.
Knott's Berry Farm been a favorite place of mine to visit with my family since I was a little girl, so now having the opportunity to go there with my own daughter is something really special for her. Although it's changed a lot over the years (for the better) it still feels so familiar each time I walk into the Park.
Knott's has several "Seasons of Fun" throughout the year and recently  kicked off 2019 with their first one, which is Knott's PEANUTS Celebration! During the celebration, guests can step into the iconic world of Charles M. Schulz comic strips as his Peanuts characters take over the entire theme park with special, family friendly activities for everyone to enjoy. Peanuts-inspired offerings throughout the park include character experiences, special entertainment featuring the Peanuts Gang, and themed treats, all in addition to all of the regular attractions and family fun at Knott's.
This year the PEANUTS Celebration has been extended takes place on weekends from January 26 through March 10, as well as February 11, February 15 and February 18. It's such a cute time to visit Knott's!
PEANUTS Character and Photo Opportunities
One-of-a-kind photo opportunities will be available throughout the park allowing guests to step inside a PEANUTS comic strip for a unique and shareable memory. The vibrant décor will include full-size comic strip props like Charlie Brown's kites and his renowned thought bubbles which will adorn the park's pathways.
Guests will have the chance to meet with the beloved PEANUTS characters throughout the day as the characters appear at unexpected locations for personal interactions. encounter The Peanuts Gang in the park, including Charlie Brown, Lucy, Sally, Snoopy, Woodstock, PigPen and a couple others.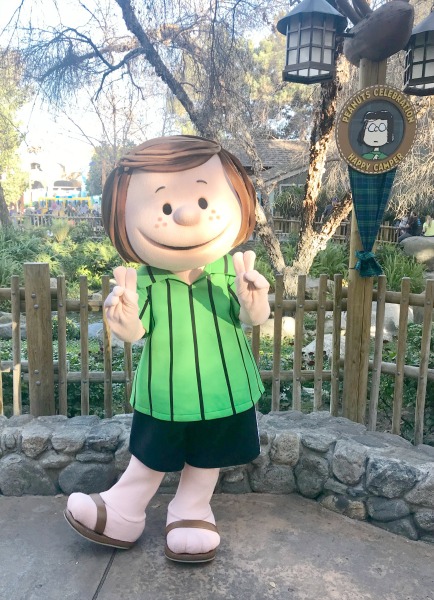 For your convenience, Knott's photographers are on hand to take your photos, which are also available for purchase through Knott's Pix program. You are also welcome to use your own camera and/or mobile device to take photos.
If you're specifically looking for PigPen, you'll find him over inside of PigPen's Pig Pen, located in Ghost Town, (a.k.a. the Livery Stable) with his animal friends including horses, a donkey and the most adorable piglets ever!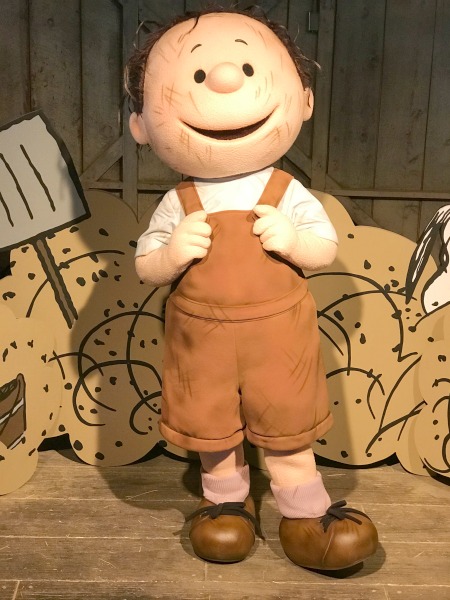 Peanuts Sketch School
After you leave PigPen's Pig Pen, stop by the PEANUTS Sketch School, located inside of the BirdCage Theatre. It was was one of our favorite things to do during our visit to the Park during the celebration.  Hosted by a resident art teacher, the class starts with step-by-step instructions on how to draw the perfect PEANUTS masterpiece. Paper and pencil are provided as you enter the theatre. (We got to draw Lucy.)
Throughout the lesson, the instructor also provided fun and interesting facts about the character. After class is dismissed, a special showing of a classic PEANUTS television special is shown. If you are bringing children, I suggest arriving a little early so they can get a seat on the stage. There is plenty of seating available though for all guests.
Special PEANUTS Celebration Entertainment
During Knott's Peanuts Celebration, there's a complete lineup of whimsical entertainment. The shows are offered a few times a day throughout the day so you can fit them all into your day. Here's what you'll find:
Space Beagle – In the Camp Snoopy Theater the all-new Space Beagle show features Charlie Brown and Lucy, as the world's famous beagle becomes the first dog on the moon. It's out of this world fun for the whole family.
PEANUTS Cowboy Jamboree – Franklin and Linus are on a Western escapade as they transform into cowboys in the PEANUTS Cowboy Jamboree at Calico Park. The boys are looking to challenge guests with some of the rootiniest, tootinest games in Calico.
The Music Goes Round and Round – This daytime celebration takes place at the Calico Mine Stage where the PEANUTS characters have two musical surprises for guests. Sally and Schroder host a retrospect of music in The Music Goes Round and Round where they'll have the audience dancing in the aisles.
Woodstock's Music Festival – This nighttime festival is held on the Calico Mine Stage and features the Peanuts Gang as they're joined by the family-friendly indie band The Jelly of the Month Club. This high energy rock concert is fun for the whole family.
Discoteca de Silencio – Fiesta Village guests can uncover an experience that is guaranteed to make everyone dance with the park's first ever, Discoteca de Silencio or also known as a silent disco. The fun begins with guests strapping on a set of headphones and enjoying some upbeat tunes. The party will be hosted by Snoopy's brother Spike. It's the most fun guests can experience while being quiet!
PEANUTS Celebration Treats
One of my most favorite parts about any visit to Knott's is always the treats! I'm always amazed the special eats and treats that the Knott's culinary team comes up. Some of the PEANUTS Celebration treats offered throughout the park this year include Charlie Brownies, Charlie Brown cotton candy, Peanuts Characters cupcakes, Chocolate Covered Apples, Charlie Brown Marshmallow Pops, Snoopy Cookies, and more. After sampling many of them, I cannot wait to go back and try some more.
The best way to enjoy every weekend of the all-new Knott's PEANUTS Celebration and all of the other Seasons of Fun is with a 2019 Season Pass. Choose between these passes:
Regular Season Pass – includes unlimited admission in 2019 to Knott's Berry Farm with no blackout dates, Regular passes are just $98 or five easy payments of $15.50 after an initial payment
Gold Season Pass – includes unlimited admission in 2019 to both Knott's Berry Farm and Knott's Soak City Waterpark with no blackout dates. Gold Passes are $118 or five easy payments of just $18.50 after an initial payment.
These offers end April 28, 2019. Applicable taxes and fees apply. Payment plans are only available at knotts.com.
Have YOU had the chance to stop by Knott's this year during their PEANUTS Celebration? What was YOUR favorite part? Share with  me in the comments!