Knott's Spooky Farm is back at Knott's! This annual daytime, family-friendly Halloween celebration, takes place weekends through October 29 and Halloween Day.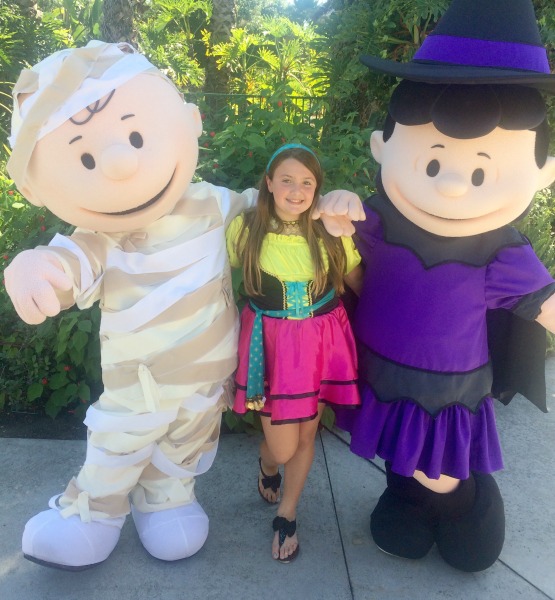 This kid-inspired "spooky" celebration will feature activities for ages 3-11 including trick-or-treating, a live show and costume contest with the Peanuts gang, and a Dia De Los Muertos Celebration.
Kids ages 3 -11 can participate in Trick-or-Treating throughout Ghost Town, and interact with an array of spooky but friendly Shopkeepers. New this year, Stanley Scarecrow has opened the Livery Stable for guests of all ages to get close and personal with the Creepy Critters of Calico.
The Grand Sierra Railroad in Camp Snoopy transforms to a one-of-a-kind experience which takes riders on an adventure, along with the Peanuts Gang, to Camp Spooky with added special Halloween theming effects.
Come to Camp Snoopy Theatre to show off your best Halloween costume at the Peanuts Costume Contest and afterwards, join Peanuts characters in a Peanuts Dance Party!. Additionally, families can watch the Peanuts Gang in The Monsters Are Coming, Charlie Brown, where they'll have guests of all ages singing and dancing along to classic Halloween tunes.

This Halloween season, the Timber Mountain Log Ride mystically converts into the Halloween Hootenanny by adding a new family friendly twist to a park favorite. Every year the citizens of the Timber Mountain invite the mysterious creatures that live out in the woods and caverns of the area to join them as they celebrate the season at the Halloween Hootenanny. The ride's interior will feature new fun surprises as guests venture past the Calico Coffin Creeper band, the town's green witch and splash down Skull Mountain through a labyrinth of jack-o-lanterns. The seasonal ride will also feature an original song performed by Krazy Kirk and the Hillbillies. Open for day and night guests, this is the perfect family experience for all to enjoy this Halloween season.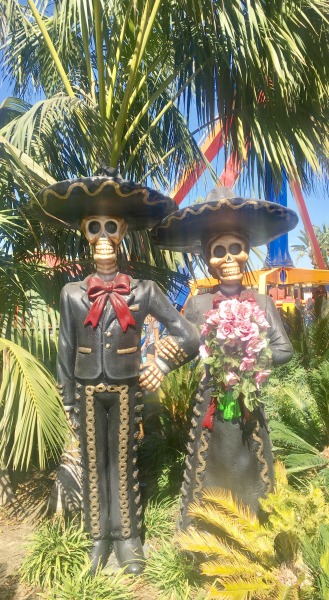 In Fiesta Village, join the Dia de Los Muertos Celebration in the Fiesta Stage area for an interactive, non-scary, educational celebration of the season. The themed area offers a walk through village filled with photo ops, educational activities and face paintings at a nominal fee.
Then visit the Ghastly Gallery in the Boardwalk Ballroom for a slate of entertaining activities including a live show and opportunities for your little ghouls to participate in drawing their best "monsterpiece."
A 2018 Season Pass is the best way to experience Knott's Spooky Farm. With a 2018 Season Pass you will get to enjoy all of the Seasons of Fun next year but will also receive one free admission to use in 2017. You can get your Season Pass now at the Best Offer of the Year! A Regular Season Pass includes unlimited admission in 2018 to Knott's Berry Farm with no blackout dates, and a Gold Season Pass includes unlimited admission in 2018 to both Knott's Berry Farm and the newly expanded Knott's Soak City Waterpark with no blackout dates. Regular passes are just $92 or nine easy payments of $10.22 and Gold Season Passes are $110 or nine payments of just $12.22. These offers end October 29, 2017. Applicable taxes and fees apply online. Payment plans are only available at knotts.com.
Knott's Spooky Farm runs weekends September 30 – October 29 from 9:00am to 4:00pm, Halloween Day from 10:00 am to 4:00 pm, and is included with regular park admission. For more information on all the exciting things that are going on at Knott's Berry Farm, visit knotts.com and follow the conversation using #KnottsSpookyFarm.