LEGOLAND® California Resort unveiled new LEGO models, featuring One World Trade Center, in the New York skyline section of its Miniland U.S.A. with a special ribbon cutting ceremony. Present at the unveiling were some of Carlsbad's own "Hometown Heroes" from the Carlsbad Police and Fire Departments.  
Uncle Sam and Lady Liberty also joined the festivities and danced up on stilts while a brass band played for guests and red, white, and blue confetti flew in the air at the finale of the ribbon cutting ceremony. Here's a video recap of the event (courtesy of LEGOLAND):
The new One World Trade Center model at LEGOLAND® California Resort is now North America's tallest LEGO® model. It stands tall and proud in the center of Miniland U.S.A. and was constructed using over 250,000 LEGO Bricks. The model stands 26 feet tall and weighs more than 1000 pounds.  It took 8 Master Model Builders over 1200 hours to complete the model!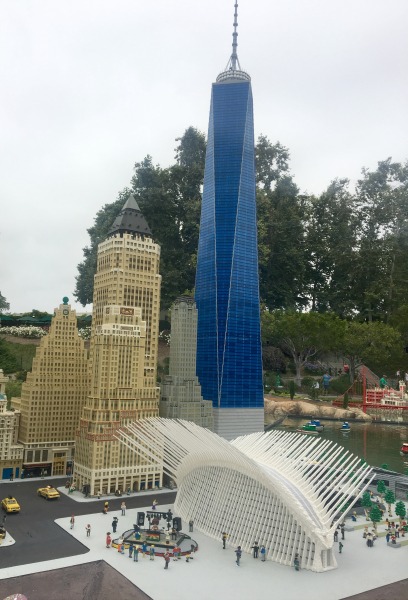 For the first time ever, guests can use a special LEGO tower viewer, giving them a skyscraper view of Miniland U.S.A. The area also features LEGO model replicas of the 9/11 Memorial's twin reflecting pools, the grove of memorial trees and the impressive World Trade Center Transportation Hub. 
The updated NYC area of Miniland U.S.A. is now open for guests to stop by and pay tribute to. With the upcoming July 4th Holiday, there's never been a more perfect time to visit the Park. 
The new LEGO models and Independence Day event are included with the price of admission to LEGOLAND California Resort. LEGOLAND® California Resort will be having its annual the Resort's Red White and Boom! 4th of the July celebration. The family fun event features activities such as water-balloon tosses, burlap sack races, patriotic stroller parade, building activities and a fireworks display at 8:30 p.m. For more information, log onto http://www.LEGOLAND.com or call (760) 918-LEGO (5346).
I was invited to attend a media event in order to write this review. All opinions are 100% my own. Some images and clips are property of LEGOLAND® California Resort.