This is not a sponsored post.All opinions are my own.
If you haven't heard the latest exciting news to come out of LEGOLAND® California Resort, they broke ground last year on North America's first LEGOLAND® Castle Hotel! It's like every LEGO-loving kid's dream come true! The all-new premium themed hotel,  located right at the main entrance of LEGOLAND California, is officially set to open on April 27!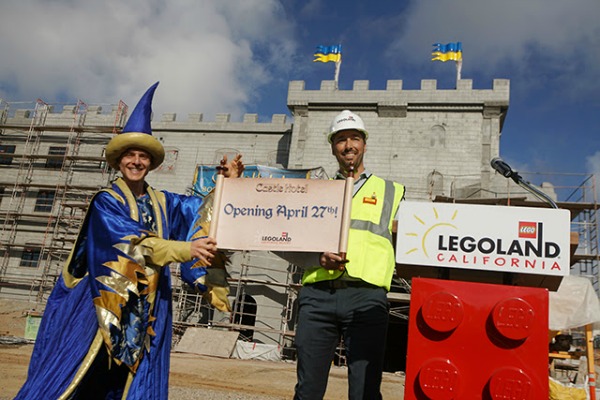 The LEGOLAND Castle Hotel will include will feature 250 premium LEGO Castle themed rooms with your choice of Knights & Dragons, Royal Princess or Magic Wizard, including 20 suites, and will completely immerse guests into a castle experience from the moment they enter the grand hall. Hotel guests will experience dining in an amazing sit- down royal restaurant and engage in courtyard entertainment by the pool.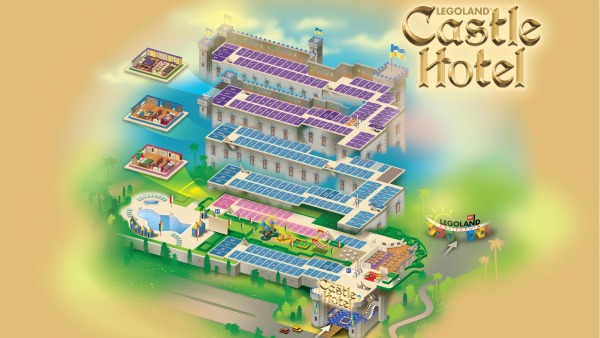 Here's a short video showing a brief hardhat tour of the LEGOLAND Castle Hotel:
Upon entering LEGOLAND Castle Hotel, guests will first step into a grand hall where they are met by a LEGO wizard before taking a magical levitating lift (elevator) that will take them to one of three different floors where adventures await.
In the Knight rooms, guests are surrounded by dragons and knights as they prepare to go into battle to defend the king's castle and protect the king's treasure. In the Princess rooms, woodland animals such as butterflies, squirrels, owls and song birds all made of LEGO, of course, are found. In the Wizard rooms, guests discover how magic is used to protect the king's treasure with the use of giggling potions and spells. Guests will find LEGO Castle décor throughout. 
The Royal Courtyard outside is designed to immerse children in a fairy tale of their own creation with a DUPLO play area for the younger kids, larger play structures for the older kids, giant movie screen for nighttime movies and a stage for live plays and shows.
The pool area will feature fountains and other interactive water features a gradual incline pool and hot tub. The pool bar and grill will offer smoothies, sandwiches and salads prepared fresh to order.
Other unique, fun features at the hotel include a slide that will connect the lobby to the first floor and a knock knock door created to entertain guests. More than 2,100 LEGO models made out of more than three million LEGO bricks that will be featured inside the rooms and throughout the Hotel.
The all-new themed restaurant, Dragon's Den Restaurant & Bar, will be LEGOLAND California Resort's only full-service sit down restaurant and will include an open kitchen for guests to watch chefs preparing their food, LEGO models, entertainers and locally-sourced food creating a unique dining experience. Breakfast will be included with each guest's stay and includes made-to-order items along with a buffet.
LEGOLAND California Resort is accepting reservations for the LEGOLAND Castle Hotel. For more information on booking hotel reservations, please visit: http://www.LEGOLAND.com/castlehotel
Images and video are property of LEGOLAND California Resort and used with permission.