This is not a sponsored post. 
Have you been to Walt Disney World before? Well, it's one of my most favorite places to travel with my family and on our last visit there, our family stayed at Disney's Pop Century Resort. 
Staying at a Disney Resort Hotel is a "must" for us on our trips because there are so many benefits to staying in an official Disney World Resort Hotel. We'd never stayed at "The Pop" before and were pleased with everything about our stay. 
Disney's Pop Century Resort is one of five "Value" resorts at Walt Disney World and is unique because it features themed sections from the 50's, 60's, 70's, 80's, and the 90's.
If you have any connection with these decades you'll definitely appreciate the exterior of the property, as well as the decor throughout the lobby area with its timeless fashions, catch phrases, toys and dances that captivated the world through these decades. If you're too young to remember any of those decades, don't worry, you'll still smile as you take a tour of "the olden days". (as my daughter referred to them.)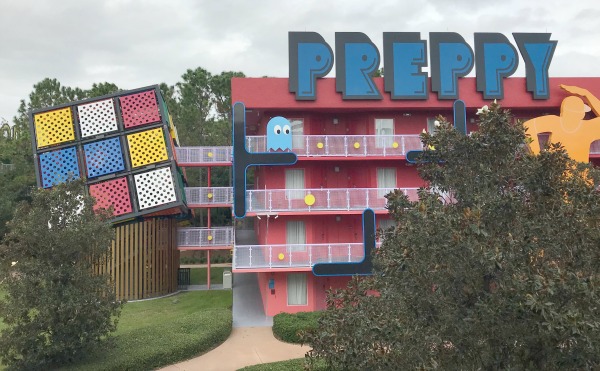 During our stay, the Pop Century was in the middle of renovating many of the guest rooms. We were fortunate enough to stay in the "80s" section of the hotel (a nod to my own childhood and genius inventions such as Rubik's Cube®) and our particular room had already been renovated. Our room was adorable!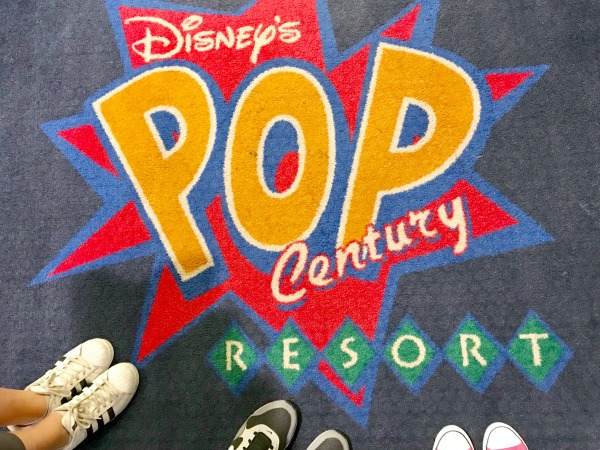 We opted for a Standard Room and it was the perfect size for our family of 3. When you enter the room, there's one double bed and a small table with 2 chairs that is easy to slide over so you can pull down a (second) Murphy bed from the wall. We just stuck the table and chairs over by the window.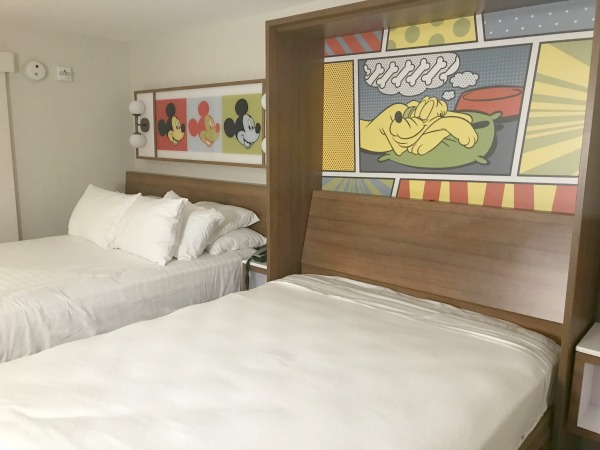 The room features light wood floors and bright Mickey Mouse decor. It's super cute! The furniture is modern and there's plenty of room for 4 guests to stay in one room. The bathroom is super modern 
In-room amenities at Disney's Pop Century include:
a dresser with drawers
a big screen TV with remote
extra blankets and pillows
a (small) table and chairs for dining
A/C
an ironing board and iron
shower/tub combo
a small fridge with freezer
a coffee maker with coffee and necessities

a shower/tub combo
Disney H2O+ toiletries
ample closet space with hangers
laundry services are available (for a fee)
Complimentary Wi-Fi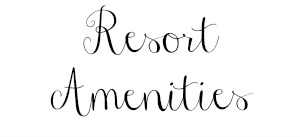 Other resort amenities, unique to the Pop Century include:
3 swimming pools with complimentary towel service
a playground
a jogging trail
an arcade
movies under the stars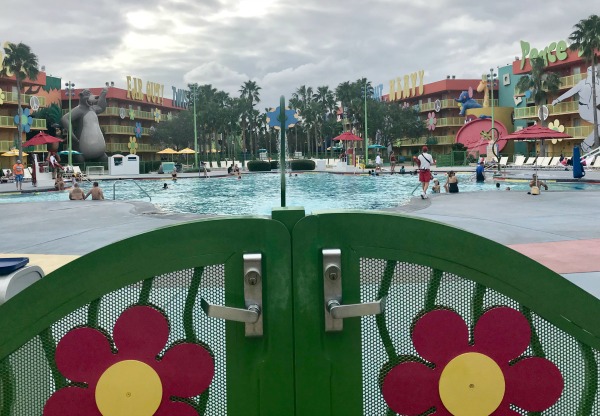 I appreciated the food situation at the Pop Century. There's a pretty big food court area with plenty of options for breakfast, lunch, and dinner, as well as many "grab & go" items. Some of my favorites included Mickey waffles and bacon, fresh pastries, pot roast, pasta, and pizza.
You also have the option to order Disney pizza delivery to your room. There are also beverages available at the Petals Pool Bar, located adjacent to the Petals Pool. If you're on the Disney Dining Plan, this is a perfect place to eat at. (To learn more about Disney Dining Plans, go here.) 
Disney's Pop Century Resort is located in the Wide World of Sports Area and offers complimentary bus transportation to and from the Parks, as well as Disney Springs. You can find a schedule out in front of the bus stops, which are in front of the hotel.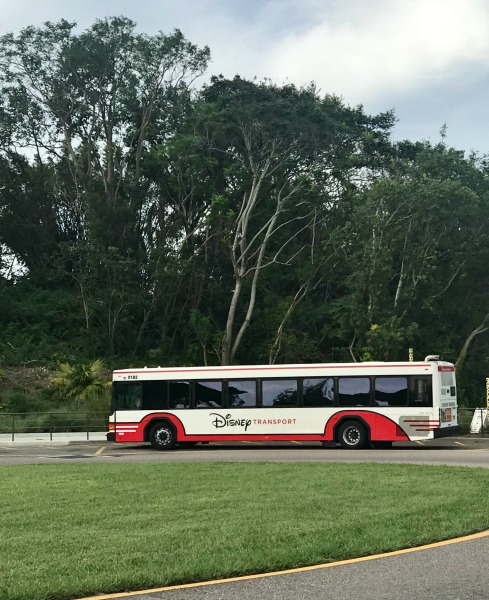 Bus service begins about an hour before the first Extra Magic Hours of each day and continues until about an hour after the last park closes. Buses seem to run about every 20 minutes to each of the parks. You can also ask Concierge for more information about the transportation at the Pop Century Resort.
Overall, we loved staying at Disney's Pop Century Resort so much. It truly is a great hotel to book a stay at and I don't think there was anything about it we didn't like.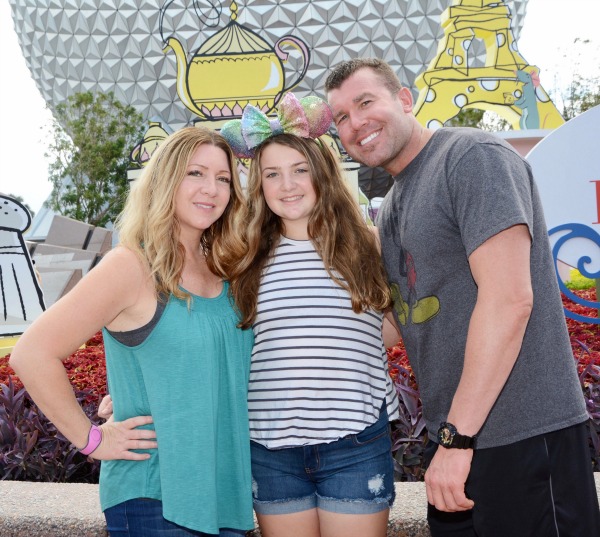 Our family can't wait to return to Walt Disney World again! We make so many great memories together on each trip. Do you currently have a Disney trip planned anytime soon? If so, I'd love to hear about it! Share with me in the comments!