I was elated to find out some magical news last night on the Disney Parks Twitter….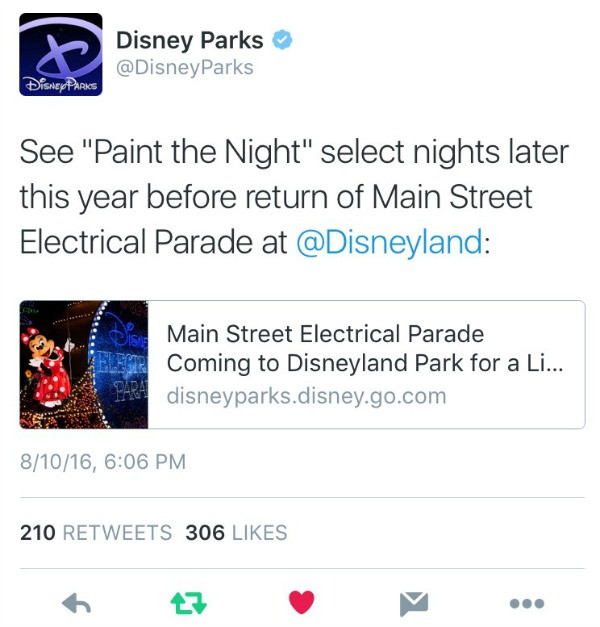 Did you see? They announced that the Main Street Electrical Parade, currently residing at Walt Disney World, will have it's final run (for now) at the Magic Kingdom on October 9th before it hits the road for California! This is the best news for Guests of the Disneyland Resort, although I do feel sad for anyone who will be missing this parade when it leaves Walt Disney World. The Main Street Electrical Parade, actually had a run as Disney's Electrical Parade" at Disney California Adventure park from 2001 to 2010, but it hasn't been in Disneyland park in 20 years, so we're ecstatic! According to the Disney Parks Blog, the Main Street Electrical Parade will be at Disneyland as a limited-time encore engagement, at the beginning of 2017. 
Currently, I just feel like Christmas came early! After it was just last week that the "Paint the Night" parade would be going dark at the end of the Disneyland Resort Diamond Celebration, this news about the Main Street Electrical Parade is so exciting. However, on the Disney Parks Blog they also announced that the "Paint the Night" parade will actually return on select nights during the holiday season later this year! Yay!
To keep up on the latest updates, you can visit the Disneyland our eye on Disneyland Resort's Entertainment Calendar here.
This is not a sponsored post, I just like writing about Disney a lot! All opinions are 100% my own. Main Street Electrical Parade image property of Walt Disney Company.