The Main Street Electrical Parade, one of the most popular of all Disney parades, returns to Disneyland Park Friday, Jan. 20, 2017, with all the lights, sounds, music and fun that have made it a beloved icon. With nightly performances through Sunday, June 18, guests will have a limited time to enjoy the parade's encore performance.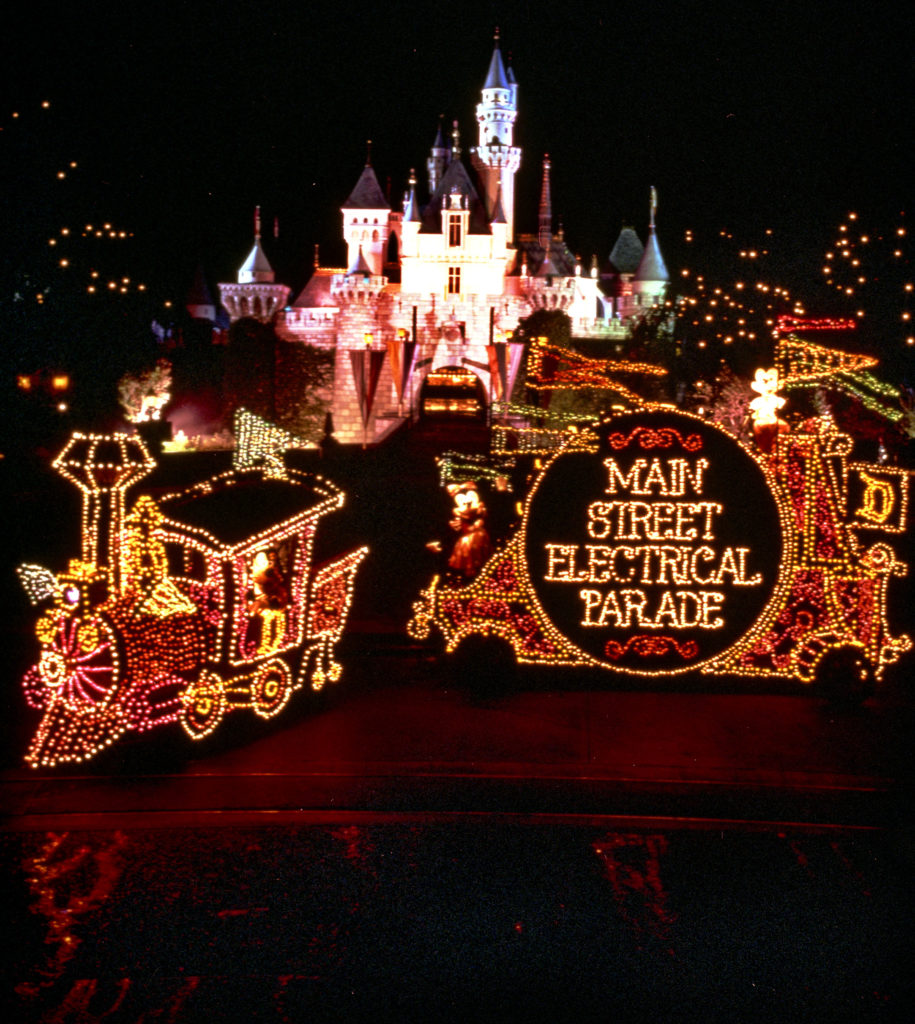 Accompanied by treasured Disney tunes interwoven with the distinctive "Baroque Hoedown"
synthesized soundtrack, the Main Street Electrical Parade brings a variety of beloved Disney stories to life in parade floats covered in approximately half a million twinkling lights. Mickey Mouse, Minnie Mouse and Goofy lead the way and Cinderella, Peter Pan, Snow White, Pinocchio and Alice in Wonderland are among the characters whose stories unfold along the parade route. Tinker Bell now appears with other fairies on the Peter Pan float, original Main Street Electrical Parade opening float.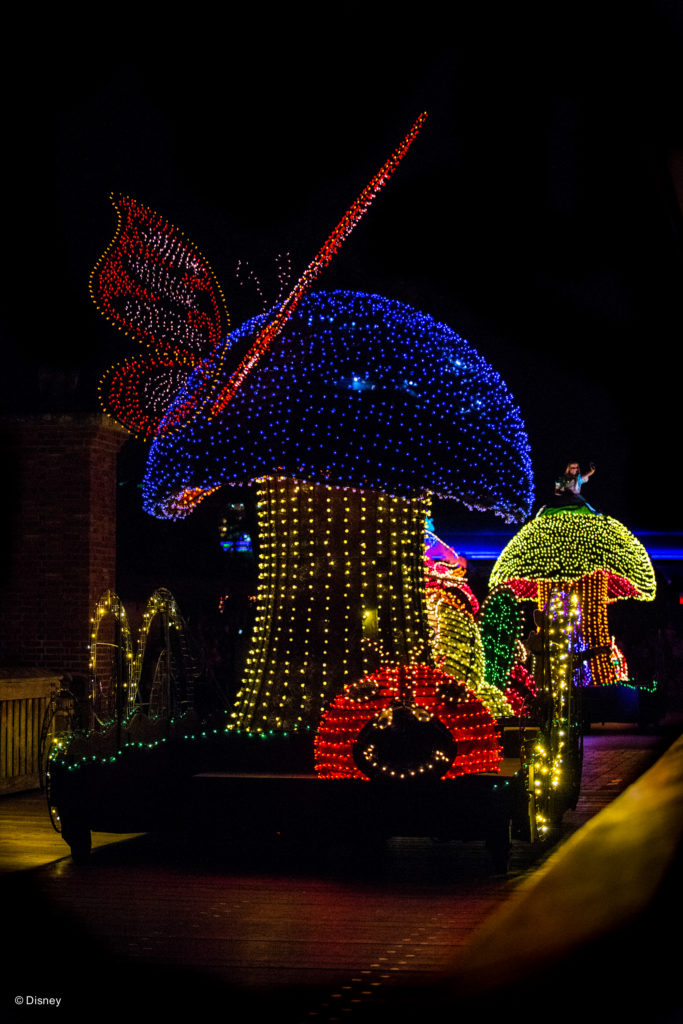 A whimsical train pulls a giant drum unit that proclaims "Disneyland Presents … Main Street Electrical Parade" in bright lights.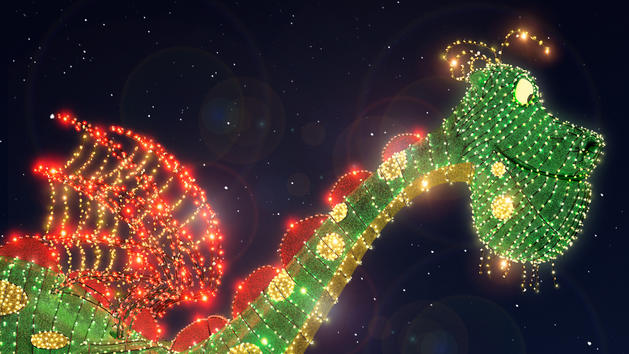 Some of the parade's most impressive scenes are the 23-foot-tall Clock Tower looming over Cinderella's Ball, attended by elegant ballroom dancers in costumes covered with lights; and the 108-foot-long finale unit, a red-white-and-blue tribute to America. Elliot, the smoke-breathing, 2 tail-wagging "Pete's Dragon," weighs more than 5,600 pounds and is 16 feet tall, more than 10 feet wide and 38 feet long. Guests will need to keep an eye out for Elliot, who disappears from time to time along the route.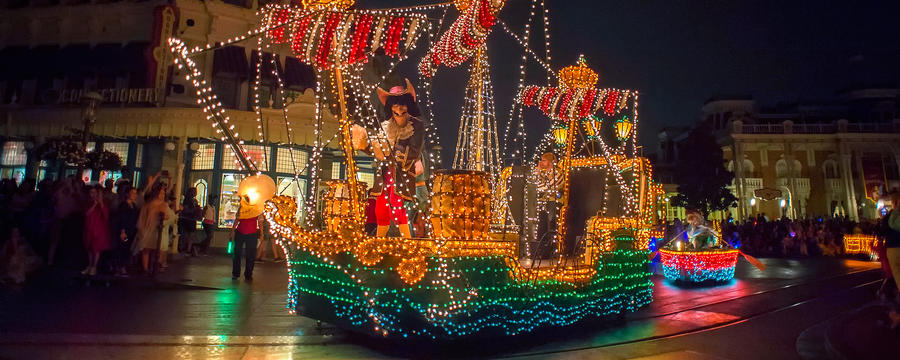 The Main Street Electrical Parade was performed more than 3,600 times for more than 75
million guests during its original run in Disneyland Park. The enduring popularity of the parade led to Electrical Parades at Tokyo Disneyland, Disneyland Paris and Walt Disney World Resort in Florida. The parade returned to the Disneyland Resort with an engagement in Disney California Adventure Park from 2001 to 2010.
Guests who wish to be among the first to welcome the parade back to Disneyland may
purchase a special, separate ticket for an after-hours premiere on Thursday evening, Jan.19. After the park closes, premiere ticket holders will enjoy a night of exclusive access to select Disneyland attractions and select restaurants from 7:30 to midnight, along with an exciting performance of the Main Street Electrical Parade before its official return on Jan. 20. Tickets to the premiere go on sale for Disneyland Resort Annual Passholders on Tuesday, Dec. 6, and to the general public on Tuesday, Dec. 13. They may be purchased at any Disneyland Resort ticket booth or by calling 714-781-INFO (714-781-4636). For more information about the Main Street Electrical Parade premiere party, happening after hours on Jan. 19, go here.
This year, a specially decorated Main Street Electrical Parade boat will appear in the 108th Newport Beach Christmas Boat Parade, Dec. 14 through 18 in Newport Harbor. Mickey Mouse will serve as Grand Marshal for the popular boat parade on opening night, Wednesday, Dec. 14, accompanied by Disney Ambassador Allie Kawamoto. For more information about the Newport Beach Christmas Boat Parade, visit here.
This is not a sponsored post. Some images and logos are property of Disney and Newport Beach Christmas Boat Parade. All opinions are 100% my own.