This is not a sponsored post. All opinions are my own. 
2019 is off to an extra special start at The Disneyland Resort as Get Your Ears On – A Mickey and Minnie Celebration is in full force! It's the biggest party for Mickey and Minnie in Disneyland history and celebrates 90 years of magic with the beloved pair! As part of this special celebration, guests will discover new and enhanced entertainment for a limited time and last night we had the opportunity to stop by and watch the all-new "Mickey's Mix Magic"! (Download the wallpaper below from Disney Parks Blog HERE.) 
"Mickey's Mix Magic" is an all-new, high-energy projection show that creates a family-fun dance party throughout Disneyland park nightly. The show immerses guests in an all-new experience with projections, lighting and lasers (plus fireworks on select nights) while "DJ" Mickey spins a twist on Disney classic songs.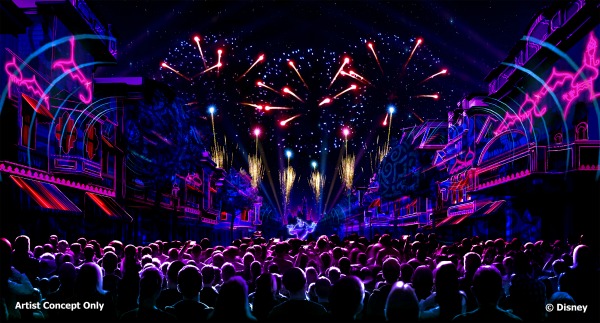 The other night, I stood in the middle of Main Street, U.S.A., which is one of the three viewing areas in the park for this, and danced and sang with 1,000,000 of my closest Disney friends to "It's a Good Time", which is the celebration song from the show. I was enamored as I stood and watched all of the amazing projections light up the store fronts, at the same time the fireworks were happening! Here's a video of the show from where I was standing:

Where to Watch the Show
There are 3 different viewing areas inside Disneyland Park that guests can watch the show:  Main Street, U.S.A., the façade of "it's a small world" and the water screens of the Rivers of America (when "Fantasmic!" returns in March). Each of the areas has a custom projection design, which makes for a unique show experience wherever guests are. More than two dozen video projectors bring "Mickey's Mix Magic" to life throughout the park, and 14 of those are on Main Street, U.S.A., alone.
The Music from Mickey's Mix Magic
The new celebration song "It's a Good Time" was written and produced specifically for the "World's Biggest Mouse Party" that is underway at Disney Parks around the world, celebrating 90 years of magic with Mickey Mouse and Minnie Mouse. Guests will also dance and sing along to these tunes during "Mickey's Mix Magic":
"I Wanna Be Like You" (The Jungle Book)
"Ev'rybody Wants to Be a Cat" (The Aristocats)
"Friend Like Me" (Aladdin)
"Grim Grinning Ghosts" (theme song from The Haunted Mansion attraction)
"Un Poco Loco" (Coco)
"Let It Go" (Frozen)
The musical score of "Mickey's Mix Magic" is inspired by the irresistible beat of "house music," bringing energy and fun that appeals to the whole family. The multi-speaker audio design in "Mickey's Mix Magic" supports the "dance party" feel of the show throughout the park, immersing guests in surround sound. (Download "It's A Good Time" HERE.)
Other Fun Facts about "Mickey's Mix Magic"
Nearly 100 special lighting fixtures are utilized throughout the show, and they sit atop 10 different rooftops throughout the park.
Disney Parks Live Entertainment collaborated with the team behind the latest Mickey animated shorts to bring the youthful, playful and mischievous personality of Mickey Mouse to the show. Minnie Mouse is also featured, showing off some of her dance moves from the pair's popular international cartoon adventures.
Much of the mapped video projection of "Mickey's Mix Magic" is original content. Instead of cinematic scenes, favorite Disney characters are creatively showcased amidst kaleidoscopic patterns that move with the music beat.
"Mickey's Mix Magic" was a truly magical experience and something I really want to go back for again and again. Have you experienced it yet?  Leave me a comment and tell me what you thought.
Get Your Ears On – A Mickey and Minnie Celebration is a great reason to plan a visit to Disneyland Resort, especially while the limited-time Southern California Resident Ticket Offer is going on.  To read about some of the other things that are new for 2019 at Disneyland Resort, go HERE.
Some images, wallpaper and artwork are property of Disney, Disney Parks Blog and iTunes.