This shop has been compensated by Collective Bias, Inc. and its advertiser. All opinions are mine alone. #CrispyIsBack #CollectiveBias
Let's talk about one of my favorite subjects…M&M's®! I'm probably one of the biggest fans of these delicious chocolate candies! I love all things M&M's® and always hurry to try any and all of the new flavors that come out. They are my favorite go-to snack, a movie theater necessity (as a mix-in for my popcorn, of course) and something I love to incorporate into any special occasion and holiday!

It was such exciting news to hear that M&M's® Crispy were coming back!   I have no idea how I missed M&M's® Crispy the first time when they were around in the 90's though? Did you try them when they were last available? Watch this adorable  M&M's® "Fans" Commercial sharing the big announcement!
As soon as started seeing the tweets and articles about them and after I watched this, I headed straight over to Walmart to grab my very own stash of M&M's® Crispy! I may have missed them in the 90s but I was determined not to let that happen again!
I found the bright green "Share Size" bags in the checkout aisles! They're perfect for sharing with a friend or someone fun in your life! M&M's® Crispy contain only 180 calories per serving. They are also available in a big bag in the candy/baking aisle. Whatever the case, I stocked up on a bunch of the share-size bags, just in case they ran out. I'm sure once the word gets out to everyone, they're going to be flying off the shelves!
M&M's® are something I grew up loving as a child. Now that I'm a mom, there's an even greater significance behind them. My daughter's name is "Emily" and early on, we started calling her "M & M" for short. At age 3, she even made a connection between her nickname and the candies and it just sort of stuck. She, too, has grown up loving M&M's® just as much as I do.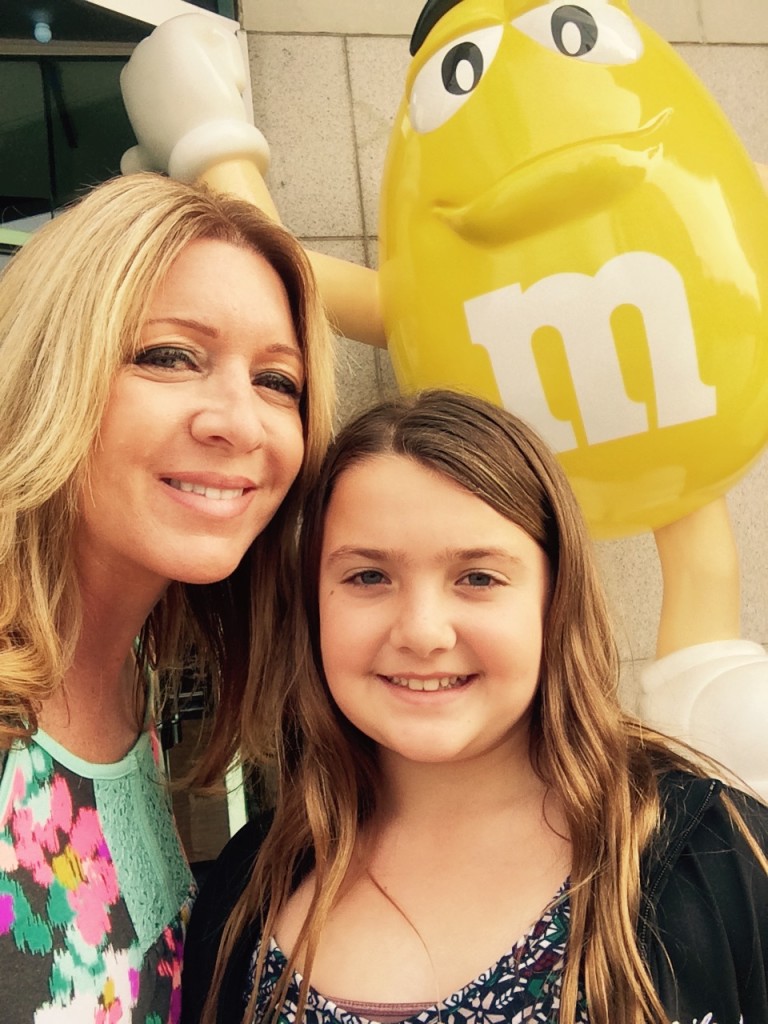 Our love for M&M's® runs deep. I can't think of a more perfect person to share my new M&M's® Crispy with! Since we try to set aside some quiet time after school each day to read, I think the next time we do so, I'll break out one of my share-size bags to share with her while we read.
Of course, with the delicious crunch inside each one, I'm not sure how "quiet" our reading time will actually be, but I'm OK with that! (and I'm sure she will be too).
I also plan on stashing a few bags in my purse to take to my classroom. Sometimes I need a pick-me-up right around 1 o'clock in the afternoon, which happens to be my last hour of teaching each day. It's going to be a little tricky to eat them during class time without my students hearing the crunch. Oh well, I'll figure out a way.
Have YOU gotten a chance to try M&M's® Crispy yet? If not, guess what I'm going to tell you to go do…like right now? You guessed it! (Go grab some of your own!)
See more great M&M's® Crispy recipe and party ideas on the M&M's® Crispy social hub where you can also download a coupon to save on your M&M's® purchase.